Graveyard Shift
Horror Movie Scenes Even Serious Viewers Can't Make It Through

March 5, 2020
1.1k votes
266 voters
15k views
21 items
List Rules Horror fans only: Vote up the scenes you have a hard time stomaching.
There are plenty of freaky horror movies out there, and for some horror fans, the more unsettling the better; but then there are some horror movie scenes too disturbing to finish, even for dyed-in-the-wool horror hounds. These scenes aren't always lodged in the most twisted movies, either. Every now and then, a fairly tame flick will suddenly bust out a scene so disturbing that you just have to look away. Sometimes that's gore, sure, but other times it's something else - an idea so insidious and unsettling that it gets under your skin or creates a sense of utter nihilism and despair.
Whatever it is that makes them so hard to watch, these are some disturbing horror movie scenes you can't finish unless you're among the most ironclad of horror fans. Vote up the scenes you couldn't make it all the way through - or wish you hadn't...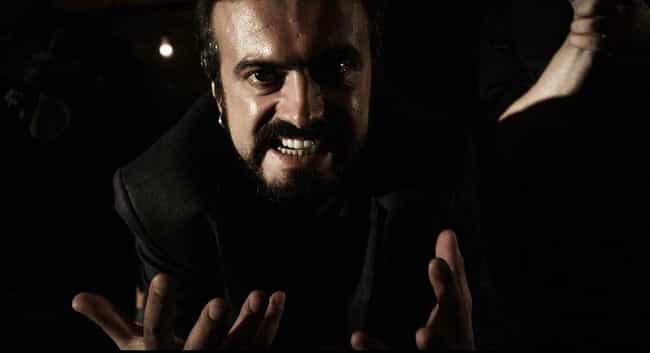 Banned (or only released after heavy revisions) in several countries, A Serbian Film has been called "the nastiest film ever made," so it's no surprise that it is full of scenes that are tough to take.
In Srđan Spasojević's feature debut, a retired adult film performer named Milos is lured back into the game for one last gig that turns out to be a snuff film. As the movie escalates its depravities, there are plenty of distressing scenes, perhaps none more so than one in which the sinister director Vukmir shows Milos one of his other films.
In it, a woman on a table in a bare room gives birth while a big man dressed only in his underclothes stands by. As soon as the baby is born, the man begins harming it. That's unpleasant enough, but what really amps up the grotesqueness of the scene is the look on the faces of both Vukmir, who watches Milos to see how he will react, and the new mother, who looks on beatifically.
Actors: Jelena Gavrilovic, Srđan Todorović, Sergej Trifunović, Ana Sakic, Nenad Herakovic, + more
Released: 2010
Directed by: Srdjan Spasojevic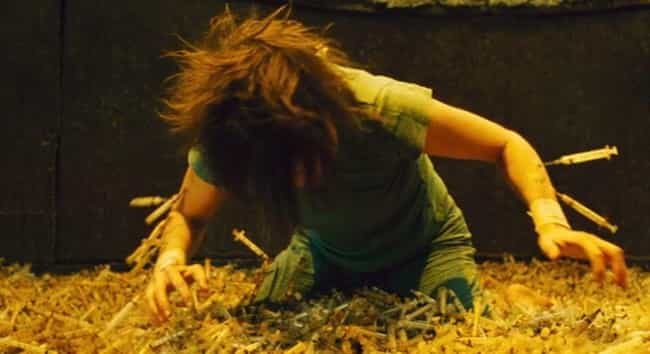 Sometimes, the toughest scenes to watch are the ones that are the most relatable. Most of us have never been in an explosion or faced the ax, but we have been stuck by a needle at least once or twice in our lives.
At times, the most effective way to scare is to take a relatable bit of pain and crank it all the way to 11. That's what the needle pit scene in Saw 2 does. If getting stuck with one needle is squirm-inducing, watching Shawnee Smith root around in a whole pile of them for two full minutes is much, much worse - especially as the cinematography makes very clear that the needles are far from clean.
Actors: Emmanuelle Vaugier, Shawnee Smith, Dina Meyer, Donnie Wahlberg, Beverley Mitchell, + more
Released: 2005
Directed by: Darren Lynn Bousman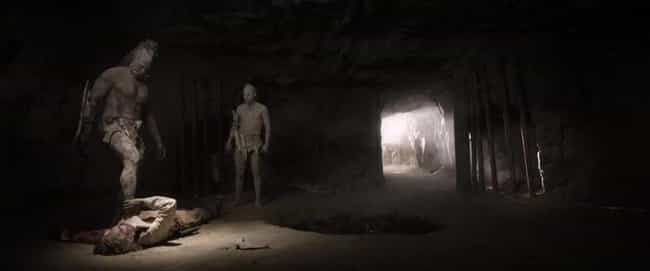 The 'Wishbone' - 'Bone Tomahawk'
Writer/director S. Craig Zahler's 2015 debut was a grisly mashup of the horror and western genres that certainly got people talking. The Critics Consensus at Rotten Tomatoes, where the film enjoys a Certified Fresh rating with 91%, says that its "peculiar genre blend won't be for everyone, but its gripping performances and a slow-burning story should satisfy those in search of something different."
It's a tough movie to watch for a lot of reasons, trading in some of the grimmest and grittiest aspects of both the genres it draws from, as it follows a team of gunslingers who go to rescue townspeople captured by cannibals.
It doesn't take much searching online to find people talking about the infamous "wishbone" scene in Bone Tomahawk. In fact, there are YouTube videos of people doing the "wishbone challenge," wherein they record their reactions to the scene, which has been called "one of the most savage and barbaric" in cinematic history.
Actors: Kurt Russell, Patrick Wilson, Matthew Fox, Richard Jenkins, Lili Simmons, + more
Released: 2015
Directed by: S. Craig Zahler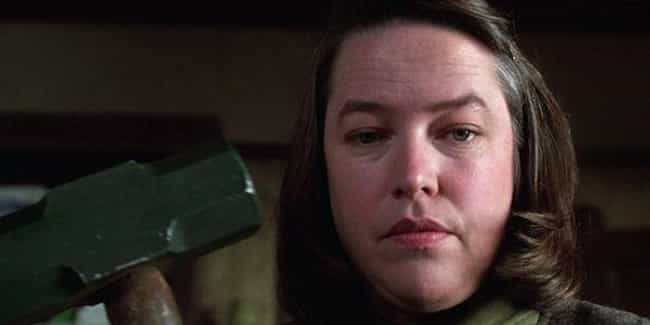 When successful romance novelist Paul Sheldon (James Caan) wrecks his car in a blizzard, he finds himself under the care of Annie Wilkes (Kathy Bates), a nurse and his self-proclaimed "No. 1 fan."
Unfortunately, Sheldon is hoping to give up the romance novel game and has just recently done away with the protagonist of his long-running series. When Annie learns this, well, things don't go too well for poor Sheldon.
In the film's most infamous scene, Annie calmly explains to Sheldon (who is strapped to a bed) about how they used to "hobble" workers who took from diamond mines. Then she places a block of wood between his feet and breaks both his ankles with a sledgehammer.
What really sells the terrifying scene is Annie's demeanor throughout the process, along with a recording of Liberace playing Beethoven's "Moonlight Sonata" in the background. Bates won an Academy Award for her portrayal of Annie, and this excruciating scene probably had a lot to do with it - made even scarier by the fact that filmmakers actually toned it down from what they originally intended.
Actors: Lauren Bacall, Kathy Bates, James Caan, Rob Reiner, Richard Farnsworth, + more
Released: 1990
Directed by: Rob Reiner