Gifs

Dogs Wearing the Daintiest Shoes

307 votes
119 voters
6.7k views
27 items
Dog loves know it's impossible not to be tempted when walking past the dog shoe aisle at PetSmart. Let's face it, even the most straight-laced among us have to admit that there's something about dogs wearing shoes that is hilarious and wonderful. Don't have a dog of your own to introduce to the joy of a fresh new pair of kicks? No, problem. Here you'll find the cutest collection of dogs in shoes ever caught on film.
Maybe your little guy's toes get a little itchy after a romp in the grass. Or your big bundle of fur keeps burning the pads of his feet on the hot asphalt. Whatever the case, there are plenty of good reasons to buy shoes for dogs. But be warned: puppies aren't always great at stepping out in their fancy footwear. These GIFs will show you what to expect if you let your pooch take a test drive in an adorable pair of tiny dog shoes. Here you'll find dogs of all breeds and sizes rolling out in the hottest kicks ever to hit the pet store. While some of these little guys are still getting the hang of it, others pimp those tiny Converse like the biggest bosses on the block.
So the next time you're need a smile, look no further than this list. These dogs with shoes prove there's no limit to furry fashion.
L.A. Dog Is Ready for His Mid-Day Extra Skinny Latte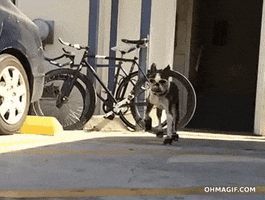 "Wear Water Socks, They Said. They'll Stop the Tripping, They Said."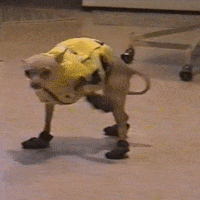 "I Shall Not Be Taken in by Your Bribes. Mostly Because I'm Not Sure How to Walk in These."