Entertainment

Donald Sutherland Mystery Roles

List of Mystery movies/films with performances by Donald Sutherland, listed alphabetically with movie trailers when available. These Donald Sutherland Mystery roles include starring, supporting and cameo appearances. You can sort these Donald Sutherland Mystery movies for additional information as well, such as who directed the films and when they were released. Over the years Donald Sutherland has become known for playing characters in Mystery movies, so this list is the perfect resource for finding some you haven't already seen.
List is made up of movies like JFK and Backdraft.
This list answers the questions, "What Mystery movies has Donald Sutherland been in?" and "What are the best Donald Sutherland Mystery roles?"
You can't vote on this list, but if you want to re-order it you can re-rank the list to put your favorites at the top. (16 items)
Salem's Lot is a 2004 American 2 part tv mini-series which first aired on TNT from June 20–21, 2004. It is the second television adaptation of Stephen King's 1975 vampire novel of the same name. Although the novel and original miniseries were both set in the 1970s, this version updates the story to take place in the 2000s. Though the story is still set in a small Maine town, the mini-series was actually shot on location at Creswick and Woodend, in Central Victoria, Australia. ...more on Wikipedia
Actors: Rob Lowe, Donald Sutherland, James Cromwell, Rutger Hauer, Andre Braugher, + more
Initial Release: 2004
Directed by: Mikael Salomon
see more on Salem's Lot
A Dry White Season is a film released in 1989 by Davros Films and Sundance Productions and distributed by MGM. It was directed by Euzhan Palcy and produced by Paula Weinstein, Mary Selway and Tim Hampton. The screenplay was by Colin Welland and Euzhan Palcy, based upon André Brink's novel of the same name. Robert Bolt also contributed uncredited revisions of the screenplay. The film stars Marlon Brando, Donald Sutherland, Janet Suzman, Zakes Mokae, Jürgen Prochnow and Susan Sarandon. Brando was nominated for the Academy Award for Best Supporting Actor. It is set in South Africa, and deals with the subject of Apartheid. ...more on Wikipedia
Actors: Marlon Brando, Susan Sarandon, Donald Sutherland, Jürgen Prochnow, Janet Suzman, + more
Initial Release: 1989
Directed by: Euzhan Palcy
Also Ranked
#79 on The Best Movies of 1989
see more on A Dry White Season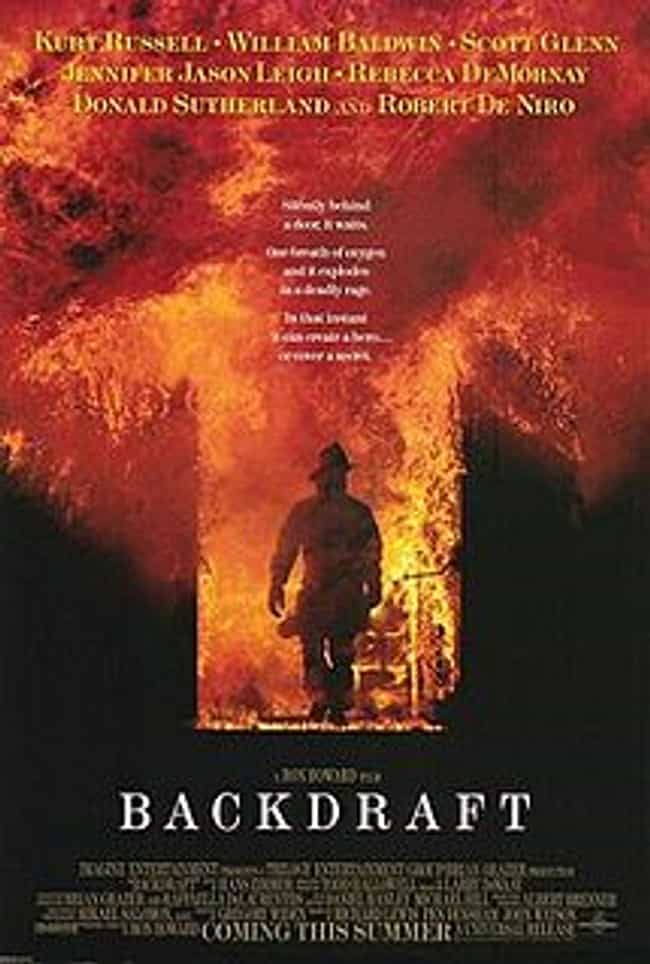 Backdraft is a 1991 action thriller film directed by Ron Howard and written by Gregory Widen. The film stars Kurt Russell, William Baldwin, Scott Glenn, Jennifer Jason Leigh, Rebecca De Mornay, Donald Sutherland, Robert De Niro, Jason Gedrick and J. T. Walsh. It is about the fighters of fire in Chicago on the trail of a serial fire starter who sets fires with a fictional chemical substance, trychtichlorate. ...more on Wikipedia
Actors: Robert De Niro, Kurt Russell, Jennifer Jason Leigh, Donald Sutherland, Rebecca De Mornay, + more
Initial Release: 1991
Directed by: Ron Howard
Also Ranked
#44 on The Greatest Disaster Movies of All Time
#18 on The Best Movies of 1991
#24 on The Best Films Directed by Famous Actors
#10 on The Best Movies Released Memorial Day Weekend
see more on Backdraft
Baltic Storm is a 2003 film written and directed by Reuben Leder about the MS Estonia disaster. Based on the book Die Estonia: Tragödie eines Schiffsuntergangs by German journalist Jutta Rabe, the film focuses on the confirmed transport of defense materials by the Swedish Armed Forces, and alleged cover-up of the true cause of the disaster. ...more on Wikipedia
Actors: Donald Sutherland, Greta Scacchi, Jürgen Prochnow, Thure Riefenstein, Dieter Laser, + more
Initial Release: 2003
see more on Baltic Storm