Parenting

The Most Over-The-Top Gender Reveals More Dramatic Than Birth Itself

82 votes
24 voters
1.4k views
13 items
Follow
List Rules Vote up the craziest gender reveal.
Some gender reveal parties are truly amazing. Parents-to-be go above and beyond in planning the perfect reveal for their unborn child. Even celebrities are getting in on it. Over time, they've gotten progressively more popular and extravagant. One can only imagine what all the innovative future parents out there will come up with next.
A Rube Goldberg Machine Reveal Will Keep You On Your Toes
Some gender reveals require more work than others. Taylor Calmus, who makes videos under the name "Dude Dad," created an elaborate Rube Goldberg machine to reveal his baby's gender. Reminiscent of the "breakfast machine" from Back to the Future or a wholesome version of a trap from the Saw films, you have to see this gender reveal machine to believe it. There are many surprising twists in this video, and honestly the amount of engineering and skillful production is impressive.
Is this gender reveal super dramatic?
A Gator Bites Into A Watermelon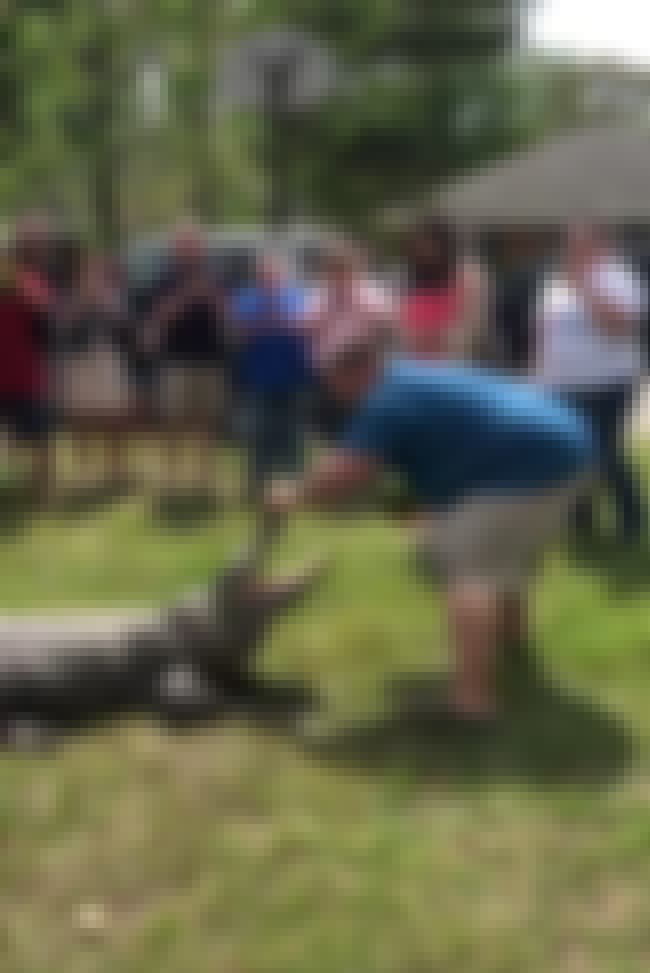 Alligators are a big part of Mike Kliebert's life. The man in charge of Kliebert's Turtle and Alligator Farm in Hammond, Louisiana sees alligators as members of his family, and he wanted them to be included in his child's gender reveal party. Soon-to-be grandmother Melody Kliebert posted a video on Facebook of Mike feeding watermelon to a gator.
Blue Jell-O comes out of the watermelon when the alligator bites into it, which indicates they're having a boy. In addition to the excitement of the gender reveal itself, there's also the risk of disfigurement, which makes it all the more thrilling.

Is this gender reveal super dramatic?
A Fire Hose Reveals A Couple Is Having A Girl
Firefighters can be physically and mentally tough folks, but they also can be gentle and compassionate. And occasionally, they use their equipment for a gender reveal. The expectant couple's doctor gave a sealed letter to the firetruck's pump operator. Then, the couple sprayed water out of a fire hose, waiting to see if the pump operator dyed the water blue or pink.
Is this gender reveal super dramatic?
A Weather Balloon And A GoPro Make For An Extraterrestrial Reveal
Star Trek taught us that space is the final frontier. While that may or may not be true, space is definitely the next frontier in gender reveals. With the help of Bishop, California high schoolers, Ashley Blankenship and Lance Patrick sent a weather balloon up to the stratopshere. Once it was over 20 miles high, the balloon popped, revealing to the entire universe the baby's gender. On hand for this moment were many GoPro cameras, as well as a stuffed monkey in a spacesuit.
Is this gender reveal super dramatic?