Graveyard Shift
The Dumbest Friend Groups In Horror

293 votes
62 voters
1.4k views
14 items
List Rules Vote up the group with the biggest dum-dums.
People say there's safety in numbers, but that's not always the case for the dumbest friend groups in horror movies. These buds diminish their chances of staying alive by making stupid choices: investigating strange artifacts or sounds, conspiring against each other, and - of course - splitting up in pursuit of assistance. Audiences watch with agitation as tragedy unravels due to poor judgment.
What the dumbest friends in horror movies fail to realize is that they are being chased by malevolent monsters with one goal: their annihilation. While some members of these horror movie crews make it out alive, they endure tortuous ordeals that lead to the demise of their closest allies. Survivors must reconcile with carrying out some of the dumbest plans in genre history.
back to page 1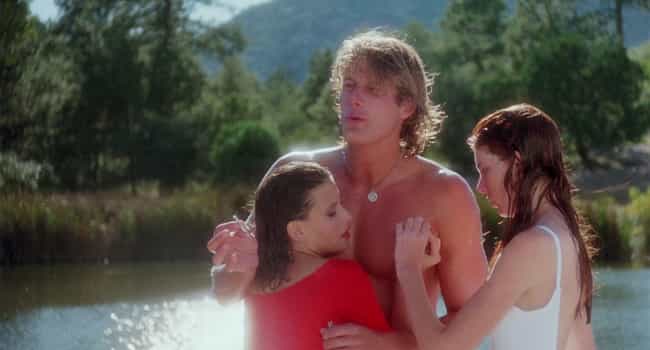 Standout Moron: Randy out-swims the black blob that just devoured his girlfriend and two best friends, only to taunt it on the shores of the pond by yelling, "I beat you!"
Single Dumbest Move: Even though the "NO SWIMMING" sign by the pond is almost entirely hidden behind overgrown foliage, these friends should have figured out something was amiss when no other swimmers were splashing around on a warm day.
Comeuppance: After the blob makes its presence known by consuming Rachel, the three remaining friends swim to a raft in the middle of the lake for safety. They aren't as safe as they think, though, and by morning, they've all perished.
Actors: Stephen King, George Kennedy, Dorothy Lamour, Lois Chiles, Tom Savini, + more
Released: 1987
Directed by: Michael Gornick

Are they morons?
see more on Creepshow 2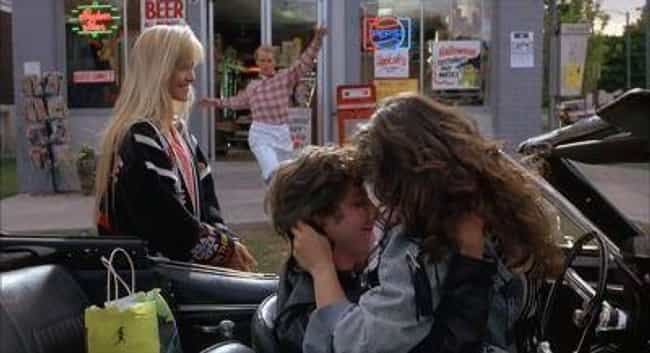 Standout Moron: Tina's punk boyfriend, Mikey, is so taken with how good his face looks in his convertible's rear-view mirror that he doesn't realize Michael Myers lingers behind him with a sharp, pronged rake. This wannabe street fighter also thinks he's strong enough to take on the masked lunatic and comes at his adversary with a crowbar. It doesn't end well for Mikey.
Single Dumbest Move: Tina, Sam, and Spitz decide to trick deputies looking for Michael Myers at a Halloween party by having Spitz dress up as the serial slayer. Not only does this rile up the police officers, but it also angers Michael, who stalks the group from the shadows.
Comeuppance: Sam and Spitz meet Michael while having relations in a barn next to the party house, and after a long chase, Tina meets Michael's blade too.
Actors: Danielle Harris, Donald Pleasence, Beau Starr, Troy Evans, Matthew Walker, + more
Released: 1989
Directed by: Dominique Othenin-Girard

Are they morons?
see more on Halloween 5: The Revenge of Michael Myers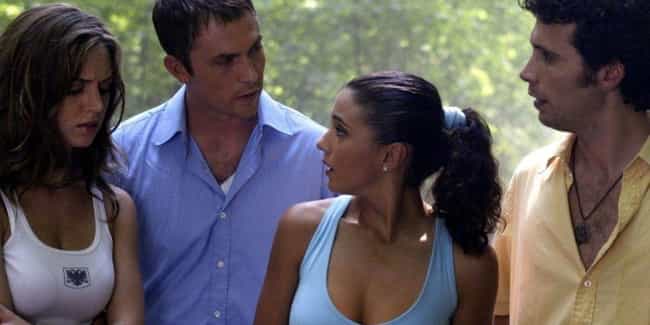 Standout Moron: Chris Flynn, a medical student, heeds the directional advice of the backwoods gas station attendant Maynard. Once he turns onto Bear Mountain Road, he collides with a stopped car with punctured tires belonging to a group of college kids who are in West Virginia to camp.
Single Dumbest Move: Perhaps the most cliched move horror movie friends make is separating themselves to seek help. It would make sense for the group to go together to locate the nearest public phone, but instead, these friends take their chances in unknown terrain.
Comeuppance: A trio of mutants with cannibalistic instincts are waiting in the hills to feast on the stranded humans who find themselves trapped in unknown territory. Three Finger, Saw Tooth, and One Eye go after the group and make dinner out of most of them.
Actors: Eliza Dushku, Emmanuelle Chriqui, Kevin Zegers, Lindy Booth, Jeremy Sisto, + more
Released: 2003
Directed by: Rob Schmidt

Are they morons?
see more on Wrong Turn
Standout Moron: Failed actor Helen lets her vanity gets the best of her as she and her friends are chased down by a maniac with a hook. After participating in a beauty pageant, the culprit pursues her through the Fourth of July celebration unfolding in Southport, NC, where she's slain in an alley. Considering the events unraveling around her, her life may have been saved if she'd stayed out of the limelight for a bit.
Single Dumbest Move: Julie, Barry, Helen, and Ray hit a pedestrian in a car and dump the remains without going to authorities. They really didn't think about the potential repercussions of ending someone's life and then lying about it.
Comeuppance: It turns out they didn't actually finish off the man they hit, Ben Willis, but he's still pretty bent out of shape about what happened. Julie and Ray seem to take him out, but only after Helen and Barry meet his hook. Ben comes back to greet Julie a year later, though, by coming through her bathroom window.
Actors: Jennifer Love Hewitt, Sarah Michelle Gellar, Anne Heche, Ryan Phillippe, Freddie Prinze, + more
Released: 1997
Directed by: Jim Gillespie

Are they morons?
see more on I Know What You Did Last Summer