WWE
The Dumbest Wrestling Costumes Of All Time

188 votes
28 voters
20 items
List Rules Vote up the worst outfits in wrestling history, regardless of how awesome (or awful) the wrestlers were.
Professional wrestling's always been known for being extravagant and over the top. Athletes and hard bodies enter the squared circle wearing eye-catching apparel that makes fans in the arena (and at home) instantly take notice. For some professional wrestlers, like Ric Flair and Macho Man Randy Savage, their outfits were built into their persona. Their look helped fuel their character's gimmick as a heel or face and worked in tandem with the various storylines to help propel their likeness. It's no surprise so many up-and-comers have tried to make a name for themselves by sporting exuberant outfits or crazy gimmicks.
But while some wrestling costumes are indelibly etched into the minds of hardcore wrestling fans for good reasons, there are dozens of costumes that fans - and wrestlers - wish they could forget. Not all fashion choices in professional wrestling are home runs: whether it's because they're ridiculous, unflattering to the wrestler performing in it, or just flat out hideous, this list showcases pro wrestling's all-time worst outfits.
Some costumes are dumbfounding, some are eyesores, and most of them are very dated (1993 was obviously a very bad year for wrestling fashion). But while all these outfits may be cringe-worthy, most of the wrestlers wearing them went on to have extremely lucrative careers.
Be sure to vote up history's dumbest wrestling costumes and share the list with your fellow wrestling fans!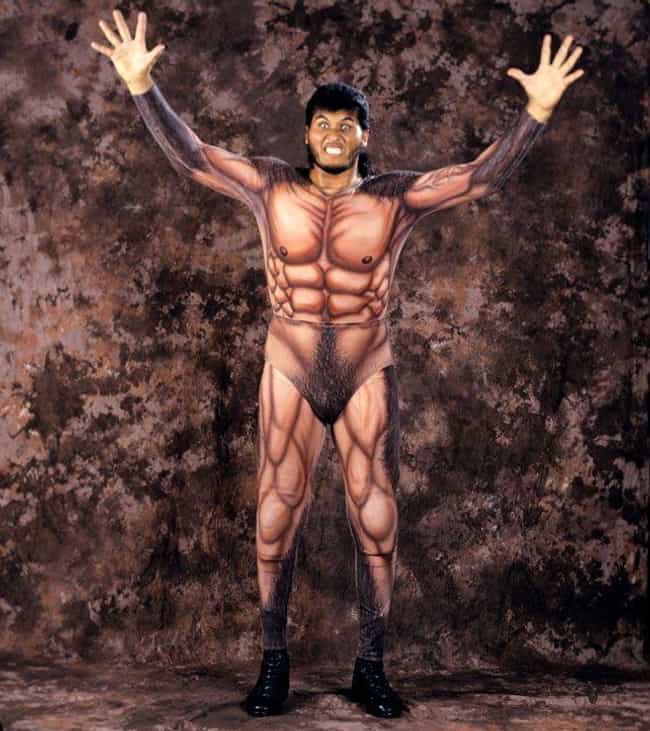 Official debut: 1993
Former WCW star El Gigante debuted in the WWE at the 1993 Royal Rumble as Giant Gonzalez when he interfered during the Royal Rumble match itself and took out The Undertaker. At more than 7 and a half feet tall, he was supposed to have an intimidating presence and look like a formidable foe for 'Taker (and he would have...if not for the weird bodysuit he wore throughout his entire tenure with the company).
The bodysuit was airbrushed with fake muscles and strategically placed hair, which didn't make him look so much intimidating as it made him look like the world's worst Harry and the Henderson cosplayer. The only thing worse than Giant Gonzalez's costume were his matches with The Undertaker!

Does this look dumb?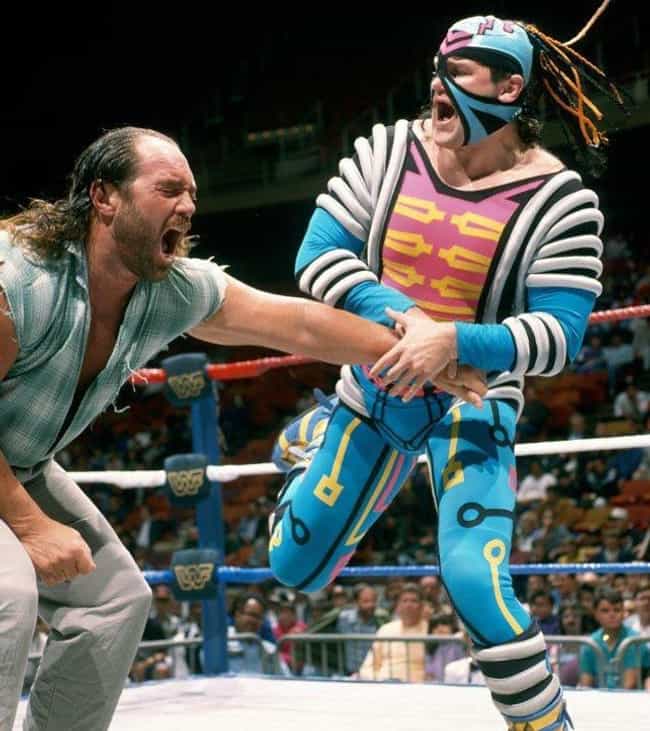 Official debut: 1992
Where do we even start with Max Moon? He wore a jetpack to the ring, which would give him enough elevation to hop on the ring steps (you've read that right). Moon also had wristbands that shot out fireworks, which, more than anything, was a lawsuit just waiting to happen. His actual wrestling attire was adorned with a gauche design that resembled a circuit board. It was quite an eye-catching look for all the wrong reasons.
A few months after his debut, Max Moon would depart WWE. Maybe he used his jetpack to fly into a galaxy that thinks his dumb wrestling costume actually looked good.

Does this look dumb?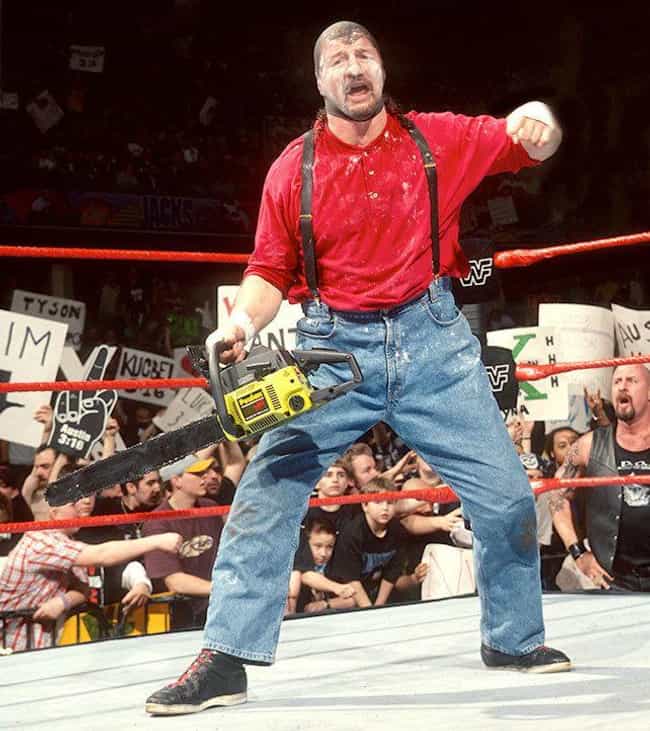 Official debut: 1997
Terry Funk may be a wrestling legend, but his stint as Chainsaw Charlie is definitely one chapter he probably wishes we could all forget. While coming out to the ring with an actual chainsaw was pretty hardcore, the gimmick was admonished by the dumb overalls and ridiculous pantyhose mask. Terry actually recounted his awkward debut a few years ago:
I came out of that box with my chainsaw and my stocking over my head, and the crowd, expecting some great surprise, let out a sound that seemed strangely reminiscent of escaping gas. I had visions of coming out to a tremendous roar, but that wasn't exactly the reaction I got.

Does this look dumb?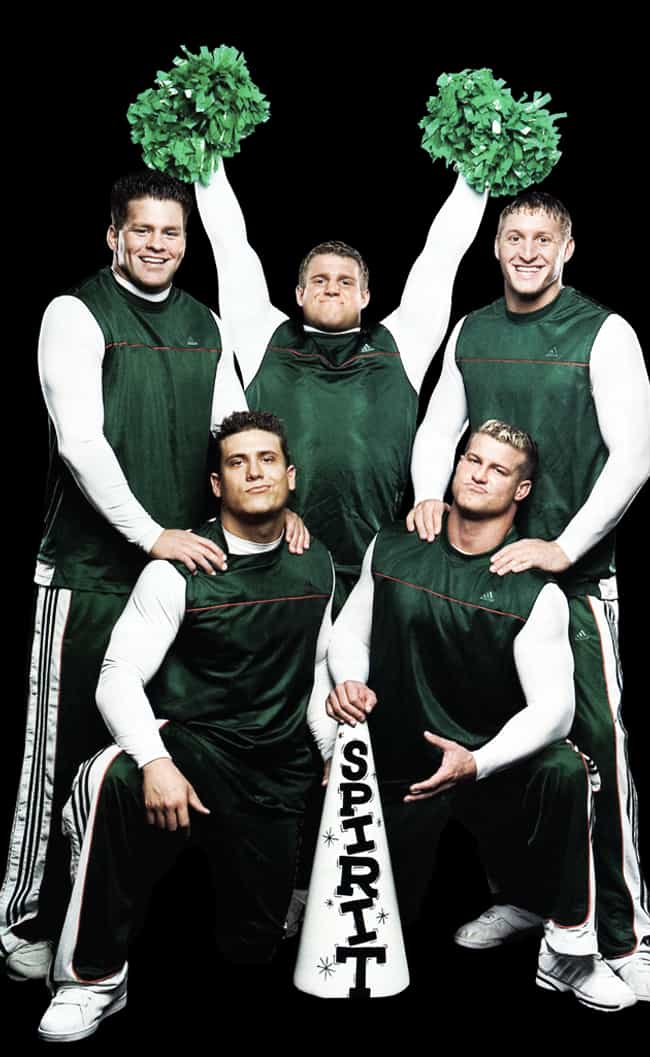 Official debut: 2006
DX these guys are not. Though the individual members were pretty awesome on their own (notice Dolph Ziggler in the lower right), the Spirit Squad is definitely up there as some of the dumbest costume ideas in wrestling history. This cadre of evil cheerleaders at one point actually held the World Tag Team Titles, but like their cheers, the gimmick quickly became stale, with most members eventually drifting off into pro-wrestling obscurity.
Ziggler's gone on record multiple times to air his hate for the group. Fortunately, it didn't seem to hurt his later career.

Does this look dumb?
see more on The Spirit Squad