Entertainment
Fun Facts You Didn't Know About Dwayne Johnson

Updated October 16, 2019
65.4k views
28 items
Dwayne 'The Rock' Johnson is a titan of entertainment. In fact, he's more than lived up to his goal of being "The most electrifying man in Sports Entertainment!" He's surpassed sports entertainment and become one of the biggest, most bankable, movie stars in the world. He's fully transformed from a pro wrestler that sometimes acts into a full-time movie star.
But who is Dwayne Johnson? He seems bigger than life, but his diehard fans know him as a truly awesome, down-to-earth guy. From world records to a wrestling pedigree that goes back generations, there's plenty more to find out about The Rock than you thought you knew.
Vote up all of your favorite Dwayne "The Rock" Johnson fun facts! And when you're done, check out our list of movies The Rock is in.
He Was Almost Tim Burton's Willy Wonka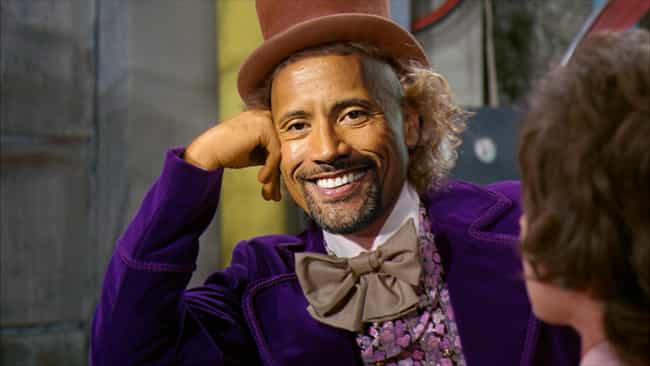 If for whatever reason Johnny Depp had turned down the role of Willy Wonka in Tim Burton's film, the very next name on his list was Dwayne The Rock Johnson. Can you think of two more different movies? A Depp Wonka vs. a Rock Wonka... crazy. At least we finally know what the Rock was cooking. Chocolate. It was chocolate this whole time.
Dwayne Johnson was a big kid—a real big kid. He was 6'4, 225LBs going into high school. This gave him both confidence and arrogance, which led to some troubled years. He was arrested a number of times from 14-15. Johnson told Muscle & Fitness in 2015:
I was running around and getting in trouble a lot. I was arrested multiple times for a multitude of things, from fighting to a theft ring to check fraud to more fighting. I did a lot of stupid sh*t and struggled to stay on the right path.
At 15, he realized how much trouble and stress it was causing his parents so he cleaned up his act and has been on the right path ever since. He even uses some of his time helping other troubled youth to this day.
He Finally Owns The Name 'The Rock'
After years of the
WWE owning the name
, license, logos and phrases associated with The Rock, Dwayne Johnson finally has the rights to his other name. If you look closely at the credits to most of Dwayne's early films, WWE Films is almost always listed because of the use of the title 'The Rock' to advertise. Now he finally has it all to himself.
He Was The First Athlete Ever To Host SNL More Than Once
When The Rock first hosted SNL back in 2000 many give credit to that appearance as getting his career as an actor started. So that in and of itself is well worth it. But when he was quickly invited back in 2002 it was the first time any athlete had been invited to return. This locked Dwayne/The Rock in as much more than just a wrestler. He was well on his way to film stardom. He has since gone on to join the show's prestigious Five-Timers Club.