Total Nerd
Dwight Schrute's Most Important Moments On 'The Office'

148 votes
25 voters
18 items
List Rules Vote up the moments that defined Dwight's character.
Dunder Mifflin paper salesman Dwight Schrute, played by Rainn Wilson, is an intense personality, to say the least. He's competitive, difficult, and uncompromising, and he causes trouble in the Dunder Mifflin Scranton office as often as he makes sales. At first, his best moments are presented as the yin to Jim Halpert's yang - Dwight is an antihero posing as a supporting character. He's characterized as the guy who gets left out and the weirdo no one relates to. However, he's also caring, dedicated, loyal, and relentlessly himself, which makes him one of the most lovable Office characters.
Over the course of the show, Dwight Schrute becomes synonymous with Dunder Mifflin and transforms into the leader he always wanted to be. He falls in love with uptight coworker Angela and develops genuine friendships with his coworkers, especially Jim and Pam. Dwight Schrute's funniest moments and quotes have become an unforgettable part of The Office. By loving Dwight, we learn to love ourselves and accept whatever makes us defiantly unique.
Dwight Is Named Salesman Of The Year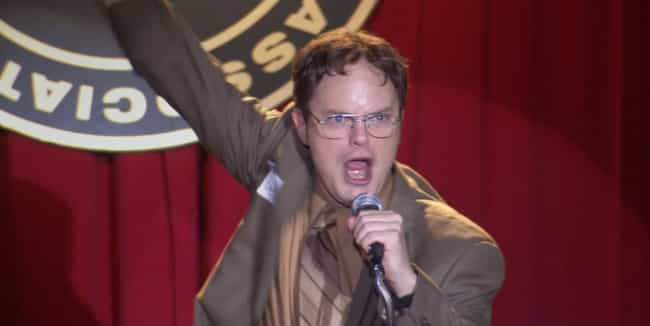 Episode: Dwight's Speech (Season 2, episode 17)
Why It's Important:
Dwight's cockiness works both for and against him in this episode - twice. After beating out Jim for the salesman of the year award, Jim sets out to sabotage Dwight's speech by showing him great speakers throughout history - such as Mussolini. When Dwight's extremely aggressive speech works the crowd into a frenzy, however, Dwight gets the last laugh.
This is one of the first episodes in which Dwight overcomes his fear and achieves success despite the odds being stacked against him. In the office, Dwight fails to win over his coworkers, even after taking Michael's advice, so when he enters the awards show to a crowd of hundreds, everyone expects him to fail.
Instead, he excels, and the crowd goes wild for his authoritarian speech. This certainly sets his character apart - only Dwight Schrute could draw inspiration from history's most egregious figures and still come out on top.
Was this moment important?
Dwight Comforts Pam When Karen Moves Near Jim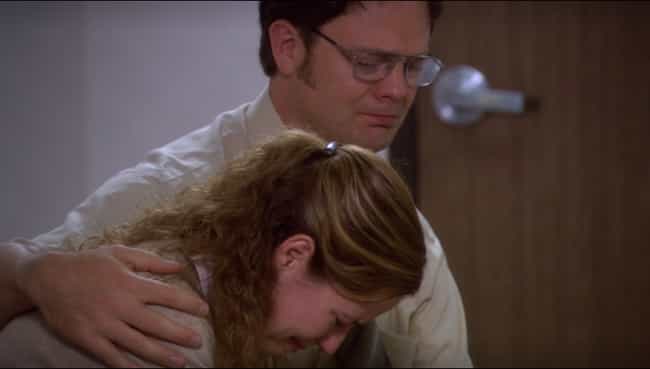 Episode: Back from Vacation (Season 3, episode 11)
Why It's Important:
Dwight Schrute is probably one of the best friends you could ever have, and this episode is one of several in the series that shows just how supportive he can actually be. Trying to be supportive in her own right, Pam attempts to repair Jim and Karen's relationship by talking Jim into letting Karen move closer to him, even though Pam is still in love with Jim.
Pam is successful in bringing Jim and Karen back together, but that doesn't make her any less devastated. When Dwight finds her crying, he has two reactions: protectiveness and consideration. He demands who "did this" to her, then offers her a tissue and puts an arm around her shoulder. Even though he assumes Pam is "PMS-ing," he still treats her tenderly and with respect.

Was this moment important?
Dwight Temporarily Leaves Dunder Mifflin For Staples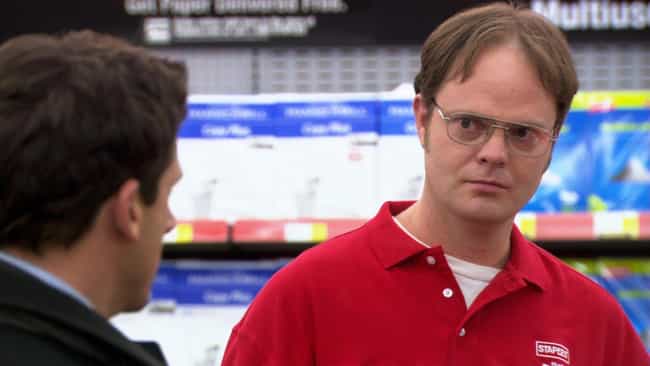 Episode: The Return (Season 3, episode 13)
Why It's Important:
This episode shows that Dunder Mifflin wouldn't be the same without Dwight. After Dwight resigns from Dunder Mifflin because he was secretly helping Angela, Michael and Jim are surprised to find themselves missing his presence. Even though part of the reason for their nostalgia is Andy's new breed of annoying, the truth is that Dwight's personality and work ethic have become pillars of the office, and without him, it's just not as fun.
This episode also shows that Dwight and Dunder Mifflin are meant for each other. Dwight's limitless confidence in his professional abilities doesn't get him far in his job interviews at the beginning of the episode, nor in his new gig at Staples, but he's a perfect fit at Dunder Mifflin. Dwight's underappreciated, surprising capabilities are a recurring theme in the series, and Dwight's return to the paper company solidifies his importance as part of the office staff. As Dwight says, "Three words to describe me: hardworking, alpha-male, jackhammer, merciless, insatiable..."

Was this moment important?
Dwight Threatens To Quit Unless Jim Resigns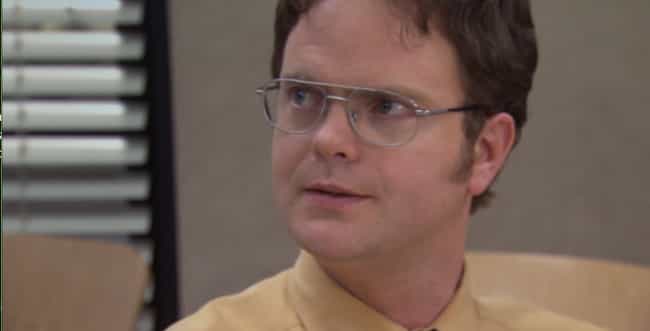 Episode: Conflict Resolution (Season 2, episode 21)
Why It's Important:
Like most security issues, Dwight takes ID badges very seriously, so it makes sense that Jim tampering with Dwight's badge would push Dwight to enact an ultimatum. This is, of course, exacerbated by Dwight discovering that Toby has been saving Dwight's grievances against Jim in a box in his desk, rather than sending them to a "special file in New York" as he claimed.
This episode marks a change in both Dwight and Jim: Dwight stands up for himself against Jim's pranks in a prominent way for the first time, and Jim is confronted with the excessive amount of energy he dedicates to messing with Dwight, prompting him to wonder if he's overdoing it. Unbeknownst to both of them, this is one of the first steps toward the two developing a genuine friendship. By standing up for himself, Dwight humanizes himself to Jim, who in turn questions his own immature treatment of his desk neighbor.

Was this moment important?