Entertainment
The Best Dwight Schrute Quotes

28.1k votes
4.6k voters
200.5k views
20 items
The best Dwight Schrute quotes chronicle the successful yet sometimes socially awkward life of the Dunder Mifflin Paper Company salesman, manager, assistant to the general manager, and assistant general manager, Dwight Kurt Schrute III. Portrayed by Rainn Wilson on the NBC series The Office, Dwight Schrute is one of the most popular characters on the comedy series, which also has starred the likes of Steve Carrell, John Krasinski, Jenna Fischer, B.J. Novak, and Ed Helms.
Modeled after Gareth Keenan of the original British version of The Office, Dwight Schrute thoroughly enjoys feeling superior to his co-workers and often expresses his feelings of his superiority. Between arguing over his title with Michael or simply expressing his place in the food chain (he's the lion), Dwight has few issues with self-esteem and the funny lines embody his confidence and gusto.
Despite his strong will, Dwight is often the victim of pranks and jokes from his office coworkers, especially desk-mate Jim Halpert and general manager Michael Scott. Dwight has little sense of humor but often inadvertently provides humor to his office-mates by being gullible and naive, such as when Jim tried to convince him that the actual Benjamin Franklin was in the office.
Whether he's talking about Schrute Farms, his favorite series Battlestar Galactica, or his own superhuman strength, a benefit of absorbing his own twin while in the womb, Dwight Schrute never fails to provide some of the most memorable, funniest quotes on The Office.
Dwight:
Do you ever watch Battlestar Galactica?
Guest:
No.
Dwight:
'No.' Then you are an idiot.
Is this the best?
When I die, I want to be frozen. And if they have to freeze me in pieces, so be it. I will wake up stronger than ever because I will have used that time to figure out exactly why I died, and what moves I could've used to defend myself better now that I know what hold he had me in.
Is this the best?
The purse girl hits everything on my checklist: creamy skin, straight teeth, curly hair, amazing breasts. Not for me... for my children. The Schrutes produce very thirsty babies.
Is this the best?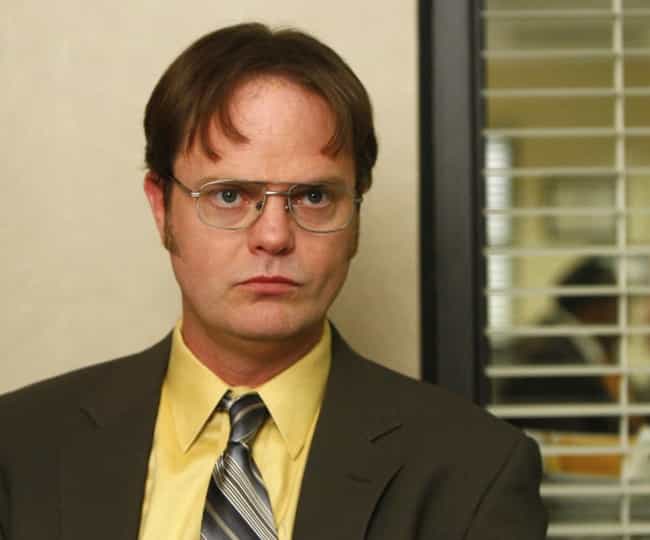 Let's just put it this way. Last weekend, I outran a black pepper snake... I am fast. To give you a reference point, I'm somewhere between a snake and a mongoose. And a panther.

Is this the best?