Criminals
This Man Was A Burgeoning Serial Killer, Until His Daughter Figured Out His Horrifying Secret Life

Serial killers haunt history to this very day, and the terrifying fact of the matter is, there are serial killers who almost got away with it. In fact, in the mid-twentieth century, one killer by the name of Edward Edwards went on a massive killing spree, and only got caught (despite appearing on a bunch of game shows) because of his own daughter. Edwards was a well-versed killer who traveled to all different parts of the United States, allegedly killing as many as 100 people along the way.
Edwards falls into the rare category of killers who were turned in by their own families. He read about a serial killer becoming famous in the newspaper, so he decided to become a copycat. Throughout his murderous career, he kidnapped and killed a multitude of children, (including his own foster son) all the while claiming he was a good guy. This same outlet even reports that Edwards may have been an active killer from 1945 until (at least) 1996. That's over 50 years of killing under his belt.
Loads of unsolved cases littered his background, too, which in turn helped flesh out the list of creepy, unbelievable facts about this mysterious criminal. Eventually, his adult daughter gave in to her suspicions and conducted an Internet search for cold cases where her dad had lived. This only led her to find out that her fathers crimes were greater than she'd ever imagined. Is it conceivable he was the famous, still on the loose, Zodiac Killer? Anything is possible.
His Daughter Turned Him In Once She Connected Him To A Cold Case
April Balascio is the daughter of Edward Wayne Edwards. She only knew her dad as a handyman, but wondered why he was so obsessed with murders and police activity. Her father kept suddenly moving his family in the middle of the night for seemingly no reason. So, as an adult, April decided to investigate. In 2009, she cross-examined places she used to live with open-cold cases, coming across an instance of two missing teens in Watertown, WI, who disappeared around the time her family left. She gave her evidence to the cops, who eventually arrested Edwards.
He Committed Two Double Homicides And Then Murdered His Foster Son
Edwards definitely committed at least five murders. These included two series of double-murders. The first happened on August 9, 1980, and involved high-school sweethearts, Tim Hack and Kelly Drew. They went missing from a wedding reception in Wisconsin, near where Edwards worked as a handyman; Drew was bound and strangled and Hack was stabbed.
But it wasn't until 2009 that DNA evidence conclusively linked Edwards to the murders, around which time Edwards also pled guilty to fatally shooting another young couple. Perhaps most horrifying was the murder of his foster son, Dannie Boy Edwards. A footloose youngster whom madman Edwards took in and treated like a son, Dannie Boy was killed in 1996, so Edwards could collect insurance money. It wasn't until 2010, though, that his foster father was convicted of his brutal murder.
He Grew Up In An Orphanage After Seeing His Mom Commit Suicide
Unsurprisingly, Edwards had a pretty rough start in life. Born in 1933, he was raised in Akron, OH. He witnessed his mother commit suicide at a young age, which in turn made him an orphan. As a result, Edwards grew up in an awful orphanage, where he was reportedly repeatedly abused. The abused became an abuser as an adult: Edwards once stabbed his wife in a domestic dispute in a fight over potato chips.
In 1961, Edwards Appeared On The FBI's 'Most Wanted' List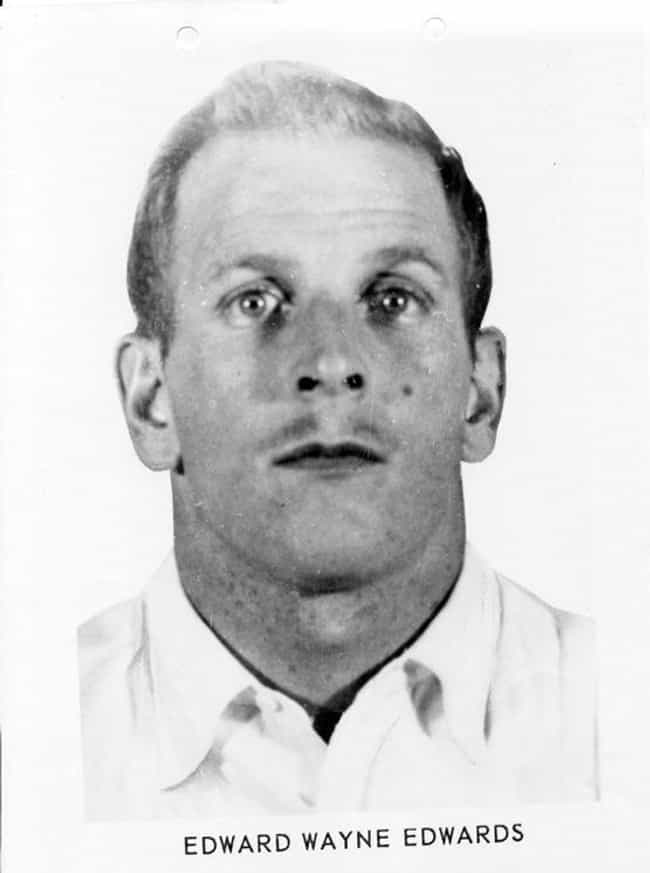 After being dishonorably discharged from the US Army, Edwards went on a crime spree. He ran away from an Akron jail in 1955 and went on the lam. During this time, he committed arson, robbed gas stations, and even became a suspect in a 1960 murder. That led to him being placed on the FBI's "Most Wanted" list. But it wasn't until 1961 that police caught Edwards, this time in Atlanta. He was convicted and served time until he was placed on parole in 1967.