Updated September 12, 2019
403 votes
238 voters
32.4k views
10 items
List Rules Upvote your favorite recipes
El Torito recipes - the easy way to prepare the best dishes from the El Torito menu. These are copycat recipes, not necessarily made the same way as they are prepared at El Torito, but closely modeled on the flavors and textures of El Torito popular food, so you can bring the exotic tastes of one of the best chain restaurants in the US to your own table for a fraction of the cost.
Located primarily in California, El Torito is a chain of fast casual Mexican restaurants founded in 1954 and often credited with popularizing the margarita in the US. El Torito restaurants can also be found in Arizona and Oregon with a handful of overseas locations.
From Red Lobster Cheddar Bay Biscuits to Buffalo Wild Wings hot sauce, chain and franchise restaurants are popular destinations around the world. Eating out too frequently can be costly, not to mention that it's hard to control portion size, ingredients, or the style of cooking to suit your preferences.
Making El Torito recipes on your own allows you to save money while enjoying your favorite menu items from the casual dining spot. This list collections the best copycat El Torito recipes from around the Web.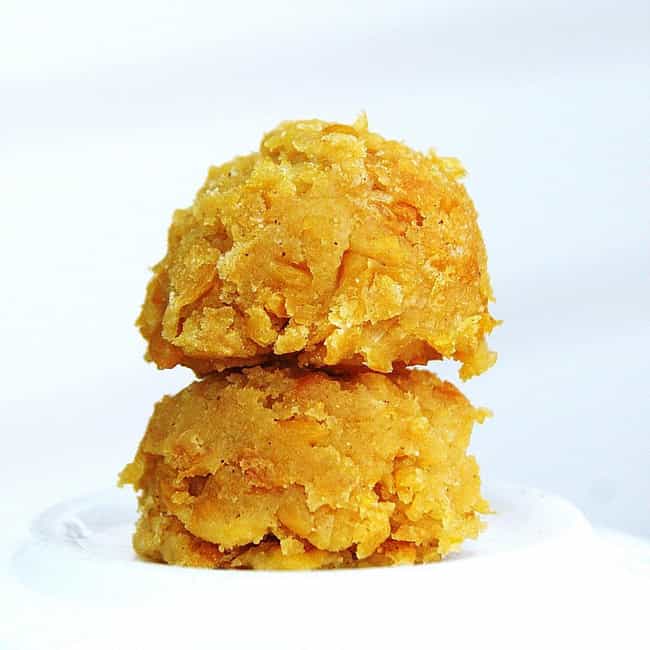 1/4 cup butter, unsalted
2 tablespoons shortening
1/2 cup masa harina
3 tablespoons cold water
10 ounces frozen corn kernels (can be substituted with canned cream corn)
3 tablespoons cornmeal
1/4 cup sugar
2 tablespoons whipping cream
1/4 teaspoon baking powder
1/4 teaspoon salt
- Whip butter and shortening in mixing bowl until fluffy and creamy.
- Add masa harina and mix; add water while mixing.
- Blend corn kernels and stir into masa mixture.
- Mix cornmeal, sugar, whipping cream, baking powder and salt.
- Add butter-masa mixture until blended.
- Pour mixture to baking pan and cover with foil. Bake for 40-50 miunutes.
- Wait to sit for 15 minutes before cutting to squares or serve using ice cream scoop. Makes 8 servings.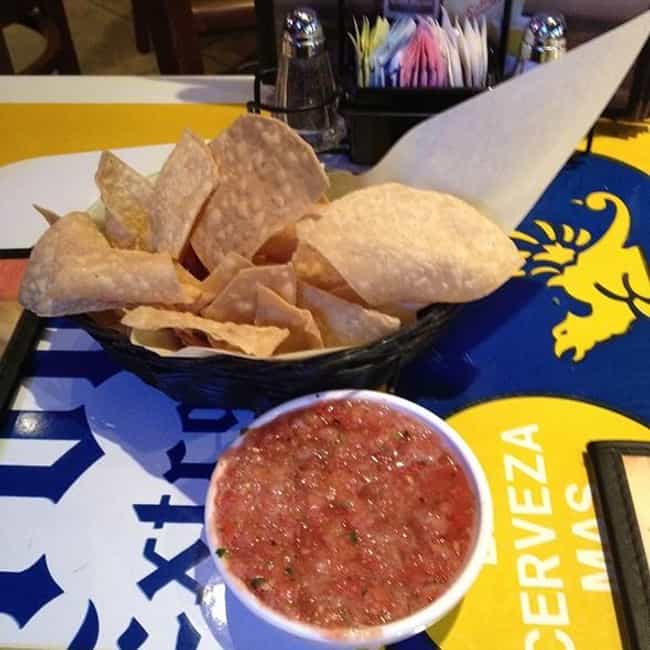 1 cup crushed tomatoes with added puree (such as Progresso)
2 cups tomatoes, diced 1/4 inch, including juice
1/4 cup yellow onion, diced 1/4 inch
2 green onions, finely chopped
1 tablespoon canned jalapenos, seeded and finely chopped
2 fresh serrano chiles, seeded and minced
2 teaspoons fresh lime juice
1/4 teaspoon ground cumin
1/4 teaspoon dried Mexican oregano, crumbled
1/4 teaspoon salt
1/4 cup cilantro leaves, chopped
- Blend crushed tomatoes with added puree for 30 seconds in a blender. Mixture should come out chunky.
- Add crushed tomatoes to the rest of the ingredients in a bowl and mix well.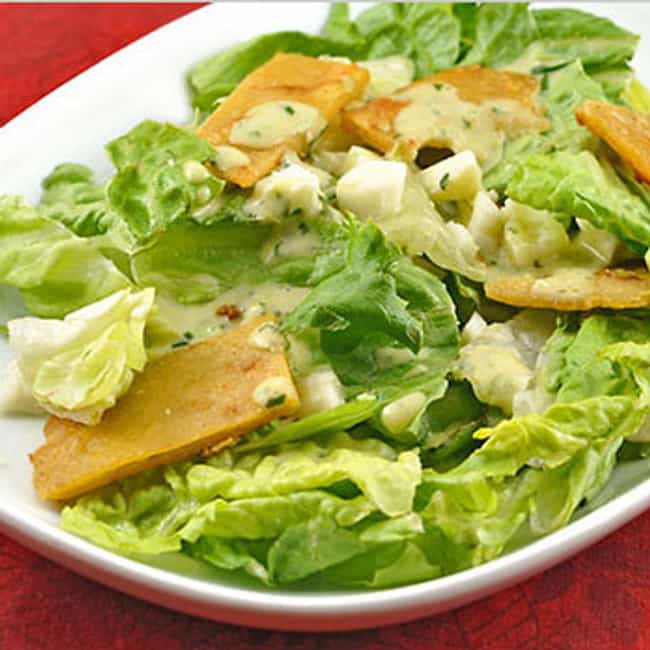 * for Cilantro Pepita Dressing
2 medium Anaheim chiles, roasted, peeled and seeded
1/3 cup roasted pepitas (pumpkin seeds)
2 cloves garlic, peeled
1/4 teaspoon ground black pepper
1 teaspoon salt
12 ounces salad oil
1/4 cup red wine vinegar
5 tablespoons grated Cotija cheese
2 small bunches cilantro, stemmed
1 1/2 cup mayonnaise
1/4 cup water
* for Salad
2 corn tortillas
vegetable oil
1 large head romaine lettuce, rinsed and spun dry
1/3 cup finely grated Cotija cheese
roasted red bell pepper, peeled and cut into julienne strips
1/2 cup pepitas (roasted pumpkin seeds)
- Combine chicken broth, onion, carrots, celery, bell pepper, potatoes, tomato paste, bay leaf, garlic, and oregano; bring to boil and simmer in a large pot for 25 minutes. Season to taste.
- Add zuccini, tomatoes and chicken breasts; bring to boil and simmer to 10 minutes. Remove from heat.
- Cut tortillas to matchstick strips.
- Saute tortillas in hot oil until crisp. Set aside to drain on paper towels.
- Place tortilla strips in individual bowls. Cover with grated cheese and ladle in soup.
- Top soup with slice of avocado and cilantro sprig. Makes 8-10 servings.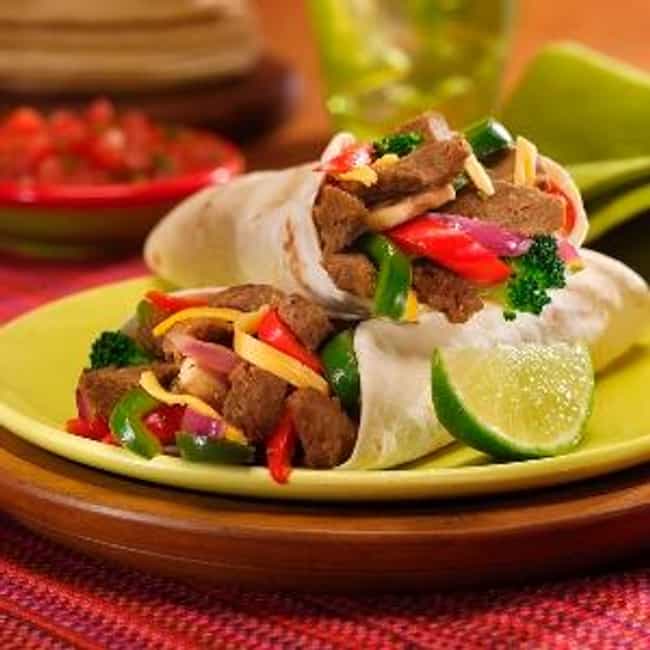 3 pounds tri-tip or bottom sirloin of beef
1/3 cup margarine
2 medium Spanish onions, cut into 1/4-inch julienne slices
4 medium green peppers, cut into 1/4-inch julienne slices
1 teaspoon seasoning salt
1 pound tomatoes, cut into wedges
Lemon wedges
* for Marinade
2 1/2 cups soy sauce
1 1/4 cups water
1 1/4 cups white vinegar
1 teaspoon minced garlic
1 teaspoon white pepper
- Marinade: Combine soy sauce, water, vinegar, garlic and pepper in large container. Whip with wire whisk until well mixed.
- Place meat in shallow pan and pour marinade. Refrigerate for 3 hours.
- Remove meat from marinade and cut into 1/2x3-inch strips.
- Melt margarine in large skillet. Add onions, green peppers and seasoning salt. Saute until vegetables are tender.
- Place meat in large cast-iron skillet and sear over medium heat.
- Remove meat from skillet when browned. Place another skillet upside down over high flame. Heat almost to point of smoking for about 90 seconds.
- Remove hot serving skillet from burner and pile with meat strips and vegetables.
- Place tomato wedges over meat and vegetables. Garnish with lemon wedges. Makes 6 servings.