Entertainment
13 Of The Most Insufferable Gwyneth Paltrow Moments

6.3k votes
1.5k voters
138.7k views
13 items
List Rules Vote up the (100% true) things that you really can't believe Gwyneth said or did.
When Gwyneth Paltrow wakes up every morning in her 5000-thread-count sheets on her bed in her castle made from imported Hope Diamonds, we can only imagine what goes through her head. "Thank God I'm not a poor. What's my housekeeper's name? Did I remember to get the milk last night? LOL I meant did my housekeeper remember to get the milk last night"... are just a few things she might be thinking.
It's true that Gwyneth lives in a different, better world than the rest of us common folk. As hard as she tries to prove otherwise, she will never fool us. Thankfully, we choose to laugh at her privileged naivety instead of marching upon her mansion with pitchforks in a Les Mis-style revolution. Sometimes, however, the Gwyneth Paltrow hate is so strong that the only cure is to make a list about it.
Some people might find Gwyneth Paltrow annoying or take offense to her clueless statements which betray her extreme privilege. Others may be in complete awe at the irresponsible health advice she has bestowed upon the millions of women who read her lifestyle blog, GOOP. But this list will lovingly recall all of Gwyneth Paltrow's most holier-than-thou moments in a 100% snark-free, VERY sympathetic way that is completely devoid of satire. Read on to rehash some truly crazy Gwyneth Paltrow stories that will make you wonder why she ever talks to the press at all.
She Compared Facing Internet Backlash To Defending Our Country During Wartime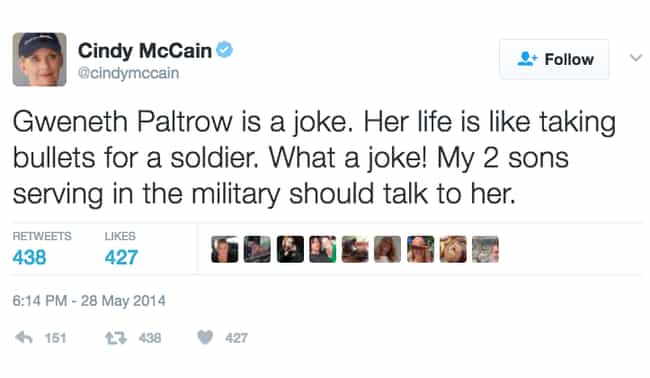 After GP likened the experience of reading anti-Paltrow Internet commentary to the "dehumanizing" effects of fighting in a war, John McCain's wife, Cindy, lashed out on Twitter and called her a "joke." "Perhaps Gwyneth Paltrow should go out on patrol with some soldiers," said McCain.
"Kind of like a Red Carpet in her mind I guess!"

Is this unbelievable?
She Admitted To Needing A Full Body Cleanse Every Time She Flies Commercial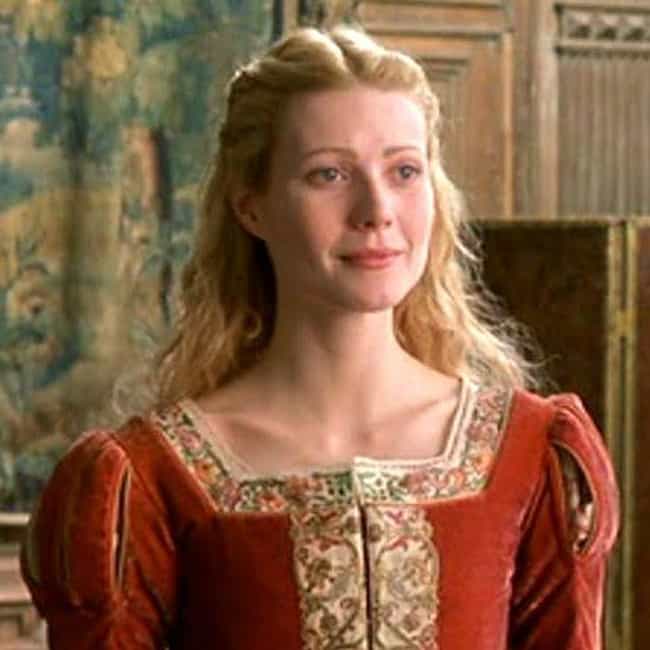 Still reeling from the groundbreaking 2016 announcement that Gwyneth Paltrow occasionally flies commercial, America barely heard G-Wiz's next statement: That she visits saunas after every flight to cleanse the germs of poor people from her body.

Is this unbelievable?
She Confirmed That She Does Not, In Fact, Make Just $25K A Year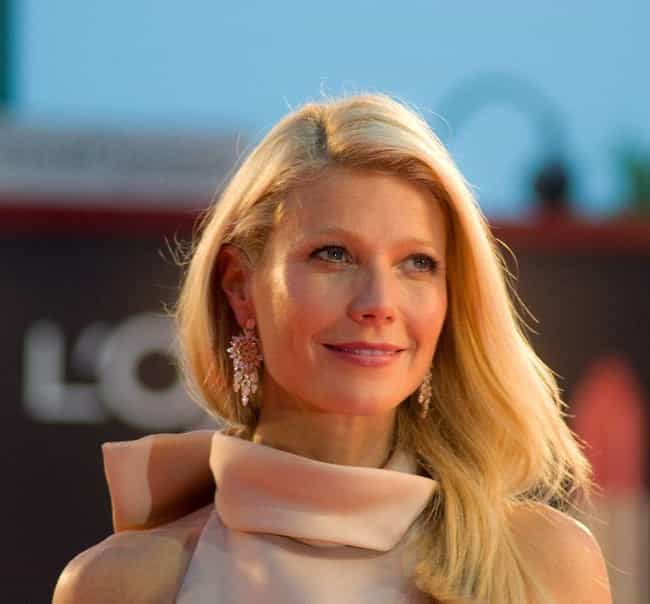 In 2009, Paltrow told Elle UK, "I am who I am. I can't pretend to be somebody who makes $25,000 a year." This forever changed our perception of her. Before this moment, we all thought she acted like someone who made $25,000 a year.

Is this unbelievable?
She Complained That Her Parents Cut Her Off When She Quit College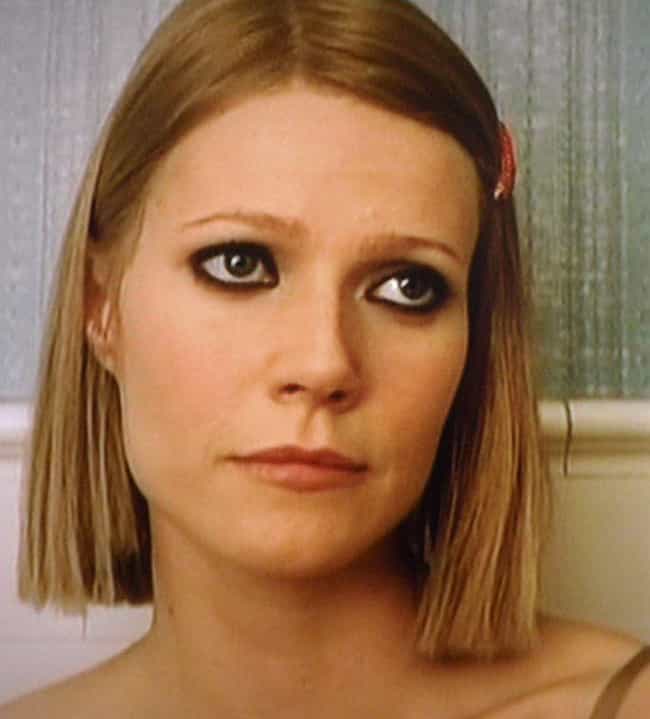 When confronted by Glamour about her fondness for uber-expensive wellness products, Paltrow attempted to course-correct by likening herself to a hard-working, self-made, started-from-the-bottom-now-we-here embodiment of the American Dream. She claimed she was "self-made" because her dad cut her off when she quit school to become an actress:
"It's the most motivating. People think, 'She's just a rich kid.' Until I was 18, I was. Then I was broke. I've never taken a dime off my parents. I'm completely self-made."
Her dad was a rich and successful TV producer and her mom is Blythe Danner. Her first acting role was on her dad's TV show.

Is this unbelievable?