Culture
What Happened When Ellen DeGeneres Came Out Publicly And On TV

On April 30, 1997, two words of TV dialogue were a groundbreaking shout to the world: "I'm gay." Ellen DeGeneres made that statement as Ellen Morgan on the fourth season of ABC's sitcom Ellen, and while she wasn't the first gay character to appear on TV, she paved the way for other LGBTQ+ characters to be less invisible on the small screen. In a Time magazine cover story titled "Yep, "I'm Gay," released a few weeks before the episode aired, DeGeneres herself openly identified as a lesbian, joining other celebrities who came out in the '90s, such as k.d. lang and Melissa Etheridge.
The official title of the two-part Ellen show was "The Puppy Episode," but it also became known as the "coming out episode." While being LGBTQ+ has become more accepted in mainstream media, an LGBTQ+ character or even a conversation about the subject of being gay or coming out wasn't common in the '90s. Gay people on TV were usually portrayed as caricatures who served as punchlines, or as tragic figures plagued by the AIDS crisis.
Ellen and the coming out episode - which won an Emmy Award for outstanding writing for a comedy series in 1997 - changed everything. By expressing her character's truth, as well as her own, in the most public of formats, DeGeneres paved the way for other LQBTQ+ celebrities who followed in her footsteps. Perhaps DeGeneres's coming out doesn't seem revolutionary today, but at the time it was a big deal - and not without negative consequences, because some people were uncomfortable with or even outraged at her openness.
The stories of Ellen (Morgan) coming out on her TV show and Ellen (DeGeneres) coming out in real life are inextricably linked.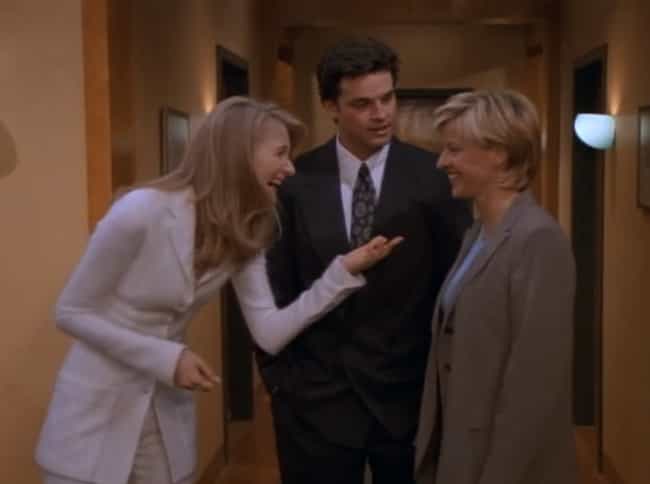 ABC Wanted To Give Ellen's Character A Puppy Instead Of A Romantic Relationship
Like any network cautious of losing viewership, ABC was initially against the idea of both versions of Ellen coming out. In 2017, celebrating the 20th anniversary of "The Puppy Episode" on her talk show, Ellen DeGeneres said during her opening monologue that executives told writers - in response to their plan to have the character Ellen come out so she could pursue a relationship on the show - to just give her a puppy.
Eventually, the network came around, but to maintain the secrecy of the episode's plot, the title "The Puppy Episode" stuck.
Some Advertisers Pulled Out - But Others Welcomed The Opportunity To Reach New Audiences
According to The New York Times, some advertisers were hesitant to show ads the night of "The Puppy Episode," but not all were willing to speak openly about it. Chrysler was one of the few that did, saying through a spokesperson:
We don't think it is a smart business decision to be advertising in an environment that is so polarized... It is not a content issue at all. We don't want to sit in judgment of what a TV show is doing about [relationship] preference. It's a business decision about trying to stay out of the fray. The environment around this is so angry we feel we lose no matter what we do.
Other advertisers, such as E-Trade, took advantage of what was expected to be a large audience - including LGBTQ+ people - to air ads during the episode.
Volkswagen aired an ad that featured two men who drive a VW Golf. The ad was "not really about sexuality, nor does it endorse a particular lifestyle," a spokesman said at the time. "It's about advertising our products to a target audience of drivers, which matches the viewers of Ellen and which would include many different life styles.''
Organizations such as the Family Research Council, which describes itself as "dedicated to articulating and advancing a family-centered philosophy of public life" and believes LGBTQ+ "conduct is harmful," asked advertisers to pull out of the episode:
The only option, one that is as American as apple pie, is to ask advertisers not to support programming that viewers feel is objectionable and to let them know that if they do, viewers will vote with their wallets the next time they are in the grocery store.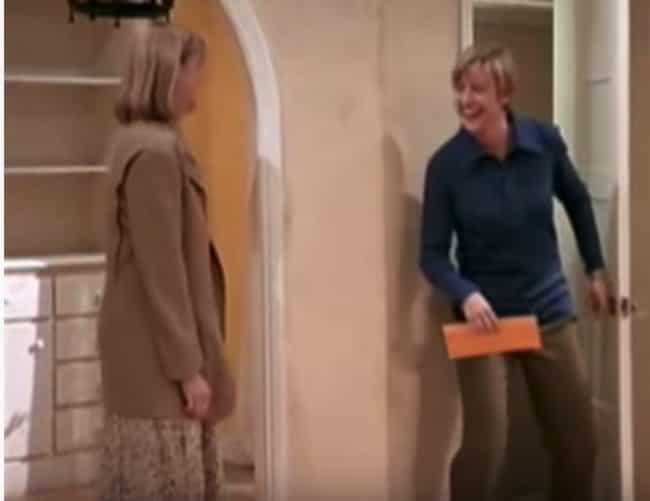 The Season Leading Up To 'The Puppy Episode' Was Filled With Teases
Ellen DeGeneres, who was also part of the show's writing team, made the rounds on numerous talk shows promoting the fourth season of Ellen. DeGeneres's lesbianism was more or less an open secret by then, but when asked about the subject during interviews, she usually either deflected the question or said her personal life was not up for discussion.
When rumors circulated that her character would be coming out of the closet, DeGeneres and her fellow writers used the speculation to their advantage. DeGeneres said in a few interviews that it would be revealed that Ellen was "Lebanese."
Numerous gags in earlier episodes of Season 4 involved such jokes as Ellen literally coming out of a closet, and her friends asking, "When are you coming out?"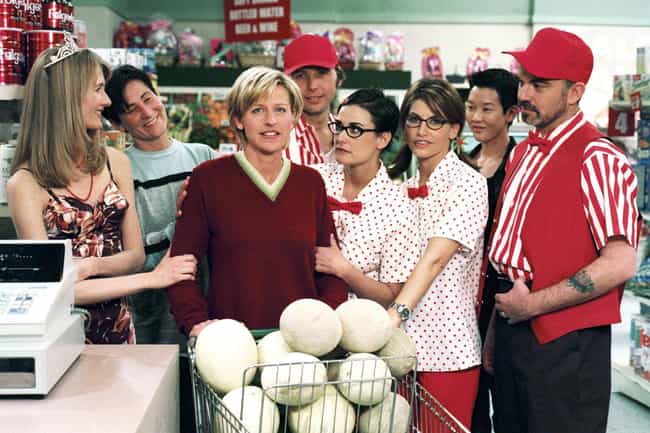 Ellen Had Privately Been Out To Her Close Friends, Cast Members, And Writing Staff
Before "The Puppy Episode," Ellen DeGeneres had been silent in public about her LGBTQ+ orientation.
In the late 1980s, upon moving to West Hollywood, she had a series of female "roommates" (as described by Megan Mullally on The Ellen DeGeneres Show), but maintained boundaries while she pursued a career in the public eye. At the time, identifying as anything other than "straight" was seen as a risk or even a career-ender.