Weird History Elvis Presley And Richard Nixon Once Shared The Strangest White House Meeting Of All Time

In 1970, there were few - if any - people in America more famous than Elvis Presley and Richard Nixon. Both the King of Rock and Roll and the president of the United States were at the top of the world, and only a few years away from their dramatic falls from grace - which is part of what makes their December 21, 1970, meeting at the White House so fascinating.
The photo of the two shaking hands in the Oval Office is one of the few legendary images with positive connotations from the notoriously scandalous President Nixon, who is ranked among the worst presidents in the popular imagination. Such an encounter might appear mundane for a celebrity as famous as Elvis, but the outrageous details of the meeting and how it came to take place, qualify it as one of the wildest Elvis stories.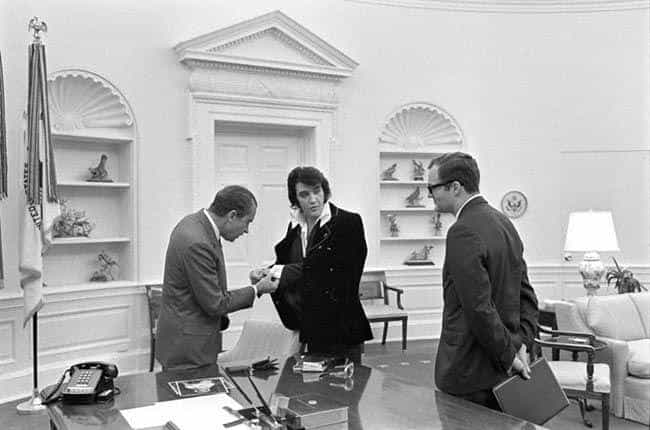 Presley Decided To Fly To Washington On A Whim
By the end of the '60s, Presley had turned his career focus back to music after a stint in the film industry, but he'd also become prone to prescription pill use and erratic behavior. Such an episode occurred in December 1970, when Presley got upset that his father and wife thought it was excessive to spend $100,000 on Christmas gifts.
Presley stormed off to the Memphis, TN, airport and boarded a plane headed to Washington, DC, where he got a hotel room. He soon lost interest in the city and returned to the airport, hopping on a plane bound for Los Angeles, CA. He stayed in California for a single day before he resolved that he had business to attend to in the nation's capital.
Presley's wife, Priscilla, recalled, "We were mystified. For the first time, he was traveling alone - without even one bodyguard. Elvis didn't even know his own phone number, nor did he carry cash. How was he going to get around?"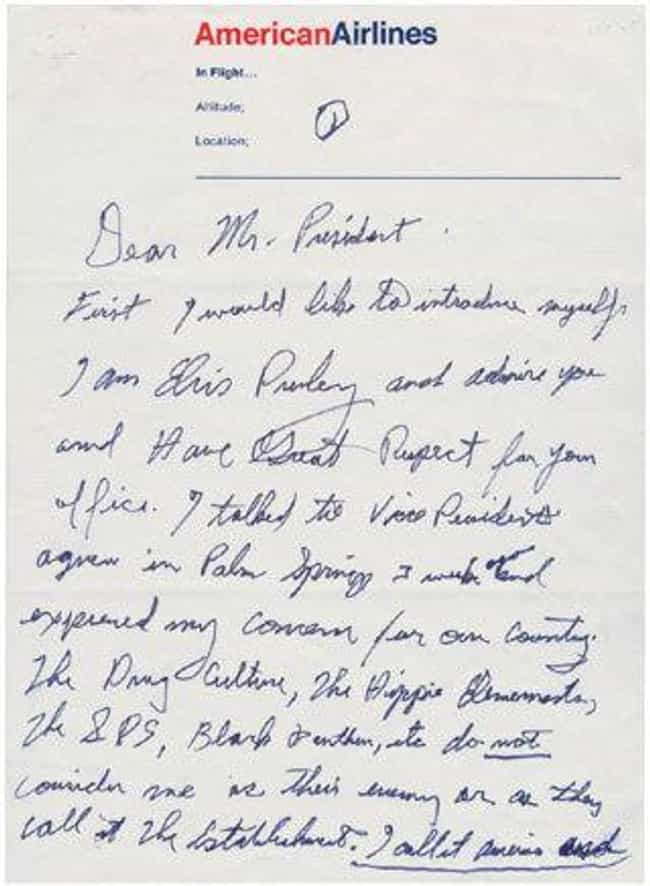 Presley Wrote A Letter To Nixon On American Airlines Stationary
After boarding a late-night flight to Washington, DC, Presley decided to make a formal request for a meeting with President Nixon in writing; he used American Airlines stationary. The hurriedly scrawled letter featured questionable penmanship and heaped praise of the president:
Dear Mr. President,

First, I would like to introduce myself. I am Elvis Presley and admire you and have great respect for your office...

P.S. I believe that you, Sir, were one of the Top 10 Outstanding Men of America also. I have a personal gift for you which I would like to present to you, and you can accept it, or I will keep it for you until you can take it.
Presley Claimed To Be Concerned With The Influence Of Counterculture On The Rock Scene
In his letter to President Nixon, Presley expressed his concern for the future of the country. Specifically, Presley was worried about the ever-evolving counterculture movement and its impact on the nation's youth - and he didn't hesitate to namedrop those he saw as particularly threatening:
I talked to Vice President Agnew in Palm Springs three weeks ago and expressed my concern for our country. The drug culture, the hippie elements, the SDS, Black Panthers, etc. do not consider me as their enemy or as they call it "the establishment." I call it America and I love it. Sir, I can and will be of any service that I can to help the country out. I have no concern or motives other than helping the country out.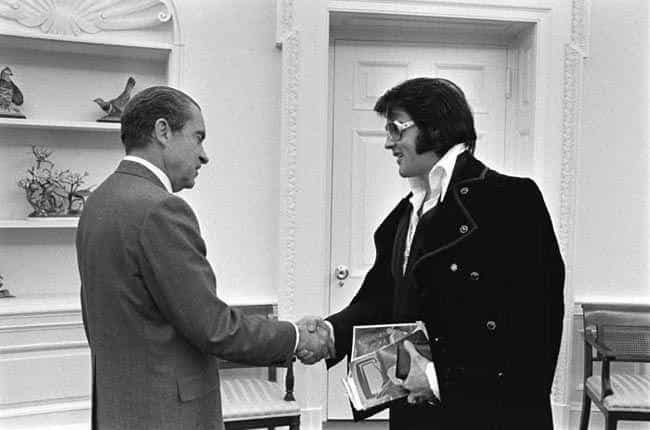 Presley Asked To Become An Undercover Agent
In Presley's letter to President Nixon, it became clear that Presley wasn't asking for a simple face-to-face meeting with the president - he wanted something in particular. Presley stated that he was seeking an official federal badge. He wrote:
I wish not to be given a title or an appointed position. I can and will do more good if I were made a Federal Agent at Large and I will help out by doing it my way through my communications with people of all ages...

I have done an in-depth study of [substance use] and Communist brainwashing techniques, and I am right in the middle of the whole thing where I can and will do the most good. I am glad to help just so long as it is kept very private.