Entertainment
26 Fascinating Facts You Didn't Already Know About Eminem

Updated March 2, 2020
2M views
26 items
Eminem isn't just one of the best rappers working right now, he's arguably one of the best rappers of all time. The man redefined rap in his early game and continued to do it as he evolved and matured. He changed how rap music was perceived by the mainstream and brought shock rap to the masses, while preaching some important messages.
Marshall Mathers (as he is legally known) has had a crazy and phenomenal stint in the rap game. After fighting his way to the top in the underground hip-hop clubs of Detroit, he rose to win an Oscar and become one of the most well-known rappers of his time. Eminem is a force of nature and he doesn't seem to be slowing down any time soon.
But who is Eminem? Who is this notoriously private and shy rapper (regardless of his loud persona and even louder lyrics) deep down? We've poured through interview after interview for some of the best Eminem stories that really paint a picture of the man, compiling Eminem trivia, quotes, and anecdotes. Consider this your own personal Eminem Wiki page!
Elton John Is His Unofficial Sobriety Sponsor
Eminem told Rolling Stone:
I speak to Elton [John]. He's like my sponsor. He usually calls me once a week to check on me, just to make sure I'm on the up-and-up. He was actually one of the first people I called when I wanted to get clean. He was hipping me to things, like, 'You're going to see nature that you never noticed before.' Sh*t you'd normally think was corny but that you haven't seen in so long that you just go, 'Wow! Look at that f*cking rainbow!' Or even little things – trees, the color of leaves. I f*cking love leaves now, man. I feel like I've been neglecting leaves for a long time.
Source: Rolling Stone
He Has the Biggest Vocabulary on the Pop Charts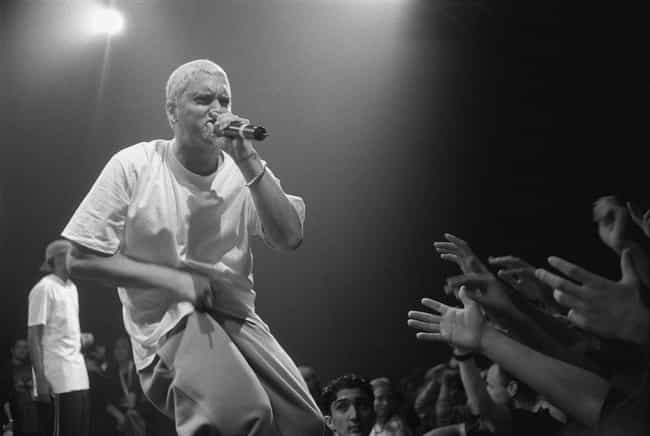 After looking at 93 top artists in over 25 genres of music, a study found that Eminem had the widest vocabulary. Coming in hot at a whopping 8,818 unique words used, Eminem topped Jay Z (6,899 unique words), Tupac (6,569 unique words), Kanye (5,069 unique words), and Bob Dylan (4,883 unique words). The study also looked for lyrical density and new word interval.
Source:
CNN
Before He Cut His First Album, He Made $5.50 an Hour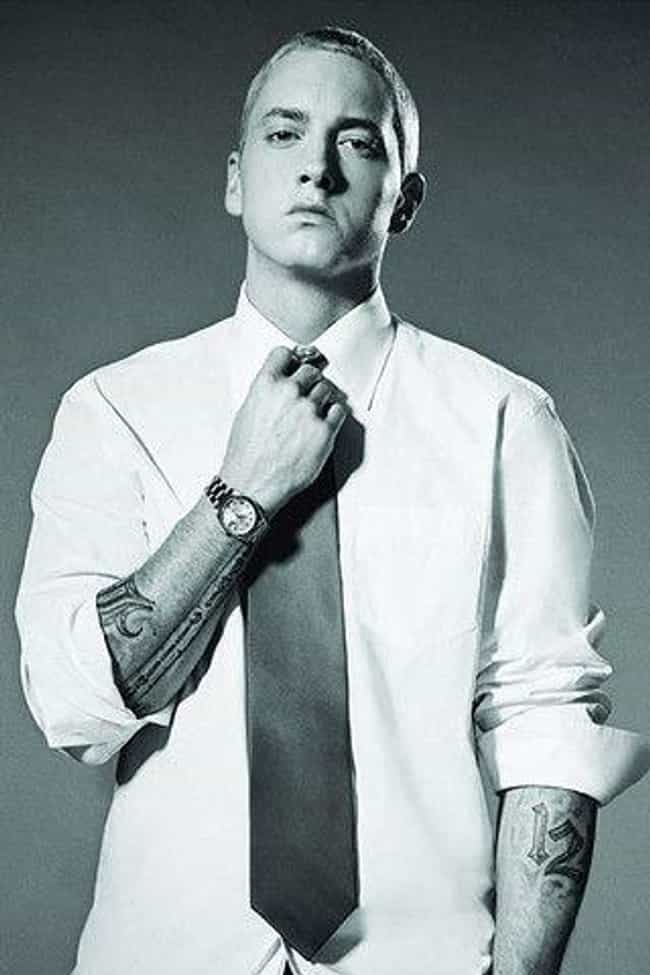 Back in 1992, Eminem signed with FBT records after years of barely scraping by, trying to make ends meet. For a time, he worked as a cook and a dishwasher at Gilbert's Lodge, a small family restaurant in Michigan, making a mere $5.50 an hour.
Five days before Christmas, and soon after releasing Infinite in 1996, he was fired from the restaurant; it also happened to be his daughter's birthday. He wrote "Rock Bottom" right after that.
Source: Rolling Stone
He Squatted in His Old Apartment the Night Before He Was Discovered by Dre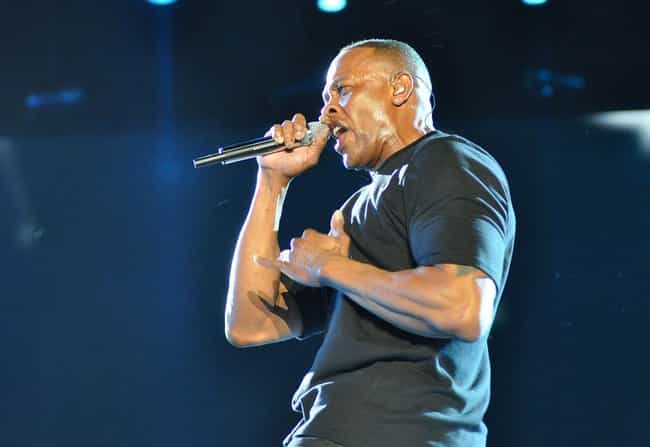 Eminem experienced what every musician dreams of... happenstance discovery. He was at the LA Rap Olympics and was noticed by someone in the mailroom at Interscope, who then managed to get his mixtape to Jimmy Iovine and Dr. Dre. The two loved it (and mixtapes rarely ever turn into much).
What's even crazier is that the night before, he had to break into his own place, from which he'd just been evicted. "I had to break in," he says. "I didn't have anywhere else to go. There was no heat, no water, no electricity. I slept on the floor, woke up, went to L.A. I was so pissed."
Source:
Rolling Stone