Mysteries
The Strange Circumstances Of Emma Fillipoff's Disappearance

Unfortunately, people go missing all of the time, with over 60,000 reported cases in Canada every year. Some of the people who disappeared are found alive and leading new lives, while others have more macabre and violent endings. Emma Fillipoff's disappearance was so strange, people took notice.
Fillipoff moved to Victoria, British Columbia, in fall of 2011, leaving behind her family in Perth, Ontario. She got a seasonal job at the restaurant Red Fish Blue Fish. She left the restaurant on October 31, 2012, but promised to be back for the next season. Fillipoff's family and friends thought she was driving her van back to Perth that November, but she never made it home.
She seemingly disappeared into thin air, with no leads or clues about what happened. Because she was acting strangely before her disappearance, there are several theories about what happened to her. But no one really knows what happened to Emma Fillipoff.
She Begged Her Mother To Come Get Her Before Changing Her Mind - Multiple Times
Beginning five days before her disappearance, Fillipoff called her mother, Shelley, and begged for help to get back home to Perth, Ontario. Shelley assured Fillipoff she would come get her or assist her in coming home, only to have Fillipoff call back the next day and insist plans were canceled.
This happened four days in a row, with Fillipoff telling her mother "she did not know how she could face her". On the day of her daughter's disappearance, Shelley flew into Victoria without telling anyone, only to report Fillipoff missing when she never returned to the women's shelter where she was staying.
A Man Claiming To Be Fillipoff's Boyfriend Surfaced In 2014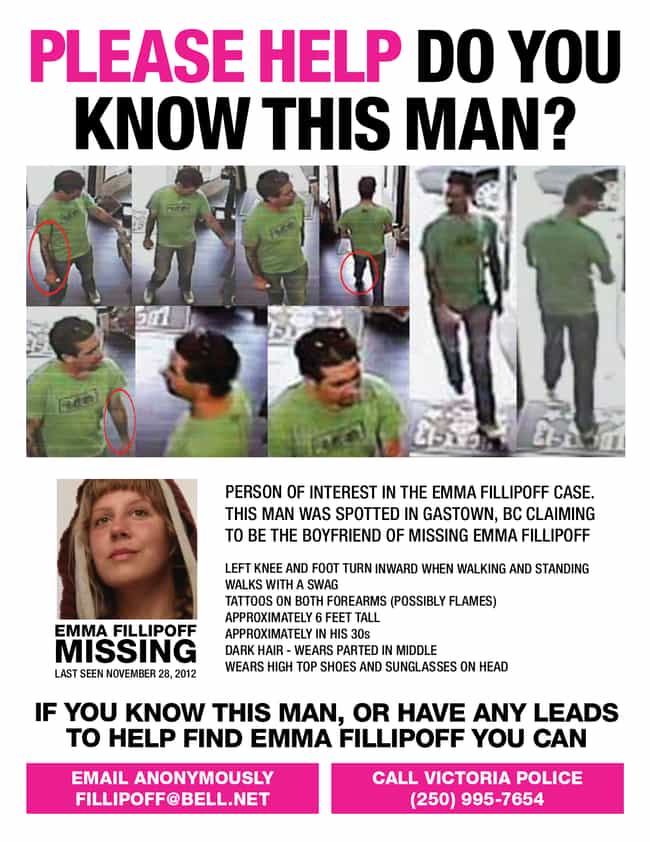 Two years after Fillipoff's disappearance, a man with a limp and flame tattoos on his arms entered a store in Gastown, Vancouver. He grabbed a poster offering a $25,000 reward for information leading to the whereabouts of Fillipoff, crumpled it up and yelled, "It's one of those missing persons posters, except she's not missing, she's my girlfriend and she ran away 'cause she hates her parents."
Police were called, security footage of the man was captured, and he still remains unidentified.
A Friend Saw Her Looking Dazed And Called Police
An acquaintance, Dennis Quay, saw Fillipoff walking barefoot in front of the Empress Hotel in Victoria at 6:15 pm on the day of her disappearance. Quay approached Fillipoff and asked if someone was following her, as she seems confused and paranoid. She didn't answer his questions, but she did ask Quay to walk with her. Growing tired of Quay's concerns and questions, Fillipoff decided to walk alone, which prompted him to call 911.
The police arrive at 7 pm and Quay left the area, believing the police would take care of Fillipoff.
Her Prepaid Credit Card Was Found And Used - But Led To No Suspect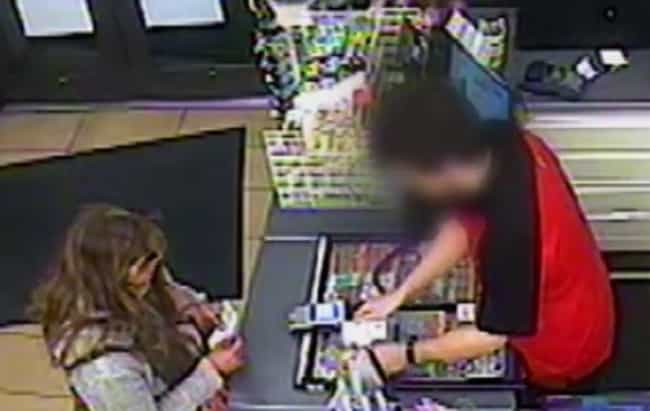 The day of her disappearance, Fillipoff purchased a $200 prepaid credit card from 7-11 at 8:23 am. She was seen by several witnesses before disappearing after 8 pm that night, including a return trip to this store to buy a prepaid cell phone she would never use.
On December 5, 2012, the prepaid credit card was used at a gas station located 12 kilometers from Victoria and near Juan de Fuca Recreation Centre and Galloping Goose trail. The man who used the card said he found it near the gas station before admitting he was an alcoholic and was not sure where he had actually picked up Fillipoff's lost card.
The man was questioned by police and was not determined to be a person of interest in the case.