movie quotes

End of Watch Movie Quotes

124 votes
67 voters
26.4k views
8 items
Follow
Embed
"End of Watch" movie quotes follow the action as two top officers in the Los Angeles Police Department stumble on something horrific, causing them to be marked for death by a powerful drug cartel. David Ayer, who famously wrote another police action film, "Training Day," wrote, directed and produced "End of Watch," which first premiered at the 2012 Toronto Film Festival.
In "End of Watch," Jake Gyllenhaal and Michael Pena portray Police Officer Brian Taylor and Police Officer Mike Zavala, respectively, two of the top members of the Los Angeles Police Department. Their lives are good. They have loving wives (Natalie Martinez and Anna Kendrick) plus the praise of their peers, especially after earning recognition for bravery by rescuing people from a burning building. But the life they know all changes after what is seemingly a routine traffic stop.
Officer Taylor and Officer Zavala just happened to stop the wrong car one day, discovering a small amount of money and weapons in a car connected to a local drug cartel. Despite urging from fellow law enforcement officers to leave this one alone, the duo investigate this cartel and as a result soon become the cartel's biggest target.
"End of Watch" is rated R for violence, drug use and sexuality so if that's not quite your speed, there are many other great movies around including
"Lawless,"
"Cosmopolis,"
"Premium Rush,"
"Hit and Run,"
"ParaNorman,"
"Sparkle,"
"The Expendables 2"
and
"The Odd Life of Timothy Green."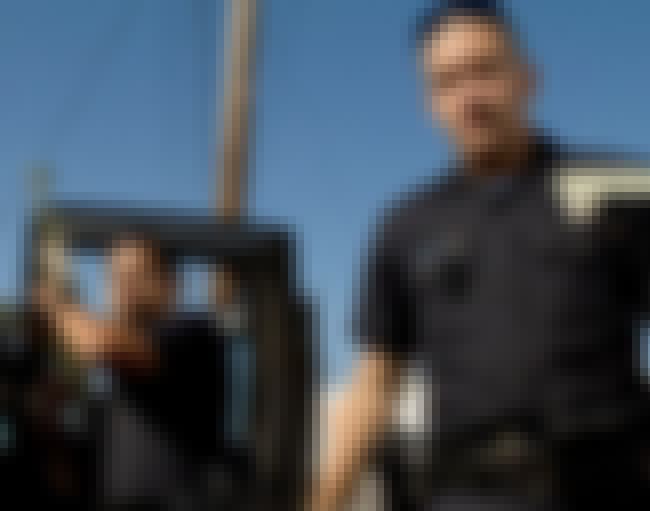 Officer Brian Taylor: "I am fate with a badge and a gun, protecting the prey from the predators, the good from the bad. We are the police."
The part of being a police officer is the boring everyday stuff they do. This is nothing compared to the firefight that Officer Taylor and officer Zavala are about to face when they discover a house that holds many of the cartel's secrets.
Officer Mike Zavala: [Laughs] "It's still funny to text. Who you texting? That same b****?"
Officer Brian Taylor: "Dude, yeah, she's smart, man. She's like the first girl I can actually have a conversation with. You know she has a master's of sciences in fluid hydraulics?"
Officer Mike Zavala: "Fluid hydraulics?"
Officer Brian Taylor: "Yes"
Officer Mike Zavala: "I wouldn't brag about that, dude. She has a master's degree in fluid hydraulics."
Officer Brian Taylor: "I date all these girls, man. They're smokin' hot..."
Officer Mike Zavala: "Yeah, you're little f***ing badge bunnies"
Officer Brian Taylor: "I get laid without a badge, thank you very much"
Officer Mike Zavala: "Cause you were in the marines, don't ask, don't tell"
Officer Brian Taylor: "There's a pattern, an MO here. First date is dinner and a respectful kiss. Second date is dinner, full carnal knowledge, and the third date is dinner and uncomfortable silences when I try and discuss anything of merit. There two or three booty calls and it's on to the next."
Being a law enforcement officer sure has it's positives and negatives, with one of the positives being those "badge bunnies" eager to get with a man in uniform. As Officer Brian Taylor points out though, sometimes you need a bit more in a relationship, like half a brain in your companion.
Toughest Divisions in the LAPD
Officer Brian Taylor: "We work the toughest divisions in the LAPD."
Yes, you two rescue people from burning buildings, fight crime in one of the toughest neighborhoods and earn awards for your valor but Officer Brian Taylor, nothing in your training is about to prepare you for the fight against the cartel you're about to face.
Everybody Wants to Kill Us
Man Friend: "Got a hit on y'all, man. Y'all been green-lit"
Officer Brian Taylor: "Come on, man, we're cops. Everybody wants to kill us."
Yes, Officer Taylor, you may think that everyone wants to kill cops, but this dude is actually trying to tell you that you've specifically been targeted by the cartel and they don't mess around.