Editor's Note: Voting and Reranking have been closed.
There are countless debates out there surrounding Ernest Hemingway, including whether or not he's the greatest American novelist of all-time, as well as about the themes of misogyny in his writing (and his life). But, there's another, less literature-based question lingering about the author – was Ernest Hemingway a spy? Specifically, was there a direct connection between Hemingway and the KGB? The notion might seen ridiculous, but enough evidence has come to light in recent years that it's now a historical certainty – Hemingway: a Soviet spy. One J. Edgar Hoover and his CIA were on to, at that.
Hemingway, who was born in Oak Park, Illinois, on July 21, 1899, lived in the United States for much of his 61 year, but it was his international cavorting that got him involved in the whole clandestine-operative thing. Hemingway is most famous for his great works like A Farewell to Arms, For Whom the Bell Tolls, and The Old Man and the Sea, and for his winning of a Nobel Prize. Unfortunately, Hemingway was never really able to say farewell to his time as a spy, something that led directly to the final bell tolling on this particular tale of an old man and the KGB.
Photo: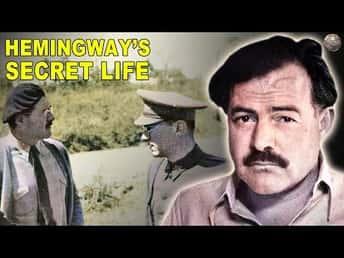 The News Came Out In 2009, When A Former KGB Operative Published A Book On The Agency

Photo: Unknown / Wikimedia Commons/Public Domain

Although Ernest Hemingway passed away in 1961, the story about his time spying for the Soviets didn't come out until 2009. That year, a book was released that shared the personal notes of a former KGB officer, Alexander Vassiliev, and it was full of insider information on the Russian spy agency. In his time with the KGB, Vassiliev was granted access to archives from as far back as the Stalinist period, providing an unprecedented look at the inner workings of the KGB and their predecessor, the NKVD. Among those archives, Vassiliev found details of Hemingway's "dilettante spy" career.