Buildings/Attractions

List of Famous Eugene Buildings & Structures

List of the famous landmarks that make up the Eugene skyline, listed alphabetically with photos when available. Eugene architectural landmarks as well as other major buildings, dwellings, and other structures in Eugene are included on this list. Information about these Eugene buildings is included on this list, such as when the building first opened and what architectural style it falls under. List includes both new buildings in Eugene and older historic landmarks.
This list features W.O.W. Hall, Deady Hall and more.
This list answers the question, "What are the most famous buildings in Eugene?"
This is a good reference for research into the historical architecture in Eugene. Famous architectural houses within the city of Eugene are included as well, sometimes by address, other times listed by the name of the original home owner.
The A. V. Peters House aka the Peters-Liston-Wintermeier House, located in Eugene, Oregon, United States, is a house listed on the National Register of Historic Places. The house was built c1870 for merchant Andrew Vincent Peters and his wife Mary Elizabeth "Lizzy" Peters on the southeast corner of 10th and Pearl streets, and moved to its current location in 1912. A 1-1/2 story c1890s carriage house was also moved onto the property about that same time. Considered one of Oregon's finest examples of the Rural Gothic Style, the house was built using a design from a pattern book by Henry W. Cleaveland published in 1856. Another pattern book Woodward's National Architect published in 1869 was ...more on Wikipedia
City/Town: Eugene, Oregon, USA
Style: Gothic Revival architecture
see more on A. V. Peters House
City/Town: Eugene, Lane County, Oregon, United States of America, Northwestern United States, + more
Opened: Jan 01 1975
Structural Height (m): 42.06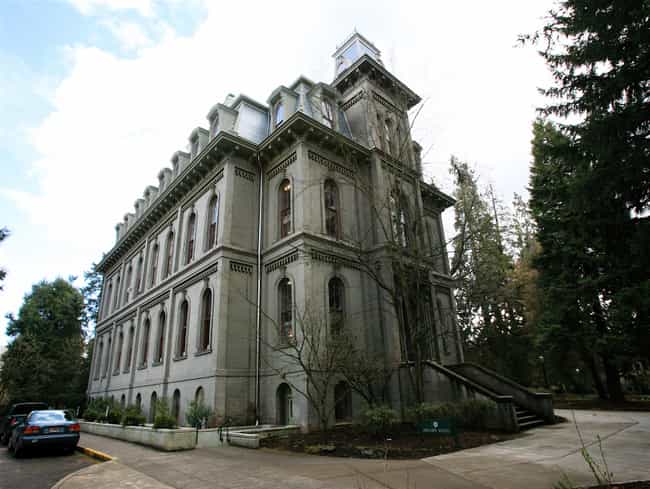 Deady Hall is a historic building located in Eugene, Oregon, United States. It was built from 1873 to 1876 by W. H. Abrams to a design by architect William W. Piper. It was the University of Oregon's first building, and remained the university's only building for almost ten years after its construction. After the university gained other buildings, it was known simply as the "Old Building", but in 1893 it was renamed "Deady Hall" in honor of Matthew Deady, Oregon's first federal judge. Ironically, Deady believed that state universities were of little use to anybody, and in 1857, during the Oregon Constitutional Convention, Deady moved to strike the section authorizing a university from the ...more on Wikipedia
City/Town: Eugene, Oregon, USA
Style: Italianate architecture
see more on Deady Hall
4
Lane County Clerk's Building
The Lane County Clerk's Building, located in Eugene, Oregon, is listed on the National Register of Historic Places. ...more on Wikipedia
City/Town: Eugene, Oregon, USA
Style: Classical Revival