Airplanes

List of Eurocopter Group Airplanes and Aircrafts

3.5k views
16 items
Follow
List of all Eurocopter Group airplanes and aircraft types, with images, specs, and other information. These active and retired Eurocopter Group planes are listed in alphabetical order, but if you're looking for a particular aircraft you can look for it using the "search" bar. The Eurocopter Group aircrafts on this list include all planes, jets, helicopters, and other flying vehicles ever made by Eurocopter Group. Unless you're an aviation expert you probably can't think of every aircraft made by Eurocopter Group, so use this list to find a few popular Eurocopter Group planes and helicopters that have been used a lot in the course of history.
This list features Eurocopter AS365 Dauphin, Eurocopter AS565 Panther and more.
This list answers the question, "What aircrafts are made by Eurocopter Group?
The Aérospatiale Alouette III is a single-engine, light utility helicopter developed by Sud Aviation. It was manufactured by Aérospatiale of France, and under licence by Hindustan Aeronautics Limited in India as Hal Chetak and Industria Aeronautică Română in Romania. The Alouette III is the successor to the Alouette II, being larger and having more seating. ...more on Wikipedia
Type: Light utility aircraft helicopter
Manufacturer: Sud Aviation, Aérospatiale, Eurocopter
Introduced: Jan 01 1960
Length (m): 10.03
Wingspan (m): 11.03
Maiden Flight: Feb 28 1959
see more on Aérospatiale Alouette III
The Eurocopter EC120 Colibri is a 5-seat, single-engine, single main rotor, light helicopter. Jointly designed and developed by Eurocopter, China National Aero-Technology Import & Export Corporation, Harbin Aviation Industries Ltd and Singapore Technologies Aerospace Ltd at Eurocopter France's Marignane facility, the EC120 B is assembled by Eurocopter in France and Australia. In China, the aircraft is produced by Harbin as the HC120. Harbin Aircraft Manufacturing Corporation started manufacturing HC-120 in 2004, the assembly line in this northern China city is the only HC-120 line outside of France. Chinese PLA Army and local police forces purchase HC-120 helicopters. Eurocopter has a 61% ...more on Wikipedia
Type: Light utility helicopter
Manufacturer: Eurocopter, Harbin Aircraft Manufacturing Corporation
Length (m): 9.6
Wingspan (m): 9.96
Maiden Flight: Jun 09 1995
see more on Eurocopter EC120 Colibri
The Eurocopter SA 365/AS365 Dauphin 2 is a medium-weight multipurpose twin-engine helicopter currently produced by Airbus Helicopters. It was originally developed and manufactured by French firm Aérospatiale, which was merged into the multinational Eurocopter company during the 1990s. Since entering production in 1975, the type has been in continuous production for more than 40 years. The intended successor to the Dauphin is the Airbus Helicopters H160, which is yet to enter operational service as of March 2015. The Dauphin 2 shares many similarities with the Aérospatiale SA 360, a commercially-unsuccessful single-engine helicopter; however the twin-engine Dauphin 2 did meet with customer ...more on Wikipedia
Type: Transport, Utility helicopter
Manufacturer: Aérospatiale, Eurocopter
Length (m): 13.73
Wingspan (m): 11.94
Maiden Flight: Jan 24 1975
see more on Eurocopter AS365 Dauphin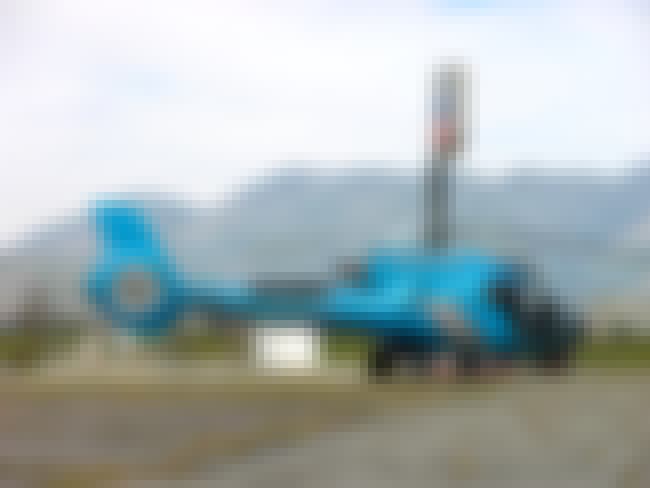 The Eurocopter EC130 is a single engine light helicopter developed from the earlier AS350 Ecureuil, one of the primary changes from which was the adoption of a fenestron anti-torque device in place of a conventional tail rotor. It was launched and produced by the Eurocopter Group, which would later be rebranded as Airbus Helicopters. ...more on Wikipedia
Manufacturer: Eurocopter
Length (m): 10.68
Wingspan (m): 10.69
Maiden Flight: Jun 24 1999