Weird History
What Happened Immediately After JFK Was Assassinated?

On November 22, 1963, President John F. Kennedy was assassinated in Dallas, Texas. Arguably the crime of the century, Kennedy's murder stunned the American people and set off an outpouring of grief around the world. But the days after JFK's assassination also involved additionally shocking events and dramatic moments.
In the immediate aftermath of the JFK assassination, Kennedy's alleged assassin, Lee Harvey Oswald, was shot to death live on American television. Oswald's background as a former resident of the Soviet Union, his Russian wife, and connections to communist Cuba added a cold war component to the assassination. The sketchy background of Oswald's assassin, Jack Ruby, also quickly fomented numerous conspiracy theories that became an integral part of any future discussion of JFK's assassination. What happened following the assassination of John F. Kennedy - arguably one of the world's most important leaders - had historical, political, and social implications that still reverberate today.
back to page 1
Walter Cronkite Got Emotional Announcing Kennedy's Death
At approximately 2 pm EST, news networks started to preempt regular programming to switch to JFK's assassination. Rumors began sweeping both the local Dallas and national newsrooms that President Kennedy was dead. For 38 minutes Walter Cronkite repeated various unconfirmed reports of Kennedy's death, including a report from Dan Rather who spoke to one of the two priests present at Parkland Hospital who confirmed it.
Finally, at 2:38 pm EST, Cronkite was handed an Associated Press news flash that confirmed the President's death. Cronkite was quite friendly with Kennedy and was deeply affected by the announcement, choking up as he read the news.
Oswald Killed A Policeman, And Was Arrested In A Movie Theater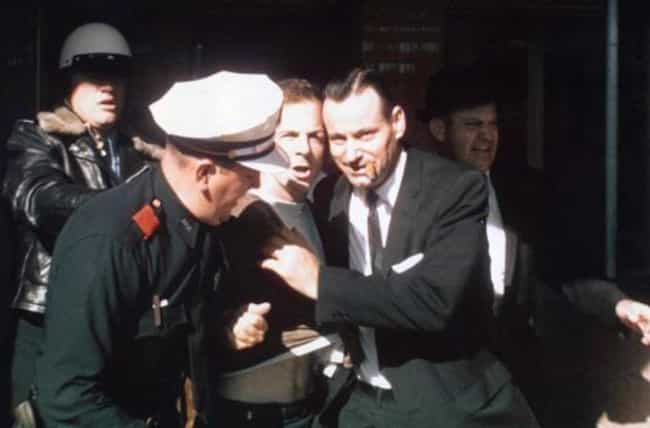 Upon leaving his rooming house at a few minutes after 1 pm, Lee Harvey Oswald briefly wandered aimlessly in the neighborhood near his home. At approximately 1:15 pm, he reached the intersection of 10th and Patton Streets where a Dallas policeman named JD Tippit observed him from a patrol car. Although Tippit had received a description already circulating of a suspect in the Kennedy assassination, it is impossible to determine whether Tippit connected Oswald to that description. Oswald spoke to Tippit through the window of his car, and when the police officer got out of his vehicle and began walking towards him, Oswald quickly drew his pistol and shot him four times, including once in the temple.
The area was quickly overrun by numerous police cars, and Oswald's movements became furtive. He attracted the attention of a shoe store employee who, upon hearing the sirens, decided to follow Oswald. Oswald stopped at a movie theater, walked into the lobby, snuck into the theater. When the shoe store employee, Johnny Brewer, approached and asked a theater employee if Oswald had bought a ticket, she said no. He told her to call police. Police quickly descended upon the theater, the movie was halted, and the house lights were turned up. Patrolman Nick McDonald patted down a few patrons before coming to Oswald. When he asked him to stand, Oswald shouted "It's all over now." He punched the officer with one hand and drew his gun with the other. As officers converged on Oswald, McDonald got his hand on the weapon. Oswald was subdued, handcuffed, and led out of the theater. Outside was an angry crowd already jeering and threatening him, aware that he was connected to the murder of Officer Tippit and possibly even the President.
LBJ Was Sworn In As The New President Immediately After JFK Died
At 2:38 pm CST, Lyndon Johnson was sworn in as President of the United States. The oath of office was administered by Judge Sarah T. Hughes, a federal judge appointed by JFK only months earlier. It was the first and only time that a female administered the oath of office to the President of the United States.
Lyndon Johnson ignored the Kennedy entourage's wishes that he fly home on Air Force Two, and he insisted that Jackie Kennedy stand next to him while the oath of office was administered, as a sign of Kennedy support for the transition.
Jackie Kennedy Arrived In DC Still Wearing Her Blood Spattered Outfit
From the moment the news of the assassination was broadcast, every radio and television station showed nothing but continual news concerning the incident for four days. At approximately 6:00 pm EST, Air Force One arrived at Andrews Air Force Base in Maryland containing President Johnson, the body of John F. Kennedy, and the Kennedy entourage. The nation watched live as President Kennedy's coffin was unloaded and placed into an ambulance; Jackie Kennedy then emerged with Robert Kennedy, who had boarded the plane upon its arrival. President Johnson appeared next and made some brief remarks to the nation.
Jackie Kennedy was still deliberately wearing the bright pink outfit she had worn all day, the dried blood of her husband clearly visible on the front of her skirt. She had been asked earlier if she wanted to change into something else, but she replied "Oh, no, I want them to see what they have done to Jack." The outfit was donated to the National Archives by Jackie Kennedy, but is restricted from public view until 2103 by request of JFK and Jackie's daughter Caroline Kennedy. It is currently stored in a secret, sealed, and climate-controlled location within the National Archives. Jackie's pillbox hat disappeared at some point on November 22 and its current whereabouts are unknown.