Politics
Every Week Of The Trump Administration, Ranked By Insanity

Updated August 3, 2020 · 3:16pm PDT
9.1k votes
836 voters
42.5k views
182 items
List Rules Vote up the weeks where the events make you exclaim WTF the loudest.
If the world is still turning in 100 years, scholars will look back at the presidency of Donald Trump in awe. They won't admire his accomplishments; they'll simply be astonished with the American public's ability to deal with the Donald Trump presidency week by week. The first 100 days of the presidency were certainly something special. There are even political theorists who believe that the Trump administration is piling on tragedies to shock the system of the American people, making it so people grow numb to the irrational choices and systematic stripping of rights enacted by the President until no one notices that America has been gutted of its sovereignty. Once you look at the most eventful weeks of Donald Trump's time as president, you can see that he's just winging it.
Rest assured, there are peaks and valleys within Trump's presidency. Some weeks go by with barely a peep from Sean Spicer, and sometimes the President gives us a respite from his beloved tweet storms – and even those moments are in the running to be the craziest week of the Trump administration. Deciding what WTF week of Trump presidency is the most bonkers is like a Rorschach test where everyone is wrong. What little joy that can be found in it is nothing more than schadenfreude, but the joke is on the country. Even if you voted for Donald Trump, there's nothing worth beating your chest about to be found in his presidency, just the realization that something has gone terribly wrong. Keep reading, and check back every week to see how low the President can go.
Week 44, November 27 - December 3: Multiple Acts Of Presidential Racism, A Guilty Michael Flynn, And A Terrible Tax Bill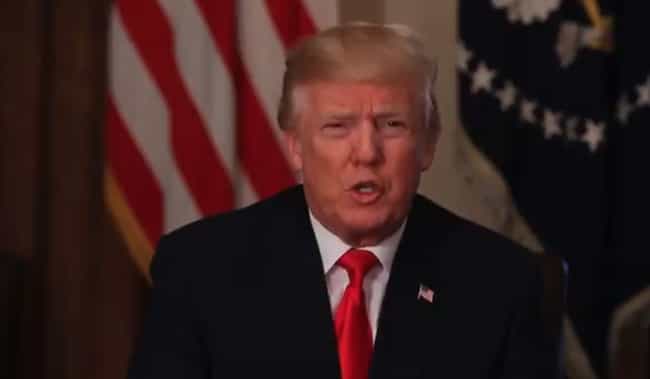 Week 44 felt like it both went by too fast and lasted for 10 years at the same time. Trump started the week by throwing out a racial slur and ended it with suggesting that people sue a major news corporation. Oh, and his former national security advisor Michael Flynn was found guilty of meeting with Russian officials during the election.
Monday, November 27:

The week started off as they all do – with the President tweeting about news networks hosting a fake news contest. Then, at an event honoring Navajo code talkers, Trump made a crack about Senator Elizabeth Warren, calling her "Pocahontas." He then referred to the men and women gathered at the event as "special people." When Press Secretary Sarah Huckabee Sanders spoke to the press that evening, she said that "Pocahontas" is not a racial slur and that the person who everyone should be mad at is Elizabeth Warren
We should have a contest as to which of the Networks, plus CNN and not including Fox, is the most dishonest, corrupt and/or distorted in its political coverage of your favorite President (me). They are all bad. Winner to receive the FAKE NEWS TROPHY!

— Donald J. Trump (@realDonaldTrump) November 27, 2017
Tuesday, November 28:

On the 28th, there was meant to be a bipartisan meeting between the President, Senator Chuch Schumer, and Representative Nancy Pelosi to see if an immigration deal could be reached. After Trump tweeted preemptively that he didn't think a deal would happen, Schumer and Pelosi canceled their meeting. Many pundits saw this as an attempt for Trump to appeal to his base rather than to try to create an air of bipartisanship. Trump followed the cancelation by tweeting a photo of himself alone in the Roosevelt Room stating that Schumer and Pelosi are "weak on immigration." That tweet has since been removed.
Meeting with "Chuck and Nancy" today about keeping government open and working. Problem is they want illegal immigrants flooding into our Country unchecked, are weak on Crime and want to substantially RAISE Taxes. I don't see a deal!

— Donald J. Trump (@realDonaldTrump) November 28, 2017
Wednesday, November 29:

The President was extremely online on Wednesday. He began the day by retweeting two videos by noted anti-Muslim extremist Jayda Fransen that appeared to show a Muslim assaulting someone on crutches and another Muslim destroying a small statue of the Virgin Mary. This is a clear attempt to continue to normalize the behavior of the far Right; it's so blatant that even someone at Inforwars referred to the tweets as "not great optics." Following his retweeting of hate speech, the President posted a few smug tweets about Matt Lauer and other members of the media whom he believes have committed awful sexual acts. Keep in mind that this is the guy who was caught on tape discussing all of the awful things he likes to do to women.
Wow, Matt Lauer was just fired from NBC for "inappropriate sexual behavior in the workplace." But when will the top executives at NBC & Comcast be fired for putting out so much Fake News. Check out Andy Lack's past!

— Donald J. Trump (@realDonaldTrump) November 29, 2017
Thursday, November 30:

After North Korea tested a missile that they claimed could strike anywhere on the US mainland, Trump continued his bullying rhetoric against the country's leader. In a Tweet (where else?), he poked at Kim Jong Un by once again referring to him as "Rocket Man."
The Chinese Envoy, who just returned from North Korea, seems to have had no impact on Little Rocket Man. Hard to believe his people, and the military, put up with living in such horrible conditions. Russia and China condemned the launch.

— Donald J. Trump (@realDonaldTrump) November 30, 2017
Friday, December 1:

Michael Flynn, the former national security advisor to President Trump, pleaded guilty to making false statement to the FBI about whether or not he was in contact with Russia at the time of the election. After pleading guilty, Flynn offered to assist the FBI with prosecuting "another person." At the time of writing, it's unknown who the other person is, but you can make an educated guess as to who Flynn is talking about. While the Flynn news was breaking, Trump was busy stumping for the Republican tax plan that had yet to be read by the Senate. He claimed that Democratic Senators didn't want to pass the bill because they thought they wouldn't get "credit." ABC News anchor Brian Ross reported that during Flynn's testimony, Flynn claimed that Trump specifically told him to contact Russian intelligence. As of now, there's no evidence that something like that happened. Unfortunately, when this news came out, the stock market took a dip even though Ross and ABC both issued a clarification. To top this insane day, Trump's lawyer released a statement on Michael Flynn written entirely in comic sans.
Republicans Senators are working hard to pass the biggest Tax Cuts in the history of our Country. The Bill is getting better and better. This is a once in a generation chance. Obstructionist Dems trying to block because they think it is too good and will not be given the credit!

— Donald J. Trump (@realDonaldTrump) December 1, 2017
Saturday, December 2:

On Saturday, the Senate voted on an awful tax bill that would eliminate personal deductions, cut the corporate tax rate, and change how multinational corporations are taxed. The whole thing is worth reading about if you have time between panic attacks.


Sunday, December 3:

Trump went on a tweet tear on Sunday where he touched on everything from Hillary Clinton, to Comey, and the stock market's dip on Friday. In that case, he suggested that people who lost money in the stock market sue ABC. Classy.
People who lost money when the Stock Market went down 350 points based on the False and Dishonest reporting of Brian Ross of @ABC News (he has been suspended), should consider hiring a lawyer and suing ABC for the damages this bad reporting has caused - many millions of dollars!

— Donald J. Trump (@realDonaldTrump) December 3, 2017
Was this the most insane week?
Week 82, August 20 - 26: Indictment City
Trump spent his week watching the Jenga blocks of his presidency crumble around him as his former cohorts bowed to the Cohen investigation. He spent the rest of the week bombarding Twitter with his thoughts about Jeff Sessions and the FBI.
"Department of Justice will not be improperly influenced by political considerations." Jeff, this is GREAT, what everyone wants, so look into all of the corruption on the "other side" including deleted Emails, Comey lies & leaks, Mueller conflicts, McCabe, Strzok, Page, Ohr......

— Donald J. Trump (@realDonaldTrump) August 24, 2018
....FISA abuse, Christopher Steele & his phony and corrupt Dossier, the Clinton Foundation, illegal surveillance of Trump Campaign, Russian collusion by Dems - and so much more. Open up the papers & documents without redaction? Come on Jeff, you can do it, the country is waiting!

— Donald J. Trump (@realDonaldTrump) August 24, 2018
Saturday, August 25:

Trump's Twitter feed took viewers on a wild ride on Saturday. Beginning at about 6am the president commented on everything from America's relationship with Mexico to Hillary's emails, Jeff Sessions, the FBI, and Vince McMahon.
Big story out that the FBI ignored tens of thousands of Crooked Hillary Emails, many of which are REALLY BAD. Also gave false election info. I feel sure that we will soon be getting to the bottom of all of this corruption. At some point I may have to get involved!

— Donald J. Trump (@realDonaldTrump) August 25, 2018
Jeff Sessions said he wouldn't allow politics to influence him only because he doesn't understand what is happening underneath his command position. Highly conflicted Bob Mueller and his gang of 17 Angry Dems are having a field day as real corruption goes untouched. No Collusion!

— Donald J. Trump (@realDonaldTrump) August 25, 2018
Sunday, August 26:

On Sunday

CNN

reported that the president refused to issue a statement on the death of Senator John McCain, saying that he'd rather post a tweet than release an official press release. Supposedly the statement was written prior to the Senator's death and underwent a final edit over the weekend, but the president refused to release it. Instead, he posted a short tweet on Saturday night.
My deepest sympathies and respect go out to the family of Senator John McCain. Our hearts and prayers are with you!

— Donald J. Trump (@realDonaldTrump) August 26, 2018
Was this the most insane week?
Week 41, November 6 - 12: Trump Does Asia, Responds To The Texas Church Shooting, And Antagonizes North Korea (Again)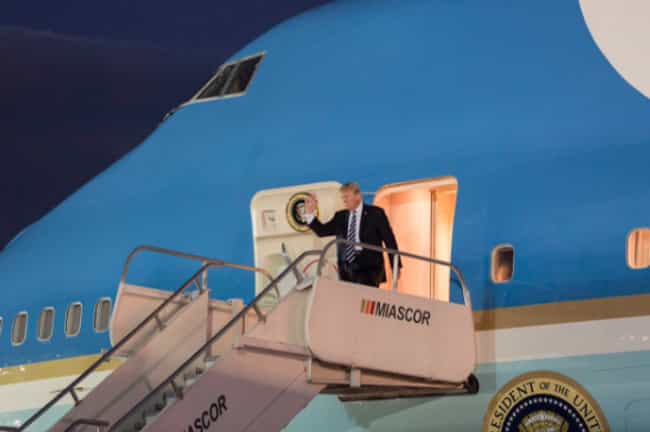 The President takes a 10-day trip to Asia and does all kinds of touristy stuff. You know, like posting childish tweets to his enemies and claiming that mass shootings don't have anything to do with guns.
Monday, November 6:

In a press conference early Monday morning, Donald Trump claimed that "mental health" was the problem with the mass shooting in Texas. He went so far as to call the gunman "a very deranged individual." He put much of the emphasis on mental health, stating that the ease with which someone can get their hands on a weapons wasn't an issue.


Tuesday, November 7:

At a press conference in South Korea, Trump was asked if better background checks for gun ownership could have saved the victims of the Sutherland Springs shooting. Trump came to the conclusion that tighter gun control would have somehow resulted in a higher death toll, claiming that "instead of having 26 dead you would have had hundreds more dead." He further claimed that gun control laws are "not going to help."
Trump on civilian who intervened in Texas shooting: "If he didn't have a gun, instead of having 26 dead, you would have had hundreds more." pic.twitter.com/5Ab7CFP2nR

— CNN International (@cnni) November 7, 2017
Wednesday, November 8:

While in South Korea, Trump called into a meeting with the Democrats to beg for their votes for the tax bill. He told them that he would "get killed" if it passed, but that he was willing take a bullet for the American people. According to NBC, Trump told the members of the meeting, "My accountant called me and said, 'You're going to get killed in this bill.'" He went on to perpetuate the myth that the GOP tax reform would hurt the wealthy, which is just not the case. While Democrats were picking up off cycle wins in states like Virginia and New Jersey, Trump was tweeting about the electoral college victory from a year ago. That never gets old.
Congratulations to all of the "DEPLORABLES" and the millions of people who gave us a MASSIVE (304-227) Electoral College landslide victory! pic.twitter.com/7ifv5gT7Ur

— Donald J. Trump (@realDonaldTrump) November 8, 2017
Thursday, November 9:

Trump honored the fall of the Berlin Wall by proclaiming November 9 to be "World Freedom Day." ¯\_(ツ)_/¯ Also, Trump backtracked on all of his tough talk about China, saying that he totally gets why they were "taking advantage of another country for the benefit of its citizens." Throughout his trip to China, Trump was incredibly effusive towards President Xi, and he even managed to tweet in a country where Twitter is banned.


Friday, November 10:

Trump arrived at the APEC summit in Da Nang, Vietnam, and put the haters on blast. He went after countries who he felt had betrayed America by either acting with "economic aggression" or by taking jobs from the fine folks in the USA. He told a stunned audience, "Despite years of broken promises, we were told that someday soon everybody would behave fairly and responsibly. People in America and throughout the Indo-Pacific region have awaited that day to come but it never has and that is why I am here today."


Saturday, November 11:

Following his insulting and aggressive speech at APEC, Trump sent out a series of bizarre tweets directed at "haters" and Kim Jong-Un – whom he referred to as "short and fat."
When will all the haters and fools out there realize that having a good relationship with Russia is a good thing, not a bad thing. There always playing politics - bad for our country. I want to solve North Korea, Syria, Ukraine, terrorism, and Russia can greatly help!

— Donald J. Trump (@realDonaldTrump) November 12, 2017
Why would Kim Jong-un insult me by calling me "old," when I would NEVER call him "short and fat?" Oh well, I try so hard to be his friend - and maybe someday that will happen!

— Donald J. Trump (@realDonaldTrump) November 12, 2017
Sunday, November 12:

After a day of insane tweets, Donald Trump arrived in the Philippines to finish off his week-long tour of Asia. Upon arrival, Trump ignored members of the press who asked if he was going to discuss President Rodrigo Duterte's terrible human rights track record. While the President probably isn't going to bring up the Philippines's nasty human rights record, analysts believe that he will be able to discuss drug trafficking with Duterte. Hopefully something positive comes from this relationship.
Was this the most insane week?
Week 51, January 15 - 21: In Lieu Of Making America Great Again Trump's Congress Shuts The Government Down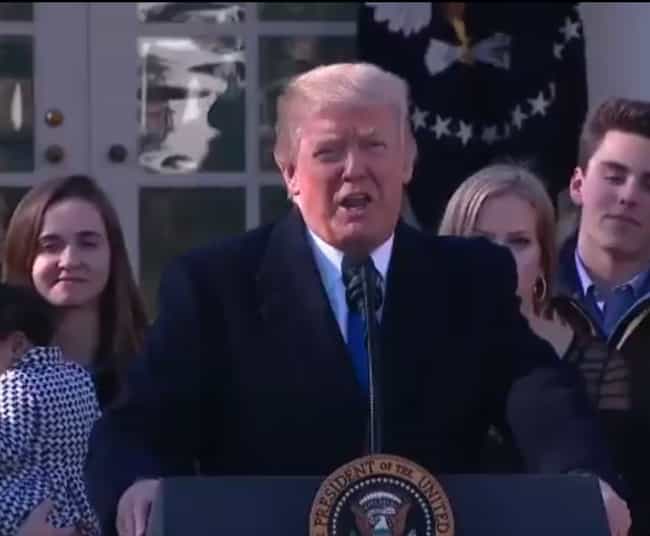 One year after his inauguration Trump's Republican-led Congress managed to shut down the government. On the bright side, maybe after America comes crumbling down, the President can finally destroy his greatest enemy – all sharks.
Monday, January 15:

After signing a proclamation into effect on Friday urging, "all Americans to observe this day with acts of civic work and community service in honor of Dr. King's extraordinary life," Trump decided to spend the day golfing at Mar-a-Lago. Following claims that Trump referred to some third world nations as "sh*thole countries," his defenders claimed that he actually said, "sh*thouse countries," which is a totally normal thing that people say all the time and a helpful correction.


Tuesday, January 16:

Trump sent out a proclamation naming January 16 "religious freedom day." How did you celebrate that thing that you were already allowed to have? After declining to answer questions in the investigation into the Trump campaign's connection to Russia, Steve Bannon was subpoenaed by multiple parties and accused of agreeing to a White House "gag order" so the President could exert executive privilege, or the withholding of information in the public interest, at a later date. It's unknown if Bannon will be held in contempt for refusing to answer questions, but that's not likely. Also, the details of Trump's physical were released, and he supposedly weighs 236 pounds and stands at a height of 6'3". Dr. Ronny Jackson told reporters that he has no doubts about the 71 year old's "cognitive ability or his, you know, his neurological function." Even though Trump is dangerously close to being considered obese, Dr. Jackson claims that the President doesn't have anything to worry about because he has "great genes."
Wednesday, January 17:

On Wednesday, details from a conversation in which Trump said that he was hoping for a terrorist attack to help the 2018 midterms sway to the Right the same way they did in the 2002 midterms were released. Wednesday also saw the publication of

In Touch Magazine's

full interview with adult film actress Stormy Daniels, whom the President paid off after having a consensual affair with in 2006, one year after he married Melania. In the interview, Daniels claimed that Trump hoped that "all the sharks die" because of his fear of them, that they didn't use protection when they slept together, and that Trump had Ben Roethlisberger, quarterback for the Pittsburgh Steelers, walk her back to her hotel room.
Thursday, January 18:

Robert Mueller's investigation into the Trump administration's ties with Russia figured out that the NRA prominently figured into the ordeal. Allegedly, Alexander Torshin, the deputy governor of Russia's central bank, met with Trump at a 2016 NRA convention where he set up a meeting between Trump and Putin.


Friday, January 19:

President Trump met with Senate Minority Leader Charles Schumer to see if they could hammer out a last-minute deal that would keep the government from shutting down. On Twitter, Trump said that the two had an "excellent preliminary meeting in Oval." Supposedly, Schumer offered funding for Trump's wall that no one wants in exchange for a deal on DACA, but that didn't happen. Very cool move Schumer! While on a break from gumming up the Congressional works, Trump addressed pro-life activists at March For Love, the annual pro-life rally held on the National Mall. In his video address, Trump said that the landmark Supreme Court ruling Roe v. Wade helped create "some of the most permissive abortion laws in the world."
Excellent preliminary meeting in Oval with @SenSchumer - working on solutions for Security and our great Military together with @SenateMajLdr McConnell and @SpeakerRyan. Making progress - four week extension would be best!

— Donald J. Trump (@realDonaldTrump) January 19, 2018
Saturday, January 20:

After failing to reach an agreement on a spending bill, the government shut down. Trump passed the blame onto the Democrats despite the fact that the Republicans have a majority in the House and the Senate. He also managed to throw shade at the 2018 Women's March. Much of Trump's online chatter had to do with Democrats somehow shutting down the military, even though that's not at all what happens during a government shutdown. During the last government shutdown in 2013, President Obama signed a stopgap measure making sure that all active duty military and many civilian Defense Department employees were paid. Either Trump doesn't know this, or he's banking on the fact that his base doesn't know this so he can keep the MAGA train rolling.
Beautiful weather all over our great country, a perfect day for all Women to March. Get out there now to celebrate the historic milestones and unprecedented economic success and wealth creation that has taken place over the last 12 months. Lowest female unemployment in 18 years!

— Donald J. Trump (@realDonaldTrump) January 20, 2018
Sunday, January 21:

The White House called for the "nuclear option," which would keep the Republicans in the House from having to find the 60 votes they needed to pass the spending bill. The so-called "nuclear option" makes it so the House only needs to get a majority vote to pass something. In the short run, this makes sense for the GOP, but the moment they're no longer in power, they give the majority voting power to the Dems. A spokesman for Mitch McConnell said that the Senate Republican Conference does not support changing the 60-vote rule.
Great to see how hard Republicans are fighting for our Military and Safety at the Border. The Dems just want illegal immigrants to pour into our nation unchecked. If stalemate continues, Republicans should go to 51% (Nuclear Option) and vote on real, long term budget, no C.R.'s!

— Donald J. Trump (@realDonaldTrump) January 21, 2018
Was this the most insane week?