Sports
Everybody Wants Some!! Movie Quotes

Updated November 6, 2017
115 votes
74 voters
8.5k views
8 items
Everybody Wants Some!! movie quotes follow a group of college freshmen who are also on the school's baseball team in the 1980s. Written and directed by Richard Linklater, the comedy-drama is called a "spiritual sequel" to his 1993 hit Dazed and Confused. Everybody Wants Some!! opened in theaters on March 30, 2016.
In Everybody Wants Some!!, Jake (Blake Jenner) begins college and while he was named a member of the baseball team, he has a lot of work to do before he is accepted by fellow players. Along with Kenny (Ryan Guzman), Glen (Tyler Hoechlin), Finnegan (Glen Powell), Willoughby (Wyatt Russell) and Billy (Will Brittain), among many others, Jake tries his best to find his place in the world and his pack amongst his classmates.
So as the baseball players deal with common themes like partying, hazing and schoolwork, they learn about themselves and each other in the process. They even get some attention from the opposite sex, including from Beverly (Zoey Deutch) and Val (Dora Madison Burge).
Everybody Wants Some!!
joins theaters to close out March 2016 alongside
Batman v Superman: Dawn of Justice
,
My Big Fat Greek Wedding 2
,
The Brothers Grimsby
,
10 Cloverfield Lane
.
back to page 1
Dale: This ain't high school, man. This is a new level. You have not earned teammate status yet.
...
Kenny: Who the hell are you?
Jake: Oh, uh, Jake, Bradley
...
Dale: And until you do, you're nobody.
When Jake arrives at college as part of the baseball team, he is quickly humbled by fellow baseball players. As Dale points out, freshmen are nobodies and have to earn their place all over again.
Should this be higher or lower?
Nesbit: It's all so damn tribal. That's the pack mentality, all the adrenaline.
Kenny: Does that mean you're not going?
Nesbit: I didn't say that.
Nesbit complains that college life can include a lot of pack mentality and while he doesn't like this, it surely isn't stopping him from enjoying the funner parts of having a social life in college.
Should this be higher or lower?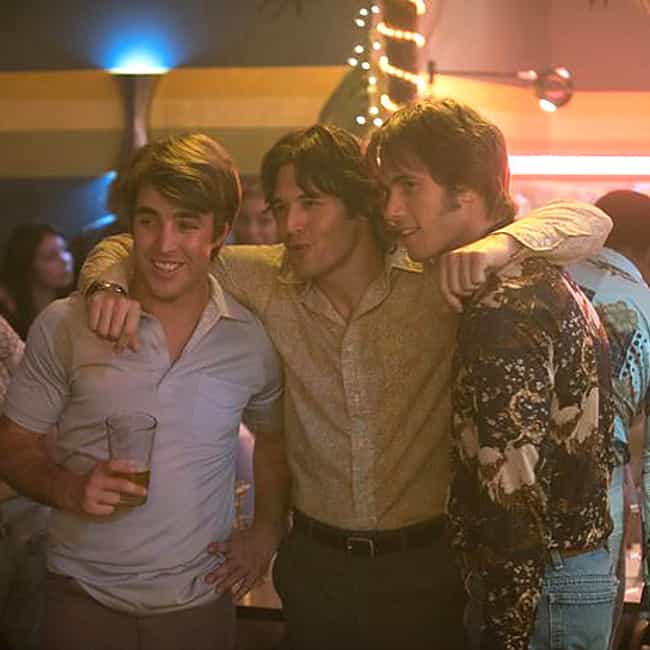 Coach Gordon: Two rules: No booze in this house. Number two, no girls upstairs in this bedrooms.
When Coach Gordon explains the only two rules of the house, it seems he means business. But when you tell someone not to do something, you almost assure that they will do it just to spite you.
Should this be higher or lower?
Freshman Batting Practice
Plummer: We have a little tradition welcoming the new guys.
Everyone: Freshman batting practice!
Plummer: Welcome to the big time, boys.
The freshmen baseball players are hazed onto the team with a practice the seasoned players call freshman batting practice. The freshman are not practicing hitting, rather the targets of the hitting practice of
the other guys
.
Should this be higher or lower?