Sports
Everybody Wants Some!! Movie Quotes

Updated November 6, 2017
114 votes
73 voters
8.5k views
8 items
Everybody Wants Some!! movie quotes follow a group of college freshmen who are also on the school's baseball team in the 1980s. Written and directed by Richard Linklater, the comedy-drama is called a "spiritual sequel" to his 1993 hit Dazed and Confused. Everybody Wants Some!! opened in theaters on March 30, 2016.
In Everybody Wants Some!!, Jake (Blake Jenner) begins college and while he was named a member of the baseball team, he has a lot of work to do before he is accepted by fellow players. Along with Kenny (Ryan Guzman), Glen (Tyler Hoechlin), Finnegan (Glen Powell), Willoughby (Wyatt Russell) and Billy (Will Brittain), among many others, Jake tries his best to find his place in the world and his pack amongst his classmates.
So as the baseball players deal with common themes like partying, hazing and schoolwork, they learn about themselves and each other in the process. They even get some attention from the opposite sex, including from Beverly (Zoey Deutch) and Val (Dora Madison Burge).
Everybody Wants Some!!
joins theaters to close out March 2016 alongside
Batman v Superman: Dawn of Justice
,
My Big Fat Greek Wedding 2
,
The Brothers Grimsby
,
10 Cloverfield Lane
.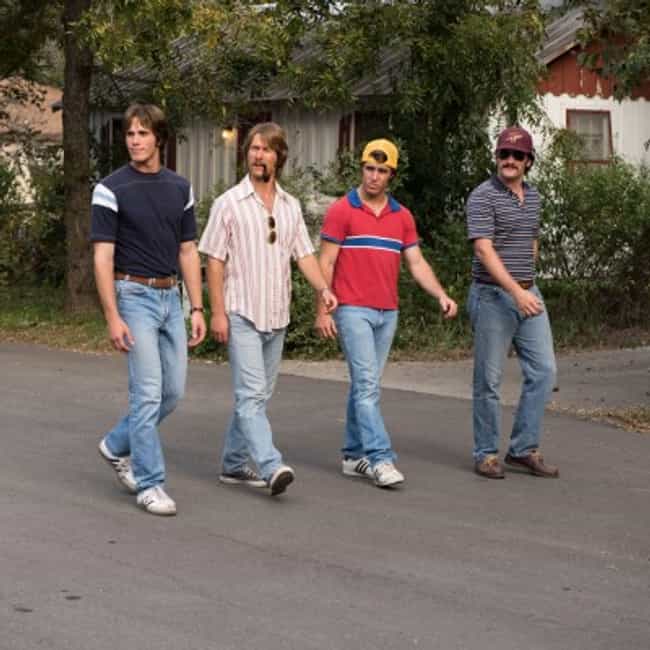 Embrace Your Inner Strange
Jake: I'm starting to have an identity crisis. We danced out of disco, danced to Cotton Eyed Joe in kicker attire, here we are, punks for a night.
Willoughby: You've got to embrace your inner strange, man. Just be weird.
Jake points out, quite astutely, that college is all about trying everything and finding your place in life. So if that involves disco dance, being a punk for a night and embracing the strange, so be it.
Should this be higher or lower?
What Am I Thinking About?
Willoughby: It's about finding out who you are. You gotta tune in, man. You guys want to try a little telepathic stuff?
Dale: Let's do it.
Willoughby: Okay, what am I thinking about?
Dale: Baseball
Coma: Having a tail
Jake: Cereal
Willoughby: I was thinking about sharks.
Coma: Sharks have tails.
Willoughby: Good point, that's a good point.
Coma: I wish I had a tail. That'd be awesome.
In attempt to tune in, Willoughby encourages the guys to use telepathy to say what he is thinking about. While neither are even close to what he had in mind, Coma thinks he came close.
Should this be higher or lower?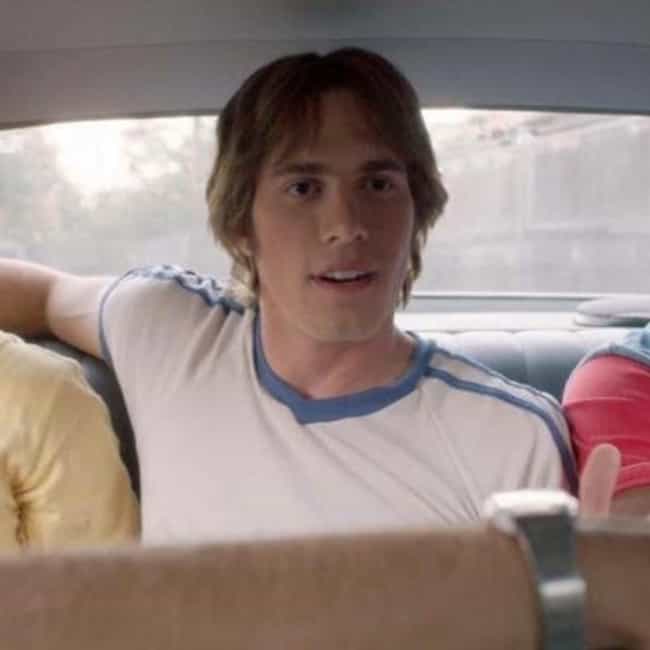 Plummer: Look at what we have here! Hey, ladies! Party later tonight at the baseball houses.
Bev's Friend: You should be investing this energy elsewhere.
Plummer and Willoughby: [together] Lesbians
Beverly: I like the quiet guy in the back seat.
Plummer: Whoop, there's nothing here.
Jake: I can see how that would be threatening, new guy coming in getting all the ladies... That was a joke.
Billy: I've got your joke right here.
Willoughby: Did he just call it a joke?
Dale: That's what he implied.
The guys approach a pair of coeds outside a motel and try to put the moves on them. While Beverly and her friend are not especially interested, Jake does catch their eye, much to the displeasure of the other guys in the car.
Should this be higher or lower?
Dale: This ain't high school, man. This is a new level. You have not earned teammate status yet.
...
Kenny: Who the hell are you?
Jake: Oh, uh, Jake, Bradley
...
Dale: And until you do, you're nobody.
When Jake arrives at college as part of the baseball team, he is quickly humbled by fellow baseball players. As Dale points out, freshmen are nobodies and have to earn their place all over again.
Should this be higher or lower?