Total Nerd
Here Is Everything We Know About DC's Second Harley Quinn Movie, 'Birds Of Prey'

Given the reaction to her performance in Suicide Squad, it's no surprise that actor Margot Robbie is getting her own Harley Quinn movie. In fact, her newfound popularity within the DCEU has led to numerous projects centered around the character. Although Gotham City Sirens was the first project announced, the Birds of Prey movie has become the priority for her first spinoff film. The comic book group dates back to the 1990s, and the (generally) all-female squad is considered one of the best superhero teams in comic books.
With the possibility of so many different DC Comics characters joining the team, it's reassuring that Robbie will be returning. Even considering all the talented actors who almost played Harley Quinn, it's hard to imagine anyone else playing the devious villain. And though the release date is still a ways off, there's been plenty of updates on the upcoming DCEU film Birds of Prey (And The Fantabulous Emancipation Of One Harley Quinn).
Margot Robbie Revealed The Film Will Have A 'Pulp Fiction' Reference
While speaking with MTV news about her role in Quentin Tarantino's Once Upon A Time In Hollywood, Margot Robbie revealed Birds of Prey will reference a scene from the famed director's classic, Pulp Fiction. Robbie says they reference the scene in which Uma Therman's Mia Wallace explains Fox Force Five to John Travolta's Vincent Vega. She claims she even asked Tarantino if they could call the film Fox Force Five because of how much the scene inspired her iteration of DC's classic all-female team up. Robbie elaborated:
In Pulp Fiction, when Uma [Thurman] and John Travolta are having their $5 milkshake, she's explaining the pilot that she - which I think, in real life, Uma had done. I think that dialogue was based on the fact that she'd done a pilot like that. And then he turned it into dialogue, and then she talks about Fox Force Five. And it's like a whole scene.

But in our movie, there's five prominent women. And like, we always throw a reference to Tarantino moments that we pray to inject into the film. So, it felt fitting.
The Film's Official Logo Debuted On April 15, 2019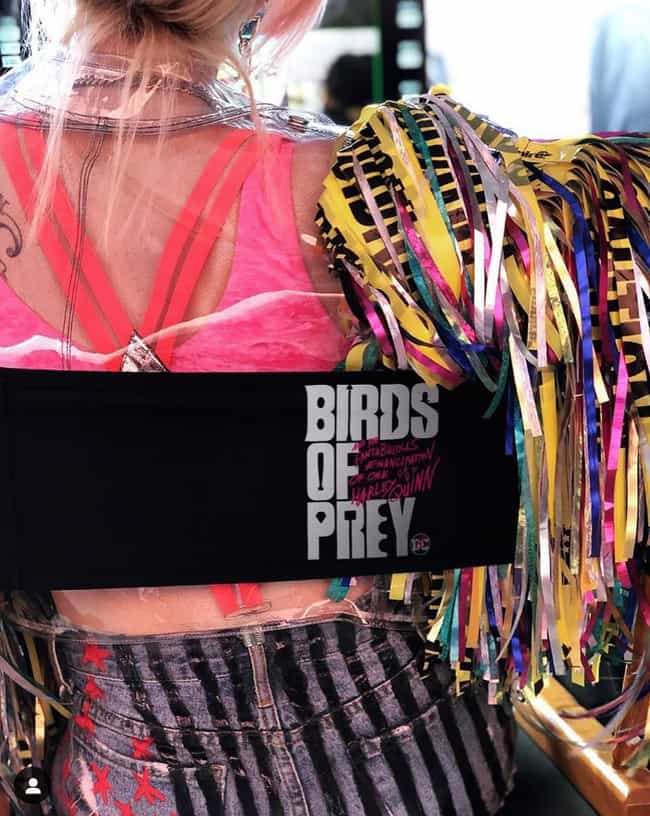 The Birds of Prey (And The Fantabulous Emancipation Of One Harley Quinn) released the official logo in April as the studio wrapped on filming. The font frames big block letters with weaponry silhouettes around what appears to be Harley's scribblings including the added title tag.
DC Released A 19-Second Teaser Titled 'See You Soon'
On January 28, 2019, Harley Quinn herself seemingly dropped a teaser trailer for the upcoming film. The quick behind-the-scenes vignette features throbbing synth and quick flickers of several characters' looks, like Jurnee Smollett-Bell as Black Canary; Mary Elizabeth Winstead as Huntress; Rosie Perez as Detective Renee Montoya; Ella Jay Basco as Cassandra Cain, AKA Batgirl; Chris Messina as Victor Zsasz; and Ewan McGregor as Black Mask.
The trailer epitomizes everything that is Harley-Girl: glitter, booze, and a flirtatious, mischevious attitude. Harley Quinn sports a confetti jacket as she sips an electric-colored martini and laughs at the camera.
Margot Robbie Will Reprise Her Role As Harley Quinn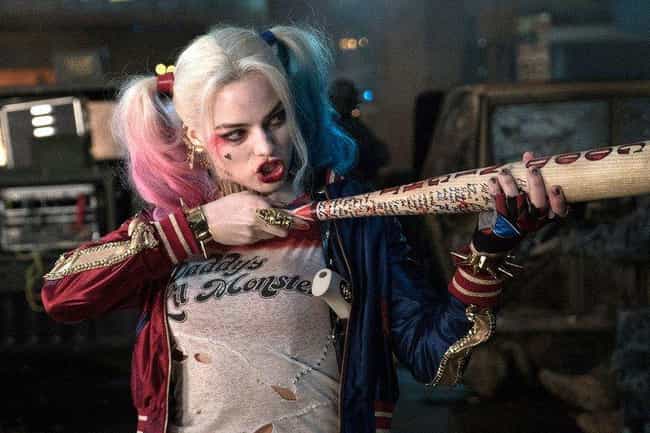 In the upcoming Birds of Prey, Harley Quinn, once again played by Margot Robbie, will join forces with Black Canary and Huntress, portrayed by Jurnee Smollett-Bell and Mary Elizabeth Winstead, respectively. Child star Ella Jay Basco will also make her film debut in the role of Cassandra Cain.
Additional cast members include Rosie Perez as Detective Renee Montoya, with comedian Ali Wong and actor Robert Catrini in unknown roles.