Graveyard Shift
Everything We Know About 'Glass,' The Followup To 'Split' And 'Unbreakable'

On January 18, 2019, Universal Pictures will release Glass and complete a trilogy nearly two decades in the making. M. Night Shyamalan wrote and directed the film, and fans can hardly wait to discover how it finishes the story set up in 2000's Unbreakable and 2016's Split. Audiences consider Split and Unbreakable two of the best M. Night Shyamalan films - right below The Sixth Sense, of course - so expectations remain high for the sequel.
Glass stars Bruce Willis, Samuel L. Jackson, and James McAvoy. Their characters will cross paths in an institution under the care of psychiatrist Dr. Ellie Staple, played by Sarah Paulson. Dr. Staple oversees patients who experience delusions of grandeur, specifically believing they possess superpowers. The film's trailer, released at 2018's San Diego Comic-Con, revealed some details about the new thriller, but both comic book and horror fans are chomping at the bit to know more.
Early Reviews For The Film Are Not Good
Despite the hype surrounding Shayamalan's third installment of the Unbreakable series, early reviews did not favor Glass. As of January 10, 2019, nearly a week before its premiere, Rotten Tomatoes gave it a 39% with more than 30 reviews from leading digital publications including CinemaBlend and Entertainment Weekly.
Sam Adams of Slate said, "On a purely practical level, Glass is drawn-out and disjointed, with disparate plot threads (some of them leading to, yes, a perfunctory rug pull) that seem dictated more by its stars' availability than narrative cohesion."
Scott Mendolson for Forbes pulled no punches with his observation: "Maybe The Visit was a fluke, and the M. Night Shyamalan who made Sixth Sense, Unbreakable and Signs is really gone for good... Glass is a shattering disappointment and a monumental artistic misfire from one of my favorite filmmakers. "
Writing for The Atlantic, David Sims was slightly more sympathetic, yet acknowledged Glass was not bound to be a crowd pleaser: "The latest from the director is a singularly strange and meta sequel that's bound to infuriate all but his most devoted fans."
Unused Footage From 'Unbreakable' Will Be Included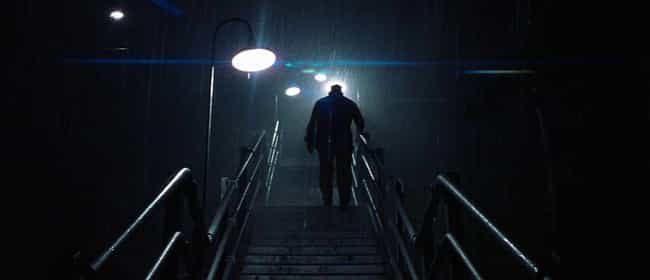 When Unbreakable hit home VHS/DVD in 2000, it featured additional footage that hadn't made the cut of the feature film. Reportedly, however, some of that footage may finally be put to use in the universe's third installment. Shyamalan said in an interview, "I don't want to give too much away but you do see moments of the original Unbreakable... Scenes you didn't get to see." Whether these scenes are specifically some of the ones you've seen on the Unbreakable extended features - or whether it's brand-new unused footage from the studio's secret archives - remains to be seen.
Universal Released The First Trailer At Comic-Con
The official trailer for Glass premiered on July 20, 2018, at San Diego Comic-Con. Leading up to the trailer, Universal Pictures released three teaser videos, each focusing on a central character from the trilogy.
The First Official Poster Hints At A Rift Between Perception And Reality
The teaser poster pictures each of the trilogy's three main characters sitting inside what looks like a psychiatric facility. Beneath their feet, each person's reflection shows them in either their heroic or villainous form. Between this and the first trailer, the movie seems to explore whether the trio truly possess superpowers, or if their gifts merely exist within their minds.