Entertainment

The 14 Most Messed Up Pop Culture Santas and the Naughty Crimes They Committed

206 votes
77 voters
8.6k views
14 items
List Rules Vote up the psychotic pop culture Santas you'd add to your naughty list and put over your knee this Christmas.
It might strike some as surprising the number of psychotic Santas that exist in pop culture, but the most fearsome monsters are often born from our warmest comforts. Santa represents a purity of curiosity, a childlike naiveté you look back on with fondness. To transform the gentle giant you once wrote letters to into a bloodthirsty killer is nothing if not cruel, and in cruelty lies the essence of horror.
Because you love Santa, creative minds have given you many reasons to fear him. There's no shortage of creepy movie Santas, terrifying TV Santas, and a fair few nicely naughty straight-to-VHS evil pop culture Santa Claus iterations. Some are seminal, others surprising, and all of them sure to ignite the embers of fear in even the most hardened horror fans heart. Which killer Santas would you invite over for Christmas dinner? Vote them up below!
Needless to say, spoilers ahead.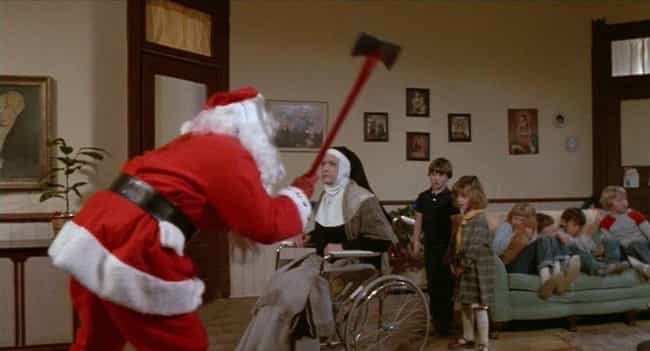 The Creepy Santa: A seminal title in the killer Santa subgenre, Silent Night, Deadly Night actually has two killer Santas: the one who killed Billy's parents when he was a young boy and Billy himself. History repeats itself, no?
Driven mad after witnessing a psychotic Santa Claus murder his parents, Billy is sent to an orphanage, where he grows into a massive young man under the cruel eye of a nasty nun. He leaves at age 18 and gets a job at a toy store, where he's coerced into dressing in Kris Kringle's signature outfit. This sends him over the edge. Billy becomes obsessed with slaughtering the naughty, coldly believing punishment is good.
Santa Crime: Billy may be crazy, but let nobody tell you he isn't creative. He brings some genuine yuletide ingenuity to his kills, murdering people with a string of Christmas lights and a rack of deer horns. When there's nothing holiday-appropriate nearby, he relies on his trusty, double-bladed axe, which does its best to bloody up all the snow in sight.
Also Ranked
#70 on The Best Movies of 1984
#83 on The Best Horror Movie Franchises

Agree or disagree?
see more on Silent Night, Deadly Night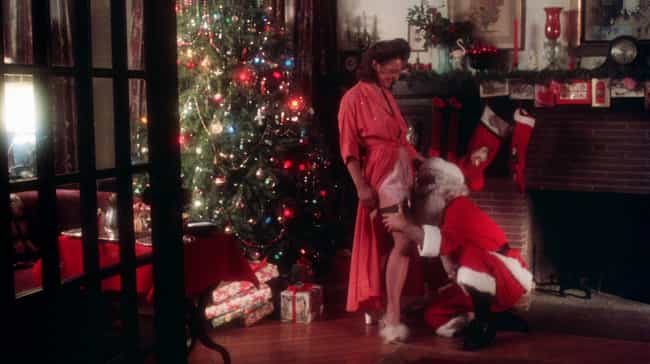 The Creepy Santa: While Silent Night, Deadly Night made the killer Santa mainstream, many (including John Waters) consider Christmas Evil the gem of the genre. Credit the origin story: As a boy, Harry wanders in on his mother boning Santa (not realizing it's his dad in a Santa suit). So much innocence is shattered in that one, destructive moment, it's not surprising when Harry snaps as an adult, becoming convinced he actually is Santa Claus.
Santa Crime: Harry's lethal with an axe, but there's something extra cruel about cutting somebody down on church steps (even if they are a yuppie).

Agree or disagree?
see more on Christmas Evil
Goldberg's Santa Claus Impales a Dude With a Menorah in Santa's Slay
The Creepy Santa: As we know him, St. Nick is a chubby bastard with a beard as white as snow. In twisted 2005 horror comedy Santa's Slay, Kris Kringle is revamped as a crusty, muscle-bound monster (played by none other than WCW/WWE powerhouse Bill Goldberg). His origin story might be best part of the movie: Santa is a product of Satan as Jesus is a product of God, and his goal is to turn Christmas into a Day of Slaying.
After losing a curling match (yep, a curling match) to one of God's angels, Santa was ordered to spend the next 1,000 Christmases delivering presents instead of knuckle sandwiches. Santa's paid his penance by the time the movie begins, and the Day of Slaying will once again recommence.
Santa Crimes: The kill count surpasses 30 in Santa's Slay, so where to begin? There's the delicious opening, wherein Santa sets Fran Drescher's hair on fire and chokes James Caan with a turkey leg. There's the strip club massacre, in which his monstrous, deformed reindeer eats a bouncer. And who can forget the moment when Santa impales a kindly (Jewish) deli owner through the throat with a menorah. The best part? Goldberg unleashing his signature spear through the deli counter before finishing the guy off.
Agree or disagree?
The Creepy Santa: In the year 2801, Christmas is no longer something to celebrate, because somebody invented a robot Santa that, due to a programming error, believes everyone (well, almost everyone) is too naughty to live. His terrifying presence has given birth to new carols, though they're not the soul-warming kind: "You'd better not breathe, you'd better not move / You're better off dead, I'm telling you, dude / Santa Claus is gunning you down."
Santa Crime: And gun you down he will. One of this Santa's favorite weapons is his laser tommy gun, though his best (and cleverest) are the explosive ornaments he loves to toss from his sleigh.
Also Ranked
#70 on The Best TV Shows to Binge Watch
#8 on The Best Cartoons of All Time
#22 on The Best TV Shows of The Last 20 Years
#7 on The Best Cartoons of the '90s
Agree or disagree?
see more on Futurama