Culture
40 Funniest Reactions to Ben Affleck Being Cast as Batman

3k votes
425 voters
135.5k views
40 items
On August 22, 2013, it was announced that Ben Affleck, yes Ben Affleck, was cast as the next Batman and, as usual, the internet exploded. These are the greatest hits, compiled by me, from all of Reddit, Tumblr, Facebook, Twitter and beyond.
After almost a decade of high-quality, oscar-nominated Batman films, we're going into a world where Zack Snyder's action-fest Superman reboot Man of Steel is not only getting a sequel even though it got relatively poor reviews, but it will also include a new Batman. And just to make sure that not a single nerd will sleep for the next 2 years, they cast Ben Affleck as Bruce Wayne/Batman. This is a thing that's actually happened.
These are the 40+ (I will add more as more happen throughout the week) funniest memes about Ben Affleck being the new Batman. The best internet reactions make it to the front pages, as the best items are voted to the top by the audience, so make sure to vote on what you think are the best funny Ben Affleck Batman tweets, reactions, Reddit posts and more.
Very few people were on Oscar-winner Ben Affleck's side, but mostly everyone at least had something to say about Ben Affleck being cast in the Man of Steel sequel as Batman. WE can only hope that this is the way that DC is finally giving us a Justice League movie, but my God did they choose a weird way to do it vs. the way Marvel eased us into it.
Marvel = Foreplay, DC = Straight for the goods.
Enjoy!
If you created any of these and would like to be attributed, please email me at brian@ranker.com.



Is this funny?
Christian Bale Has a Good Laugh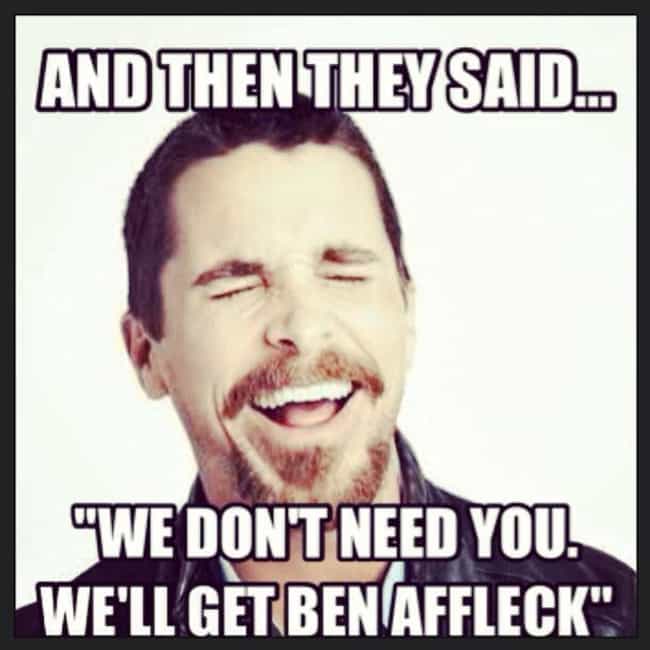 Is this funny?