Weird History
Her Husband Beat Her, So She Tried To Stop Domestic Violence... With A Hatchet

Updated September 12, 2017
3.4k views
11 items
Carrie Nation and her hatchet-wielding actions during the Temperance Movement took aim at drunkenness and all of the social ills it caused. Alcohol caused domestic violence, crime, poverty, and even death according to advocates of temperance, and, during the 1890s and early years of the 1900s, Carrie Nation used brash language and a hatchet to fight against its use. A life-long opponent of alcohol and tobacco, Carrie Nation was a role model for women during Prohibition with her fierce resolve and so-called Hatchetation.
back to page 1
Nation Blamed Alcohol For Her Daughter's Problems, Which Included Being Put In An Insane Asylum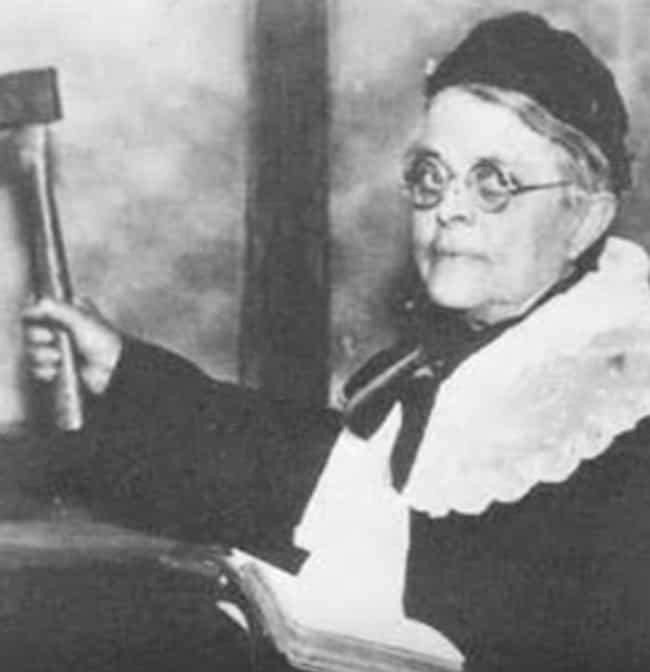 By 1901, Charlien was married to a man named Alex McNabb but was suffering mental and physical difficulties of her own. She had a jaw disease that led to her teeth falling out and, in 1905, was placed in an insane asylum in Texas by her husband.
Nation took Charlien out of the asylum and relocated her to Arkansas, and later to Washington, DC. Nation blamed Charlien's health troubles on herself and, of course, alcohol, stating that
"she was the result of a drunken father and a distracted mother. The curse of heredity is one of the most heart-breaking results of the saloon. Poor little children are brought into the world with the curse of drink and disease entailed upon them. How can mothers be true to their offspring with a constant dread of the nameless horrors wives are exposed to by being drunkards' wives."
She Didn't Think Women Should Wear Corsets, Quite The Risqué Position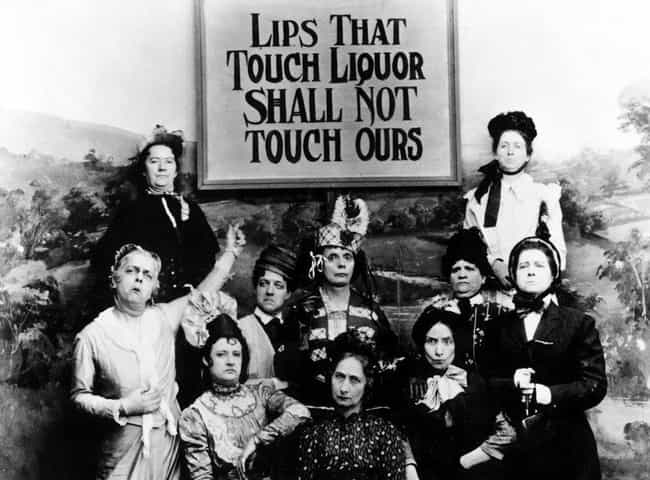 Nation advocated for women's rights in numerous ways. She was a strong proponent of women's suffrage and, unfortunately, died just a year before Kansas gave women the right to vote. Her advocacy for women included everyday aspects of life too. She was adamant about the strength of women and called upon them to be the "veto to the curse of mankind."
When a woman could vote, she would
"not...make her body a manikin to hang the fashions of today on. She will not display her form to attract the vulgar gaze of the world. She will not place the corpses of cats or birds on her head. She will not wear mops at the bottoms of her dress to sweep up the filth of the earth. She will not wear shoes that injure her, as the heathen do. She will not put her body in the vice of a corset, displacing the organs of her body...."
Nation Swung Her Hatchet Because God Told Her To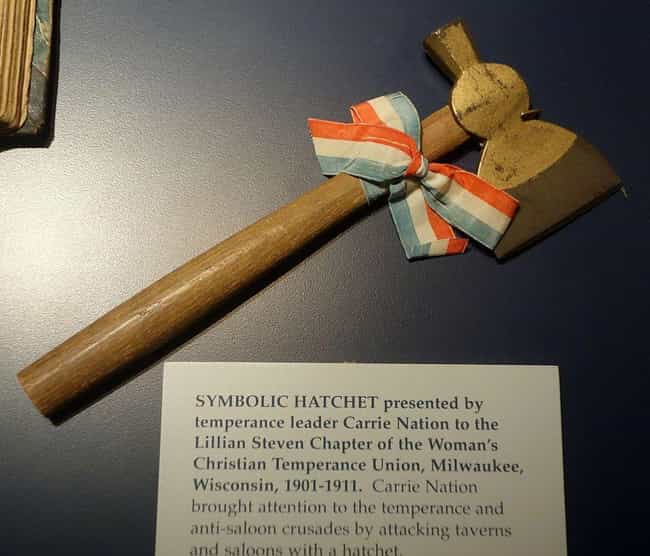 By 1900, Nation was desperate to get Kansas to enforce their state law on selling liquor. Kansas prohibited alcohol in 1880, but in 1890, the US Supreme Court ruled that interstate alcohol sale was legal.
Her first act of violence took place in 1894 when she and her "Home Defenders" raided the drugstore in Medicine Lodge, dumped out the whiskey on hand, and lit it on fire. Violence soon escalated after Nation woke up one morning with a voice – she attributed it to God – telling her "Go to Kiowa," and "I will stand by you." So, in 1900 Nation and her group went to Kiowa, Kansas, armed with brickbats and rocks to destroy saloons, which to Nation, were operating illegally. She famously rolled a keg of whiskey out into the street, used her hatchet to open it, and then set it on fire.
She then went to Topeka where she continued to use her hatchet. She smashed bars, bottles, windows, mirrors, pictures, and anything else that was in reach or that she considered inappropriate. Nation's "Hatchetations" continued in cities in Kansas through 1901.
She Made Her Name A Brand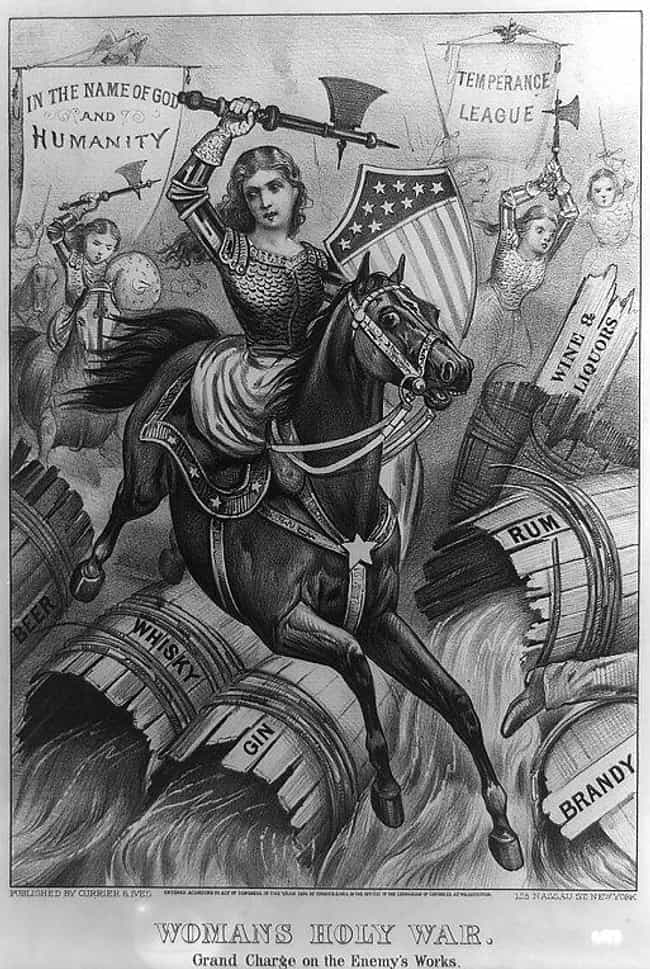 Because she was distinct looking – she was almost 6 feet tall and weighed 175 lbs. – Carrie Nation made an impression. She used her appearance and her name to sell herself and her message. She legally changed her name to Carry in 1903 and began to say that it was her duty to "Carry A Nation" for Prohibition. She claimed that her name had been "Carry" all along, according to her family Bible, and she was simply changing it back.
Carry Nation was a symbol and so was her hatchet. She sold pins and posed for pictures, and her axe was easy to draw and use in propaganda. And by swinging it around, she got her point across.
Nation wrote her autobiography in 1904 and used the profits to buy a house in Kansas City, Kansas, that would provide shelter to women in need.