Music History
20 Interesting Facts You May Not Know About Dave Grohl

Updated November 16, 2018
102.5k views
20 items
Dave Grohl is slowly racking up all the necessary points to reach rock icon status. The former Nirvana drummer and current Foo Fighters frontman has created a rock legacy that is nothing short of extraordinary. A somewhat unknown member of the Kurt Cobain-led '90s grunge band, Dave Grohl has surprised doubters with his ever-increasing rock 'n' roll stardom. Grohl has always been talented, there's been no doubt about that - everyone from Tom Petty & the Heartbreakers to Pearl Jam wanted to get him behind the drums. But Grohl always had a strong desire to make his musical mark by founding his own band. With the Foo Fighters' debut album, Grohl proved that he could deliver. And over 20 years later, the band is still considered one of the greatest on the modern rock scene.
While Dave Grohl has opened up about his history and shared his stories revolving around his time with Nirvana, there is still a lot unsaid. And while it can still be difficult for Grohl to speak of Cobain's untimely suicide, he seems to have no hesitation about the future for the Foo Fighters.
Dave Grohl is no stranger to a hilarious interview - in fact, Grohl has consistently been labeled one of the funniest rockers out there. His personality shines not just through his bad-assery, but also his lighthearted take on his own persona. There is a lot to know about who Dave Grohl really is, and it would be impossible to compile a full picture based only on trivia, quotes, and anecdotes. But listed below are some of the coolest and most interesting facts you probably didn't know about Dave Grohl's life.
He Used His Grammy as a Door Stop

Until recently, Dave Grohl used his Grammy award for Best Rock Album as a doorstop. Although the rocker has recently moved the prestigious music award from the floor to the shelf, it spent quite some time holding open a pesky door that always seemed to creak shut.
Even if Grohl left one Grammy as a doorstop, he'd still have plenty others to put on display.
He Has a Street Named After Him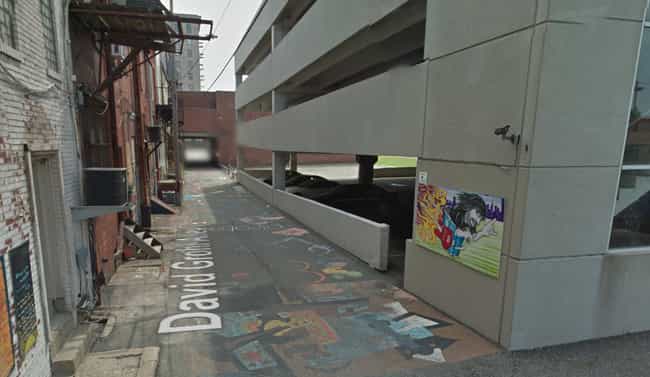 In 2009, Grohl was honored in his hometown of Warren, Ohio, with the dedication of an entire street in his name. "Dave Grohl Alley" came to life when a group of artists banded together to clean up the street and paint Foo Fighters-related murals. The street is now a public attraction, somewhat of an art walk, and a piece of rock 'n' roll history.
Grohl himself made an appearance at the dedication. He performed for the crowd that showed up and dedicated a song to Joe O'Grady, the man who streamlined the project.
He's Afraid of Japanese Adult Entertainment
In an interview, Grohl discussed his strange fear of Japanese porn.
Upon coming across some in a Japanese hotel
, Grohl described the porn as "creepy." He added that "it doesn't look like anyone is enjoying what they're doing, and they make it seem like crime." Having already shared enough, Grohl assured readers that he isn't a fan.
He Worked for Tower Records and Hated It
Despite his passion for rock 'n' roll, Grohl hated his job at a local Tower Records. Prior to the record chain's closure in the early 2000s,
Grohl spent a brief two months
manning the cash register. Hating the work much more than he anticipated, Grohl quit, only to return in promotion of one of his albums years later. His old boss said that Grohl was an okay employee, but had a knack for tardiness.