Weird History
13 Bizarre Things People Don't Know About Grover Cleveland

Updated October 13, 2018
5.2k views
13 items
President Grover Cleveland was involved in some of the more colorful episodes of late 19th century American political history. Although today he is relatively obscure, facts about Grover Cleveland and his effect upon the history of the White House are still evident today.
Cleveland's completely unassuming personality and down-to-earth ways underline his legacy as one of the unlikeliest presidents in US history. A man who resisted pretense and intellectual pursuit of any kind, "Big Steve" loved hunting and fishing, beer drinking, and poker. At the time he was also the only Democrat elected to the White House in more than 50 years. But he wasn't without scandal: A White House wedding to a 21-year-old, a virtual admission of an illegitimate child, and a political past as a hangman would today seem incomprehensible.
There are plenty of interesting facts about Stephen Grover Cleveland, 22nd and 24th President of the United States, even if today he is relatively unknown.
Cleveland Was Elected President Despite A Major Sex Scandal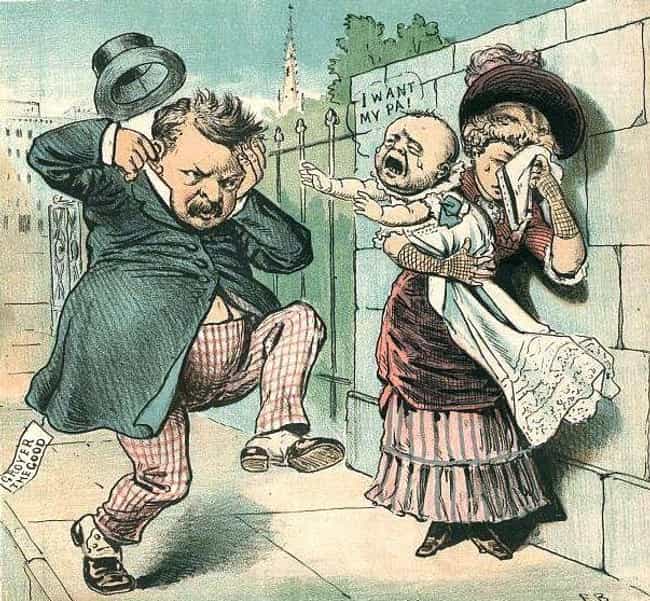 Political sex scandals are as American as apple pie, and Grover Cleveland contributed a whopper. In the heat of his 1884 campaign - one of the dirtiest in US history - allegations surfaced that in 1874, bachelor candidate Cleveland had previously impregnated a woman by the name of Maria Halpin. Further scandal developed when it seemed the woman was paid to give up her son, was briefly placed in an asylum, and the child was raised by an acquaintance of Cleveland. He never denied his involvement with Halpin but claimed the paternity was at issue, as she had been involved with many men. He said he merely stepped forward to help with the child's welfare. Halpin responded by claiming Cleveland forced himself upon her and that his paternity was undeniable. Republican supporters of Cleveland's opponent, James Blaine, began to incessantly chant "Ma, Ma, where's my Pa?!" on the campaign trail. Luckily, Blaine, a former US senator and congressman was perceived as even more of a crook, having allegedly sold favors for cash. Cleveland supporters got the last laugh responding to the "Where's my pa?" taunt with "Gone to the White House, Ha-Ha-Ha!!"
While President, Cleveland Had A Secret Operation To Treat His (Also Secret) Cancer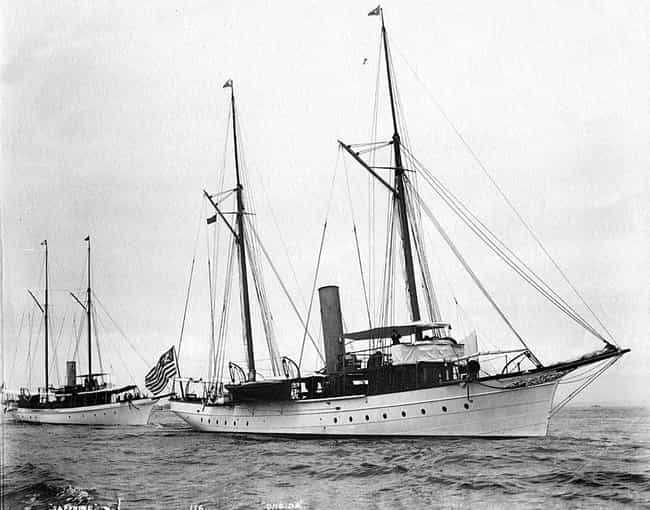 At the beginning of his second term, Grover Cleveland became afflicted with a cancerous tumor on his upper palate and jaw. In the late 19th century, even ordinary cancer victims were shunned and Cleveland figured the public would be horrified if his condition was revealed. Instead, on July 1, 1893, under the guise of a holiday fishing trip, Cleveland boarded a friend's yacht - the Oneida - headed out into Long Island Sound, and had doctors remove much of his upper jaw, including five teeth. The surgeons installed a rubber prosthetic to conceal the disfigurement, and gradually reconstructed the President's oral cavity. After Cleveland returned to Washington, he made public appearances but did not speak. It would be 24 years before the surgery was revealed to the public. Cleveland lived for another fifteen years, dying in 1908.
Cleveland Married A 21 Year Old - Who Was Also His Legal Ward - While In The White House
Grover Cleveland was the second unmarried man ever elected to the presidency. However, on June 2, 1886, he became the first and only sitting president to marry in the White House. His bride was a 21 year old named Francis Folsom, the youngest first lady in US history. Folsom was also Cleveland's legal ward, the president becoming her legal guardian when her father, a law partner in Cleveland's firm, died when she was 11. When Frances turned 21, Cleveland, aged 48, promptly married her.
Cleveland Was On The $1,000 Bill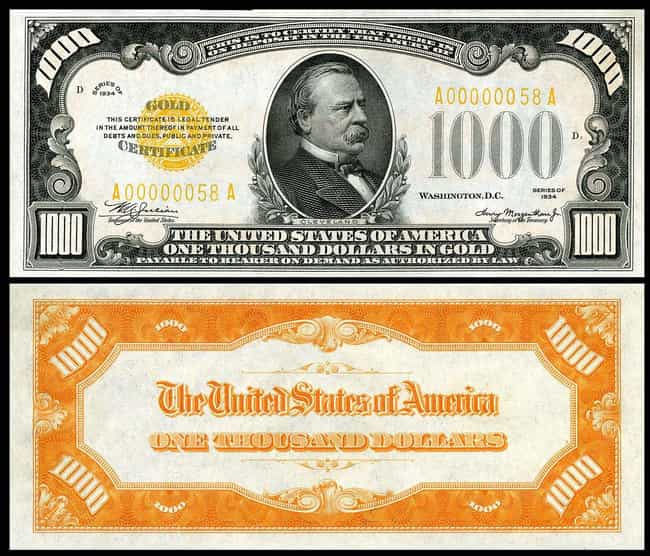 While it doesn't exist today, the $1,000 bill used to be a real thing. Issued first during the Revolutionary War as a means to help finance it, the $1,000 bill was viable until 1969 when the government officially recalled all forms of the currency.
But before that in 1918, the treasury began issuing $1,000 bills and was looking for a new face to adorn it. It selected Alexander Hamilton - but Hamilton was already on the $10 bill. People thought this was too confusing, and in 1928 and 1934, $1,000 bills were printed with Grover Cleveland on them.
Because of the size of the denominations, these notes were used by banks for large transactions and typically not by the general public. Thanks to improvements in wire transfer technology, all printing of large bill denominations over $100 ceased in 1945. In 1969, the Nixon administration ordered that these large bills also be taken out of public circulation to combat money laundering and organized crime. Technically, any of these and other large denomination bills that are turned into a bank will be returned to the US Treasury, although the Cleveland bill is worth far more to collectors than its $1,000 face value.