Reality TV
Inside The Lives Of Speidi, The Villainous Reality Show Couple That's Still Obsessed With Themselves

The Hills stars Heidi Montag and Spencer Pratt are two of the most infamous reality villains of all time. The blonde baes morphed into "Speidi" and became enemies with Heidi's longtime BFF, fellow show star Lauren "LC" Conrad. They even spread rumors LC had a sex tape, and the whole show really became about the girls breaking up their best friendship so Heidi could date a total psychopath.
When the drama died down after the show's finale, stories about Speidi continued, dripping with their self-absorbed drama. The reality TV baddies starred in multiple follow-up series. Heidi got plastic surgery and released a few pop flop singles, while Spencer acted as her over-involved manager/hubby. They're still all about stardom, too, even starting a podcast in an effort to raise their profile. Spencer was named Complex's worst person in reality TV history in 2013 — probably not least of all for his healing crystal obsession and conspiratorial opinions — but thankfully, most other Hills stars have moved on. Heidi and Spencer are also parents to baby son Gunner, and he's already been introduced to social media.
He Compares The Cancellation of 'The Hills' To September 11
How much does Spencer Pratt love reality TV? Enough to compare the cancellation of the show he starred on to one of the biggest tragedies in recent American history. He told Vice, "[The Hills getting canceled] was our 9/11." Why, exactly? The two no longer had an influx of cash flow at their disposal. Both irresponsible spenders, Speidi pretty quickly went broke. It seems like one of the most trivial things to which you could compare the worst terrorist attack on America and the loss of hundreds of lives... and unfortunately, that's Speidi for you.
As A Publicity Stunt, They Faked Divorce Proceedings
Divorce is nothing to laugh at, but apparently Speidi doesn't care. After a tumultuous love triangle/breakup on The Hills in which the couple temporarily ruined Lauren Conrad's life, once Speidi ended up together it turned out they didn't want each other anyway: Heidi filed for divorce in 2010. The divorce proceedings didn't last long, though, and but the pair's reconciliation wasn't surprising: it turns out they faked the whole thing. Spencer reported to Life & Style:
"The divorce was real — just the idea behind it was different than most people's. Divorcing was the only way to keep Heidi's career going because everyone hated me so much. Look at Sandra Bullock — her divorce from Jesse James was the best thing to happen to her image... I can't make regular money because I was playing such an unlikeable character on TV to keep my checks coming. Who wants to hire the jerk from The Hills?"
The Walls Of Their Home Office Are Covered With Tabloid Covers On Which They've Appeared
Most people hang family photos or diplomas in their home office. But Speidi wouldn't do anything so traditional, right? Of course not. Their office walls are covered with pretty much every magazine cover on which the two ever appeared. The publications featured range from Rolling Stone to tabloids with negative headlines about Heidi's plastic surgery. The two seemingly revel in the publicity, whether good or bad.
Spencer Sells Healing Crystals To Make Cash Under The Business Name 'Pratt Daddy'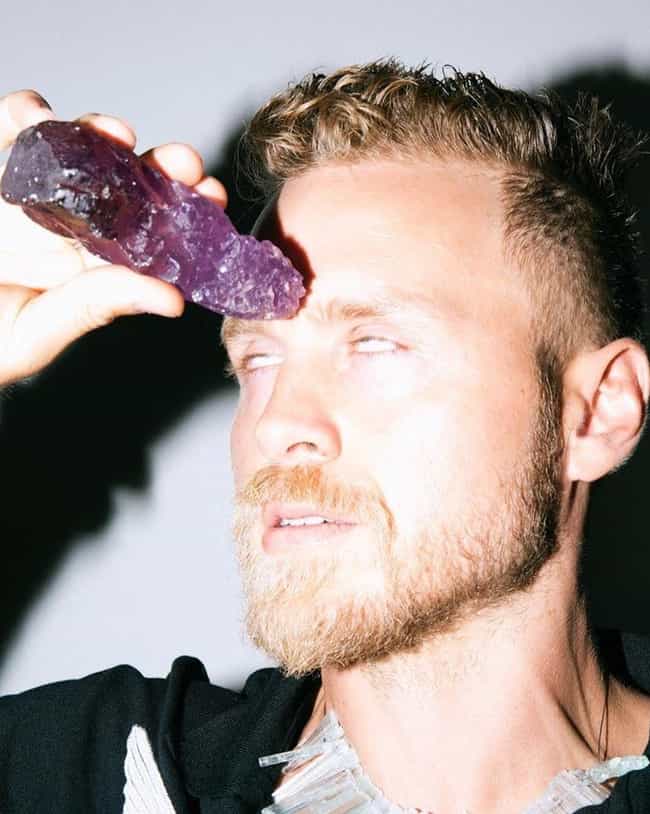 Spencer got obsessed with healing crystals on The Hills. He still has a massive collection, including a $75,000 crystal that kicked off his bad habit. Spencer continued to lavish cash he didn't really have on the rocks, helping lead to his bankruptcy.
Spencer also sells healing crystals.