Food
Things You Didn't Know About Hooters, The Original Breastaurant

Updated June 14, 2019
1.2k votes
344 voters
26.3k views
12 items
List Rules Vote up the most "delightfully tacky" things about the world's first breasturant chain.
While many people may be turned off by the idea of a restaurant called Hooters, which requires female servers to don revealing, skin-tight uniforms, the history of Hooters is actually full of weird facts that may make even those most resistant willing to give it a chance. Founded on April Fool's Day in 1983, the original "breasturant" has expanded into several different business ventures: the brand sells merchandise and a yearly calendar, boasts a Las Vegas casino hotel, and hosts a yearly swimsuit pageant.
Despite being the first of its kind, Hooters has since faced stiff competition in the form of Tilted Kilt, Twin Peaks, Brick House, and other restaurants that have taken on the model of boasting attractive female staff with whom the guests can take photos. In order to keep up with the new competition, Hooters has renovated many stores and installed outdoor areas, added healthier salad options, and switched from using frozen to fresh wings. Even with the competition, Hooters remains one of the most recognizable and successful American restaurants, truly relying on its "delightfully tacky" motto. From the random way the restaurant was founded to the former Hooters Girls who have gone on to become famous in their own right to the strict and arguably sexist rules all serves must follow, Hooters trivia can be pretty tacky, indeed. Here are all the things you didn't know about Hooters - vote up the juiciest facts about this titillating franchise!
back to page 1
The Hooters Name Was Inspired By A Steve Martin Monologue On 'Saturday Night Live'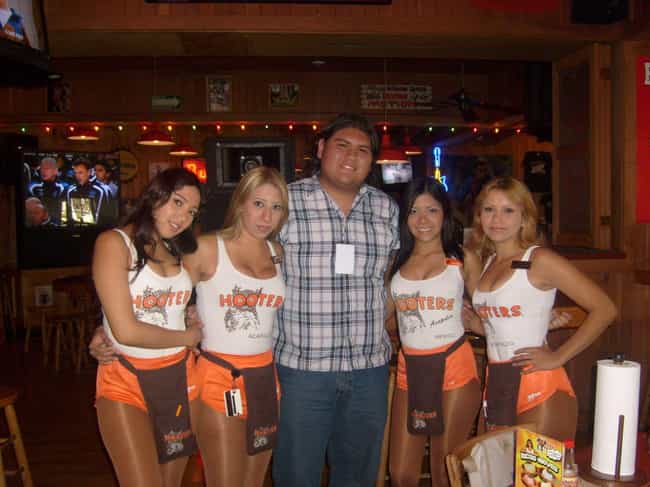 The Hooters restaurant chain may have popularized the slang word "hooters" for referring to women's breasts, but this moniker has not always been a part of the American vernacular. How did the six founders decide on the name Hooters? It came from Steve Martin's monologue during a 1980 episode of Saturday Night Live. In the skit, Martin said, "I believe it's derogatory to refer to a woman's breasts as boobs, jugs, winnebagos, or golden bozos, and that you should only refer to them as hooters." The name clearly stuck.
Is this delightfully tacky?
Servers Must Wear Their Hair Down At All Times
Many restaurants require that servers wear their hair up for fear of health code violations and that dreaded hair in a customer's food. Hooters, however, is the complete opposite. Instead, Hooters requires that all servers wear their hair down for every single shift. Yes, you will never find a Hooters server with her hair up, no matter how busy she may be on any given night.
On top of that, Hooters has a history of firing servers for changing their hair. In 2013, a woman was fired for adding blonde highlights to her naturally dark hair, as her manager said her new look didn't look "natural." In this particular case, Hooters did end up playing $250,000 when the courts ruled this discriminatory. Servers must also adhere to other strict uniform rules, like scrunching their socks the right way in order to elongate their legs and wearing only specifically allowed colors of nail polish.
Is this delightfully tacky?
Hooters Girls Are Hired As Entertainers, Not Servers
While Hooters has settled many lawsuits due to their discriminatory hiring practices, the company had found a loophole. In a statement, the company explained,
"While we offer world-famous wings and burgers, the essence of our business is the Hooters Girl and the experience she provides to our customers. Hooters Girls are entertainers. They audition for their roles and, once hired, they must maintain a glamorous appearance, and sing, dance and engage the customers to provide a unique Hooters experience."
Mandating that an entertainer looks a certain way actually complies with BFOQ requirements, which is how the restaurant has continued to hire a mostly female staff that looks a certain way.
Is this delightfully tacky?
The First Hooters Girl Lynne Austin Was Hired On A Bet
Lynne Austin has the title of being the very first Hooters Girl and the way it happened was… special. During the José Cuervo bikini contest, one of the founders bet the others that he could convince the winner to become the first Hooters Girl. As it turned out, Austin was the winner, but she turned down the opportunity at the time. The founder gave Austin a business card just in case her job as a telephone operator didn't work out. As fate would have it, the telephone company refused to give her time off for a bikini contest only a few weeks later. So Austin quit and joined the Hooters team.
Austin's face appeared on billboards for Hooters, making her a celebrity in her own right. Austin parlayed this fame into becoming a Playboy Playmate in 1986. Since then, Ausitin has made several television appearances, hosted radio shows and podcasts, and has stated that she is penning a memoir.
Is this delightfully tacky?