Culture
Whatever Happened To Jason Russell, The Man Behind Kony 2012?

Updated June 14, 2019
8.8k views
13 items
The Kony2012 campaign launched one of the biggest viral videos of all time and secured a permanent place in pop culture history. But what happened to Jason Russell, the man behind the legendary video? In the massive response to his work on Kony2012, the filmmaker suffered a very public mental breakdown, but Russell has bounced back and continues his advocacy work.
The story behind the Kony 2012 video gets even more interesting the deeper you look beneath the surface. Loaded with complicated issues including race and class, history and culture, social media and the power of technology, Russell's video created a perfect storm of events that changed his life forever. The video that made him famous--or infamous, depending on which camp you fall in--was viewed one million times within its first 24 hours online and reached 100 million views in just six days. Ten days later, Russell temporarily split from reality.
Read on for more about Russell and where he's at today.
He Suffered A Nervous Breakdown That Also Went Viral
In the wake of the Kony2012 video's explosive popularity, Russell suffered a nervous breakdown in front of the cameras. In the middle of the day, he was seen walking down a busy street--naked, swearing, and rambling on about the devil. He rammed his body into parked cars, fell to the ground, and beat the pavement with his bare hands before police detained him. He was held in a psychiatric facility and did not come home for two months. Russell's exact diagnosis is a matter of some debate. One source called it a manic episode brought on by PTSD, exhaustion, stress, and dehydration. Another source called it an out-of-body experience.
He Couldn't Reconcile The Divergent Reactions The Video Received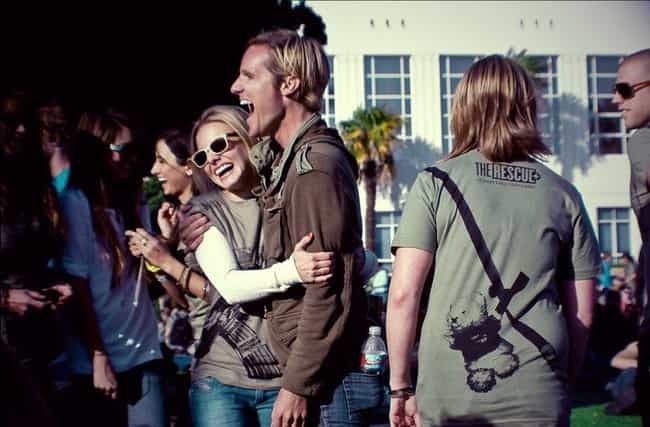 Russell struggled to reconcile the diverging public opinions about the Kony2012 campaign. On one hand, many people admired him and respected what he was doing to bring global awareness to a criminally overlooked human rights catastrophe in Uganda. A warlord named Joseph Kony had, over the course of 26 years, kidnapped 30,000 children and turned them into soldiers and sex slaves. Russell wanted to do his part to stop this epic tragedy; through his nonprofit, Invisible Children, he made the video that became a worldwide sensation. But others were not so appreciative of Russell's efforts. Some found his campaign to be a textbook example of the white-savior industrial complex--the phenomenon in which a white person sweeps in and "saves" people of color. Others questioned where all the money Russell was raising was actually going.
He Was Accused Of Oversimplifying The Conflict
One of the biggest criticisms Russell faced with the release of the Kony2012 video was that he was oversimplifying the Joseph Kony issue and the conflicts in Uganda. The Ugandan government was critical of Russell's efforts and said he wasn't taking into account the complexities of the situation. Also, at the time the video was made, Kony wasn't active in Uganda anymore. That said, it could be argued that Russell was purposefully simplifying a complex issue to make it easier for a worldwide audience to understand. Regardless, the pushback Russell experienced impacted his state of mind.
He Discussed His Breakdown On 'Oprah'
In October of 2012, Russell sat down with Oprah to discuss the breakdown he experienced in the midst of the Kony2012 campaign earlier that year. "It's really hard to explain if people who have never had an out-of-body experience, but it really wasn't me," he said. "That wasn't me, that person on the street corner ranting and raving and naked is not me, that's not who I am." Russell said he was so disoriented during the experience that he beat his fists into the pavement with enough force to dent his wedding ring. Even today, a definitive clinical diagnosis for what happened remains elusive.