Sports
13 Things You Didn't Know About John Cena

Updated March 14, 2018
21.7k views
13 items
No one since Hulk Hogan (and, more recently, The Rock), has managed to parlay wrestling fame into mainstream celebrity like John Cena. But despite his frequent and high profile projects, the wrestler-turned-superstar has remained somewhat elusive — and, as a result, there may be more than a few things you didn't know about John Cena, his life, and his storied career.
The John Cena biography begins in West Newbury, Massachusetts, where the legendary WWE champion was born on April 23, 1977. He graduated from a private boarding school and attended Springfield College, where he earned a degree in — what else — exercise physiology. After initially pursuing a professional bodybuilding career, Cena found his groove in the world of wrestling, which, in turn, has led to his successes in several other ventures.
But the facts, trivia, and stories about the multitalented, multifaceted John Cena don't stop there.
You could never accuse John Cena of being a one-trick pony. No matter how you slice it, the man has got mad skills in more than one area. Consider, for instance, that he speaks Mandarin. As a way to bolster the WWE's publicity efforts in China, Cena learned the notoriously difficult language. Holding a press conference for the Chinese media, he impressed those in attendance by pretty much nailing Mandarin spot-on. "John Cena's Mandarin is better than Mark Zuckerberg's," one Twitter user observed.
He Has Granted More Than 500 Wishes For Terminally Ill Children, Surpassing Justin Bieber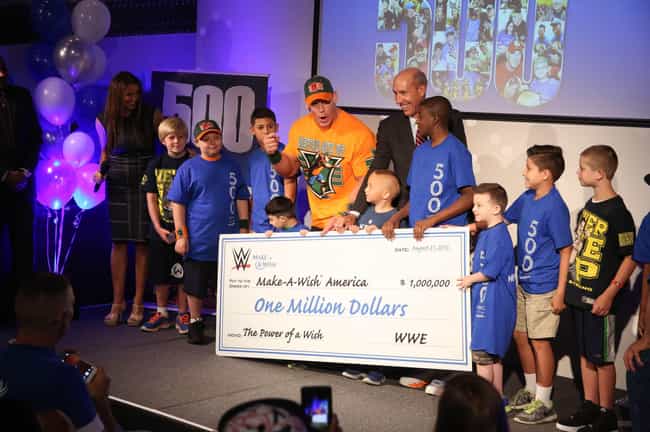 Cena has done extensive work with the Make-A-Wish Foundation, which grants wishes to terminally ill children. He holds the record for the most wishes granted by a single donor: over 500. This puts him at more than double the number of wishes granted by his closest competitor, Justin Bieber. Cena is rightfully proud of his contributions, and he always makes time for Make-A-Wish requests. "I'll drop everything," he said. "If I can offer a fantastic experience, I'll be first in line to do my part."
He Released A Successful Rap Album
Cena's first wrestling prototype failed so he took a different tack for his second: a white rapper who donned all the typical stylings and accoutrements of rap artists. The best part of this character, however, was his name: The Doctor of Thuganomics. It was around this Thuganomics phase that Cena released his first--and as of 2018, only — rap album, titled You Can't See Me. And before you think this was some failed attempt at music stardom by a middling wrestler, consider this: in its first week, You Can't See Me sold 143,000 copies and was eventually RIAA certified gold. According to Sensation's stats, "It peaked at No. 15 on the Billboard 200 and at No. 3 on Billboard U.S. Rap Albums."
He Was Voted 'Best Body' In His Senior Yearbook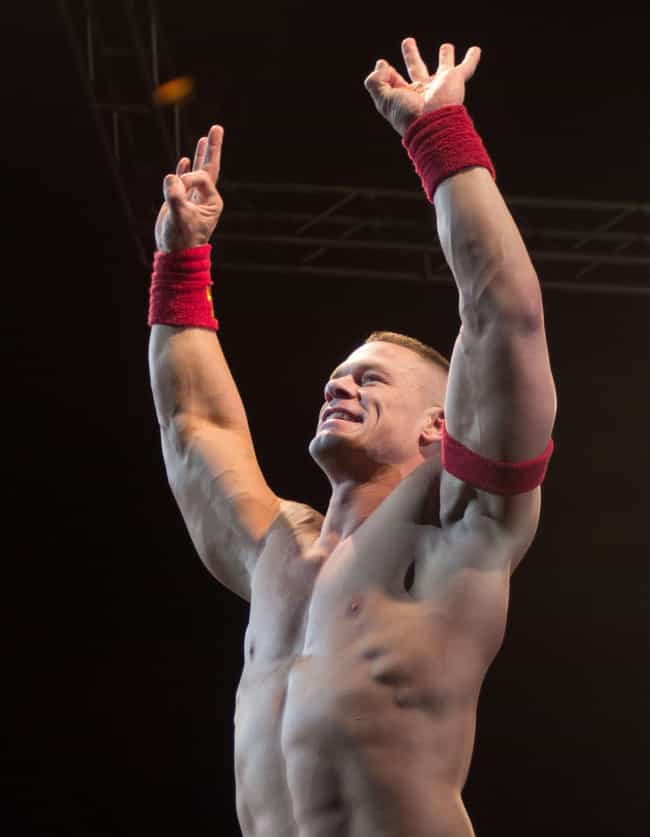 Cena is a graduate of Cushing Academy in Ashburnham, Massachusetts. During his senior year in 1995, he took home the yearbook superlative for Best Body... which should surprise exactly no one who has even seen a picture of John Cena. But he won another title, too — and this one a bit more dubious in its honor. Cena was named the loudest student in school.