Musician/Band Trivia
Here's Why Lorde Is Even Cooler Than You Already Thought She Is

Updated November 22, 2019
18.6k views
12 items
Maybe you know alt-pop singer Lorde from her smash hit "Royals." Or maybe you're such a hardcore fan that you have lyrics from "The Louvre" tattooed on your body, and you consider Ella Marija Lani Yelich-O'Connor your BFF. Either way, you know there are tons of interesting facts about Lorde that make her more than just another female singer.
Lorde's the definition of an unconventional star. No Lorde biography is complete without a mention of her kooky, super-smart family and her upbringing in New Zealand. She ascended to pop stardom as a teen, and she doesn't show any signs of slowing down. Lorde keeps focused thanks to the support of famous friends, like Taylor Swift - Lorde memorably got onstage during the 1989 tour. But even though Lorde is part of Swift's "girl squad," she isn't crazy about the label. Other cool stories about Lorde range from how she got her stage name to her obsession with a particular fried food.
Snap on those headphones, turn up the volume, and settle in. The things you didn't know about Lorde will make you love her even more.
Her Stage Name Comes From Her Obsession With Royalty
Her first single was the smash "Royals," but Lorde has always been fascinated by the aristocracy - it even inspired her stage name. She originally wanted the moniker "Lord," but added an "e" on it to make it more feminine.
She told Rolling Stone, "I'm really interested in the Ivy Leagues, the final clubs, all the really old-money families, the concept of old money."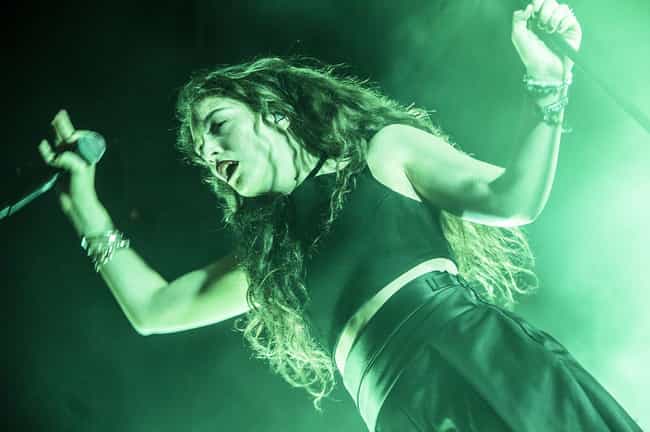 Lorde has sound-to-color synesthesia, a neurological condition that allows her to see colors when particular musical notes are played. She told The New York Times, "From the moment I start something, I can see the finished song, even if it's far-off and foggy."
She works to fix the colors and notes until everything comes into focus - and then the song is done.
She's Not Crazy About Getting Lumped In With Taylor Swift's Squad
Taylor Swift is one of Lorde's BFFs and threw her a giant birthday party in 2016, but Lorde isn't keen on calling herself part of Swift's "girl squad." She joked that being close with someone famous was "like having a friend with very specific allergies. There are certain places you can't go together. Certain things you can't do. There are these different sets of considerations within the friendship. It's like having a friend with an autoimmune disease."
Later, Lorde clarified her remarks, praising Swift but downplaying the squad:
"I've always found people's perception of this 'squad' idea frustrating in the past; it was never some exclusive club or secret society but a wide circle of people, some of whom I know and some of [whom] I've never met, like most wide groups of friends. Forgive me for the mild eyeroll I popped when it was brought up as if we're all blood members of a secret cult."
She Had An Instagram Account About Onion Rings
Apparently Lorde is really into onion rings. In a 2017 appearance on The Tonight Show With Jimmy Fallon, she revealed she ran an account on Instagram devoted to reviewing onion rings. Sadly, Lorde didn't keep up the account, but she did share that she prefers batter over breading and likes to pickle the onions before frying them.