READ
Things You Didn't Know About Pornhub

Updated August 22, 2019
26.4k views
24 items
Porn makes up most of the Internet. It's everywhere. Trying Googling anything with Safe Search off and you won't make it very far without stumbling upon a whole world of porn. Naturally some people were ahead of the curve and build an empire around this porn. These men, chuck full of ingenuity and testosterone, created Pornhub.
But there's much much more to the site than meets the eye. Did you know that Pornhub funds cancer research? Or that they plan to send porn stars to space? Or that the founder sold the company in 2010 and it's now part of the largest porn empire in existence? How about that women make up 24% of the traffic on average? Or that viewership falls on nearly every major holiday?
There's so much to learn about the Pornhub company and the insights into the human psyche they've uncovered by tracking our traffic over the years. These are the things you didn't know about Pornhub.
They Have a Porn-Based Exercise Program
In order to help sedentary porn lovers get up and move (more than their right hand) once in a while, Pron Hub introduced a new sex-based fitness program in 2016. Basically, users can earn points by getting busy through the BangFit program. All you have to do is strap on your smart phone while you do the nasty. Of course, the concept requires porn-addicted players to have a willing partner... Still, if you have to exercise to be healthy, sex is probably the most fun way to do it. You just need to perfect high-scoring moves like the "squat and thrust."
Plus, it's based on
science
. As creators told
Mashable
,
"Bangfit was designed after exhaustive research through the thousands of sexercise studies/articles, consulting with health and fitness experts and professionals (including personal trainers) and cross referencing that with anecdotal evidence on what are the most fun sex positions."
You Can Text Them for Porn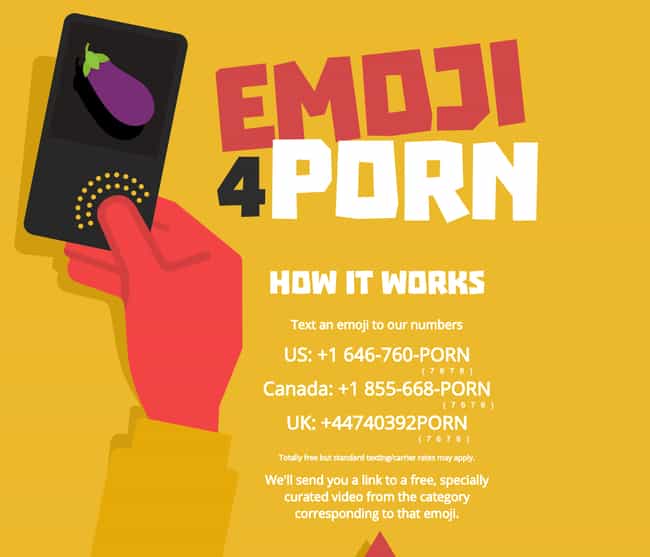 Pornhub is always trying new things. This time they've given out a phone number and when you
text an emoji to them
, they send you a corresponding porn video. For example, a peach gets you "big ass" porn, scissors are for lesbian porn, a squid is for hentai, and so on. There are even mystery ones that get you surprise videos.
Every Country has Vastly Different Viewing Habits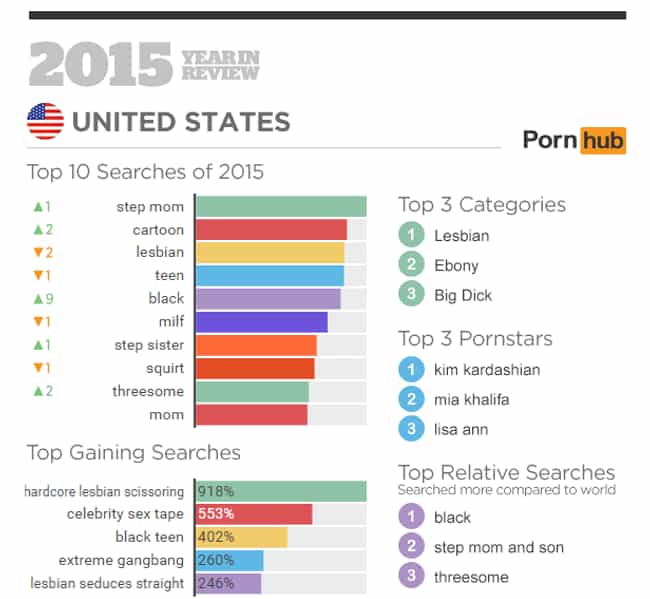 It's fascinating to compare different cultures, and the different things they find attractive. With the help of Pornhub we have a very clear picture.
For example, in the US, our top three searched categories were Lesbian, Ebony, and Big Dick in 2015; and our top three porn stars were Kim Kardashian, Mia Khalifa, and Lisa Ann. Whereas in the UK, the top three categories were Lesbian, Teen, and Mature; and the stars, Lisa Ann, Mia Khalifa, and Kim Kardashian (okay, so maybe those three are hot in both cultures). In Italy, the categories are Mature, MILF, and Big Dick; and the stars, Sara Tommasi, Lisa Ann, and Rocco Siffredi.
Viewership Falls on Most Major Holidays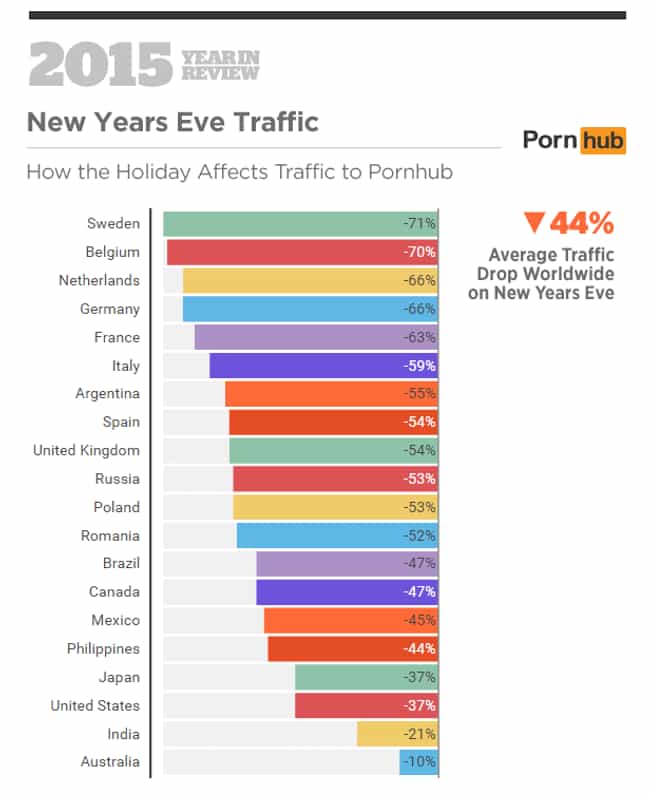 With the exception of Valentine's Day (for seemingly obvious reasons), some of the biggest traffic
drops of the year
are on major holidays. Which only makes sense as people should be spending quality time with their real-life 3D loved ones. For example, in 2015, there was an average drop of 44% on New Year's, a 39% drop on Christmas Eve, 18% on Christmas Day, and a 9% drop on Easter. Good job, society!