Rappers
Everything You Need To Know About Post Malone, The Rapper Rockstar

He may be a major musical star, but Post Malone hardly fits the image of a traditional pop idol. Many Post Malone fun facts are surprising – you know he makes music, and he's arguably one of 2018's coolest rappers, but you probably have no idea why he likes face tattoos.
With an unusual name, an unusual look, and a penchant for bluntly speaking his mind, Post Malone is anything but ordinary. Born Austin Richard Post in Syracuse, NY, on July 4, 1995, the rapper moved to Grapevine, TX, at the age of nine. The video game Guitar Hero inspired him to learn to play the guitar, and at 16, he created his own mixtape. Post Malone's backstory is pretty non-traditional for a rapper, but still found success. Check it out, then head over and vote on the best Post Malone songs.
He Got Face Tattoos To Bother His Mom
When you look at Post Malone, you can't help but notice his face tattoos. He has the word "Always" inked below his right eye, and the word "Tired" below his left. His face also features a long sword, a small Playboy bunny, a smiley face, and the words "Stay Away." There is barbed wire along his hairline as well.
The rapper claimed he got the ink because he'll do "anything to piss [his] mom off." He went on to say, "I got a face for radio anyways, so why not?"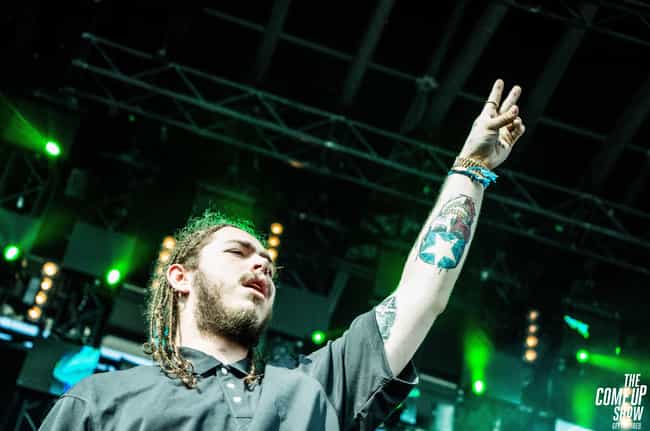 Post Malone is unapologetic about his love for guns. Not only does he own an entire arsenal, but he sleeps with some of them under his pillow. He compared firing a gun to being inebriated, and he loves the feeling. In a Rolling Stone interview, he claimed:
A lot of people are sensitive about it these days, but it's an American right to own a gun. It kinda sucks that now we have to live in fear of going out to a concert, but there'll always be bad people, and if bad people want firearms, they'll get 'em no matter what.
He's A Conspiracy Theorist
Post Malone is pretty open about being a conspiracy theorist. He thinks John F. Kennedy was killed by the government and believes the world is on the verge of some kind of doomsday scenario. He also claims there's a gun that can give people heart attacks.
He Has A Sword Collection
Post Malone is crazy about swords; he even has one tattooed on his face. During an interview with entertainment personality Tim Westwood, Malone mentioned his full sword collection, which he started in adolescence.
The rapper also spent $1,200 on a real suit of armor. "I put it on, and I look f*cking cool," he said.