Food
All About Sandra Lee, Food Network's Kooky Aunt

She's made a name for herself as TV's Queen of Kinda-Sorta-Not-Really-Homemade Cooking, and the world adores her for it. But behind Sandra Lee's weirdest "semi-homemade" recipes and intricate "tablescapes" is an entrepreneurial woman who built an empire centered on her unique brand of cooking and lifestyle instruction.
Refreshingly, Lee never set out to be another Julia Child, Ina Garten, or Paula Deen (Newsweek even called her "the anti-Julia Child"). She's always been just who she is: charming, smart, and, yes, a little wacky. You can tune in to any of Lee's strangest moments to get a taste of how irreverent and off-the-wall she can be, but under her kookiness lies authenticity.
Her life hasn't been all sunshine and cheer: Lee faced major challenges and used those tough experiences to shape her persona. So while her Food Network series includes more than a few bizarre episodes - like the one featuring her infamous Kwanzaa cake - Lee is anything but a flighty oddball. She's a self-made businesswoman and a survivor.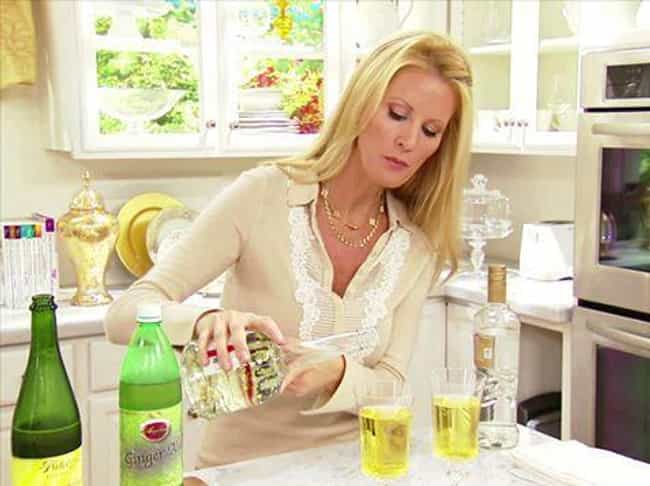 She Trained At Le Cordon Bleu, But Called It A 'Waste Of Time'
While critics have blasted Lee for not being a classically trained chef, she did attend a training session at the renowned Le Cordon Bleu cooking school in Ottawa. But she found it pointless, telling Vogue, "We cooked bouillabaisse for a whole week. It was a total waste of time."
Lee's time at the school did introduce her to the concept of translating recipes into more accessible terms, a practice she approached "like a science project." The result? "Quicker, easier versions that ordinary women could relate to," she said. And the seed for her "semi-homemade" concept was planted.
Anthony Bourdain Called One Of Her Recipes A 'War Crime'
The late, great Anthony Bourdain was never one to hold back. And he certainly didn't censor himself when it came to his opinion of Lee's cooking style:
She makes her audience feel good about themselves. You watch her on that show, and you think, "I can do that. That's not intimidating." All you have to do is waddle into the kitchen, open a can of crap, and spread it on some other crap that you bought at the supermarket. And then you've done something really special.

The most terrifying thing I've seen is her making a Kwanzaa cake. Watch that clip and tell me your eyeballs don't burst into flames. It's a war crime on television. You'll scream.
Her Kwanzaa Cake Will Forever Live In Infamy
Hundreds of years from now, people will probably still be talking about Sandra Lee's infamous Kwanzaa cake episode. The 'recipe' for the cake is a mishmash of store-bought ingredients that boggles the mind.
Here's the recipe: a premade angel food cake stuffed with canned apple pie filling, covered in canned frosting and cinnamon, and sprinkled with pumpkin seeds and corn nuts. And don't forget to insert seven Kwanzaa candles into it.
Lee, whose cooking methods have long been a subject of criticism, was blasted for this ungodly concoction. "Kwanzaa is about harvest," she told The New York Times Magazine in her defense. "I celebrate every holiday."
Her Halloween Shows Are Must-See TV
Anyone who has seen even one of Lee's Halloween-themed cooking shows knows she takes the autumn holiday very, very seriously. Lee dresses up in elaborate costumes (over the years she's transformed into Cher, Cleopatra, Marilyn Monroe, and Elizabeth I) while demonstrating how to create equally elaborate themed "tablescapes" and recipes, from pumpkin jelly shots to black lollipops.
"I'm kind of known for my holiday specials," she told the Los Angeles Times, "and I do as much as I can to make them fantasies. My Halloween specials are the ones that are always nominated for Emmys, because the costumes are so amazing, and so are the hair and makeup."