Places/Travel
Slab City Is An Off-Grid Desert City, And Its Residents Claim It's The Last Free Place In America

Updated May 19, 2020
251.2k views
12 items
Slab City is unlike any other city in the United States. Its residents - a term used loosely to describe a group of people with not much in common beyond their physical location in Slab City - call it "the last free place in America." However, outsiders might wonder, "What is Slab City?"
To the uninitiated, it looks like a weird, rundown, tiny town. But for the people who call Slab City home, it's a refuge. The people who inhabit Slab City range from families who ran out of luck to couples who volunteered to move off the grid. They are anyone from fugitives to former lawyers and construction workers.
The people of Slab City live on the former military site in their tents, cars, buses, and RVs. And now, the freedoms of Slab City are threatened not only by the criminals who take advantage of the city's lawlessness but also the fact that California wants to sell Slab City, threatening the nomadic and houseless people who found a home in the often hot and beautiful sunburned garbage infested city without rules.
It Is Known As "The Last Free Place In America"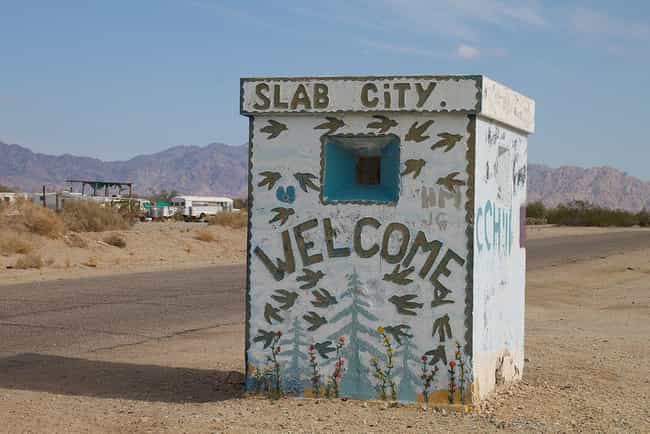 Slab City is called "the last free place in America," and the town's motto refers to more than just the zero cost of living there. It relates to the easy-going, more-than-relaxed rules of living too.
The slogan for Slab City came from a man named Builder Bill and the late Mike Bright. Builder Bill moved to Slab City after losing his job in construction. His nickname follows him, as he is responsible for the creation of a music stage, which functions to entertain residents of Slab City, as they sprawl out on beat-up couches to enjoy nightly talent shows.
Residents Rely On Each Other To Cope With The Effects Of The Coronavirus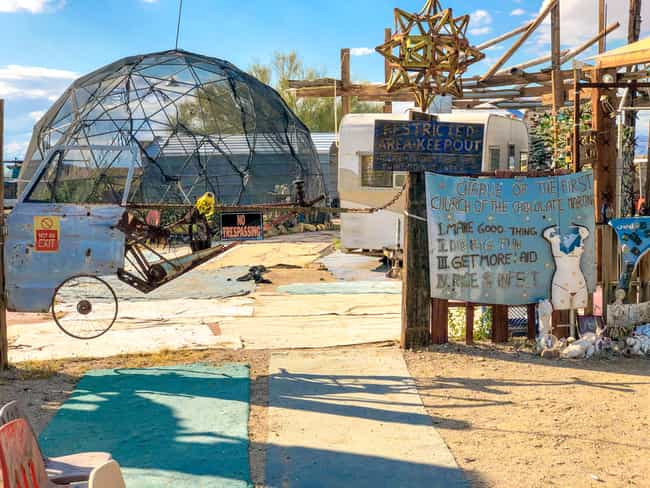 During the 2020 coronavirus pandemic in the United States, lockdowns were enforced by federal, state, and local governments. The "last free place in America" has suffered economically along with other parts of the state and country, because Slab City's income mainly comes from tourists, who have been ordered to stay at home. In addition to the financial struggle, hygiene looks different in the desert, where there is no running water, sewage, or trash pickup, and the nearest hospital is a 40-minute drive away. Not to mention, people who move to Slab City often harbor a distrust of authority, and are less inclined to follow social distancing orders.
By May 2020, 55 of 417 residents tested for the coronavirus were confirmed positive. Indie Jones, who lives in the neighborhood Flamingo Camp, told the Desert Sun that not everyone is taking the pandemic seriously: "I don't know how many people have come by looking for a service we provide - whether that be water or a meal like we used to do. I have to tell them no... Everyone's on an 'It won't affect me' basis and it's stressful."
The Board of Directors closed Slab City's artistic attraction Salvation Mountain, and because the community relies on donations to maintain and create art, residents have faced cuts, although they are managing to adapt. "Rather than being able to drink 5 gallons a day, and freakin' do dishes and laundry, now we do laundry once a week and ration out 2 gallons a day," said resident Kurt Forsberg.
The tightknit community members of Slab City are used to supporting one another, but isolation makes that difficult, forcing major lifestyle changes for many, and a reluctance to social distance for others.
Slab City May Not Remain A Free City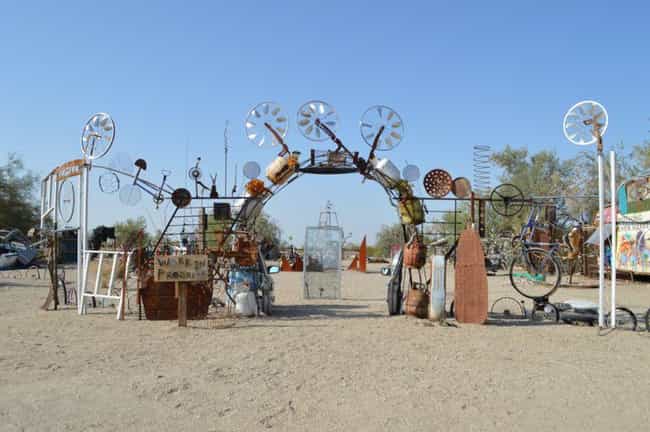 California is seeking to sell Slab City. A sale could potentially go to energy companies - possibly the only industry that could make the inhospitable and dry land useful. Many residents worry that a deal could leave them without a community or place to live, as the lawless Slab City has become the last resort for so many.
Due to the threat of a sale, some residents of Slab City call for people to band together and purchase the land themselves in order to guarantee the community's survival. However, others worry that even if residents of Slab City buy the land, it will result in a landlord-like situation, which residents agree is contrary to what Slab City is all about.
With the threat of government encroachment, the concept of a Slab City resident-run community seems to be the only solution. Some residents acknowledge that the land is useless and that California might sell the city for $1 an acre. Still, most of the residents rely on social security or government assistance, so it's impossible to band together to raise funds to purchase Slab City. Moreover, with such a mixture of different people living in the location, there are hostile feelings among residents regarding a purchase. Still, some of the most lawless residents do not even vocalize opinions on the matter, and it's likely that they wouldn't change their habits regardless.
Slab City Used To Be A Military Base And Now Is Completely Lawless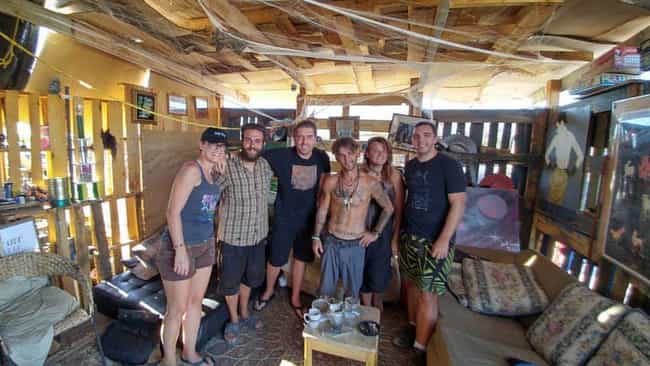 The perma-Burning Man city was once a US Marine Camp. However, the abandoned land, which is about 140 miles east of San Diego, is now a haven for lawlessness. No one pays rent. No one enforces rules.
In fact, laws do not exist in Slab City. It's a place for people who are down on their luck, who want to escape society, and anyone in between.