Entertainment

Where Is Tiffany Trump In All This White House Madness?

Like Vera Peterson, Maris Crane, and Cousin Jeffrey, Tiffany Trump is an unseen character of the Trump presidency — we hear about her on occasion, but we've yet to see her in any substantial role. So where has Tiffany Trump been? She's managed to successfully stay out of the spotlight, a seemingly impossible task for those with the Trump name.
The Tiffany Trump biography begins in West Palm Beach, where she was born to Donald Trump and his second wife Marla Maples in 1993. Like all Trumps, she grew up in luxury. As a young adult, Tiffany dabbled in a few different career fields — she's been a singer, a model, a socialite, and a Vogue intern. And now, of course, she's a member of the First Family of the United States. Tales about Tiffany seem to neither hold the interest of the public nor contain the salaciousness of the stories that emerge regarding other members of her family. But she's still a Trump, and the facts of her life, as well as her low profile, are curious among a clan that's made a name for itself by being one giant walking tabloid story.
None Of The Trump Family Wished Tiffany A Happy Birthday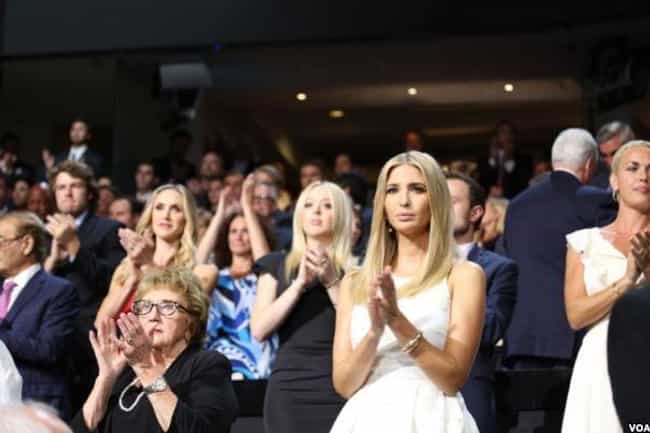 Tiffany has never seemed to grab her father's attention in the way her older siblings have. She was the only Trump child, besides 11-year-old Barron, not chosen for a spot on Trump's transition team. She doesn't hold a White House role like Ivanka, and she's not involved in the family businesses like Eric and Don Jr. Her own father didn't follow her on Twitter until after the Republican convention in 2016. No one in the Trump family even publicly wished her a happy birthday. It's easy to see why Tiffany has been called the second-favorite daughter and the forgotten Trump.
Whoopi Goldberg Was The Only Person Who Would Sit By Her At Fashion Week
When Tiffany showed up to New York Fashion Week in 2017, she wasn't exactly embraced. Attendees tweeted snarky things about her, and she was surrounded by empty seats because no one wanted to sit by her side. Finally, Whoopi Goldberg took some pity on the lost Trump.
"I just thought it was mean. I don't want to talk about your dad, but girl, I will sit next to you because I've been there, where people say we're not going to sit next to you. I'll find your ass and sit next to you!"
In the fall of 2017, Tiffany began attending Georgetown Law. By all accounts, she's always been an exceptional student who has maintained high grades throughout her schooling. While attending law school, Tiffany is living in some swanky D.C. digs. And she's not the first Trump to go to Georgetown — her older brother Eric also attended the prestigious school.
Yes, it's true — Tiffany Trump is dating a registered democrat. His name is Ross Mechanic, and they were first pictured together in October 2015. He comes from a wealthy family, and he graduated from the University of Pennsylvania in the same class as Tiffany. He works in data engineering and is fluent in English and Arabic. His dad is a powerful New York real estate attorney named Jonathan Mechanic.