Button Mash
The Best 'Fallout 76' Easter Eggs

Updated December 12, 2018
1.1k votes
287 voters
15.6k views
15 items
List Rules Vote up the coolest things hidden in the game.
In Fallout 76, the amount of nuclear war-ravished territory to explore has expanded. Thanks to the additional post-apocalyptic mayhem, players will also find more Fallout 76 Easter eggs. Easter eggs are little jokes or references tucked into a game by the developers, and the Fallout series is known for hiding them everywhere.
This list compiles the best Easter eggs in Fallout 76, so players can focus on exploring terrifying vaults, launching nuclear missiles, and conducting other post-nuclear tasks in Appalachia.
Come Visit The Overlook Hotel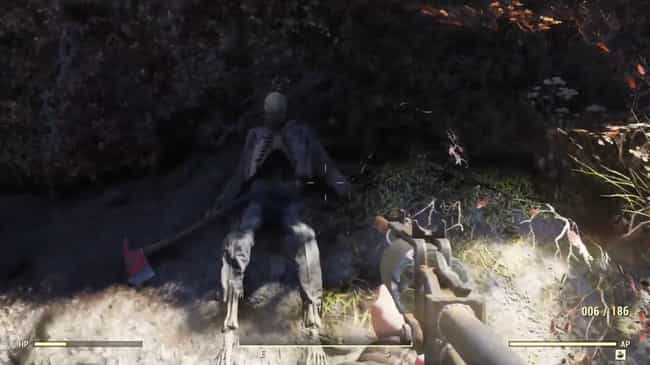 Hidden in the Fallout 76 map is the Torrance House. Stanley Kubrick fans will remember that Torrance is the last name of the caretaker and his family in The Shining. The house shares a few notable similarities with the film's Overlook Hotel, including dustcloth-covered furniture and a hedge maze.
Those willing to brave the protectron-guarded hedge maze are sure to find something familiar: Jack Torrance's skeleton, axe and all, lost amid the bushes and finally thawed out by the nuclear blast.
The Mad Hatter's Tea Party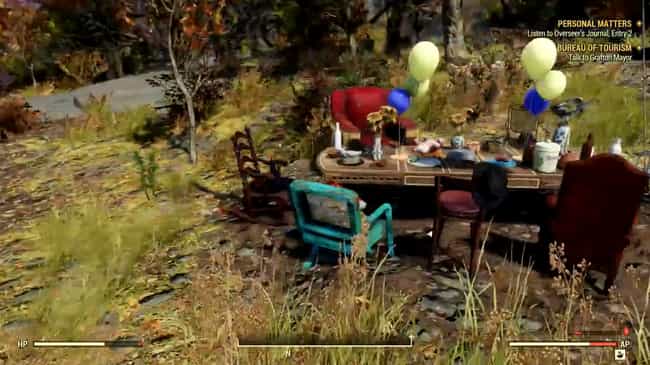 Apparently, someone at Bethesda Game Studios is a big Lewis Carroll fan. Vault-dwellers roaming across post-apocalyptic West Virginia might stumble upon an eerily deserted tea party set in the wilderness, complete with rocking chairs and festive balloons.
This bizarre gathering is a nod to the famous Mad Hatter's tea party scene from Carroll's classic novel Alice's Adventures in Wonderland (or one of the many movies based on it).
The Pied Piper Of Rad-Rats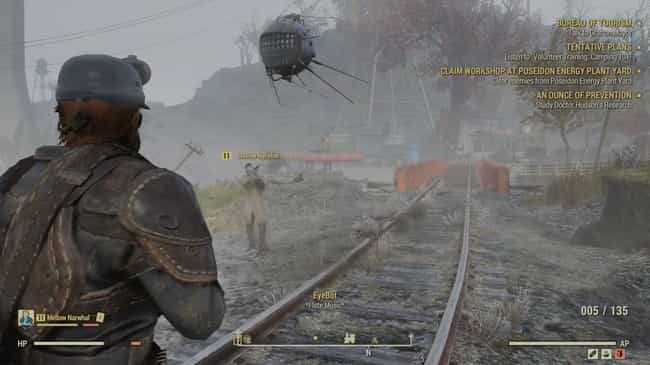 The Pied Piper, as some fans have taken to calling this eyebot, is a robot that floats around West Virginia playing music. Eyebots are often seen in the Fallout universe.
This one, however, has managed to hypnotize a pack of rad-rats into following it wherever it plans on taking them.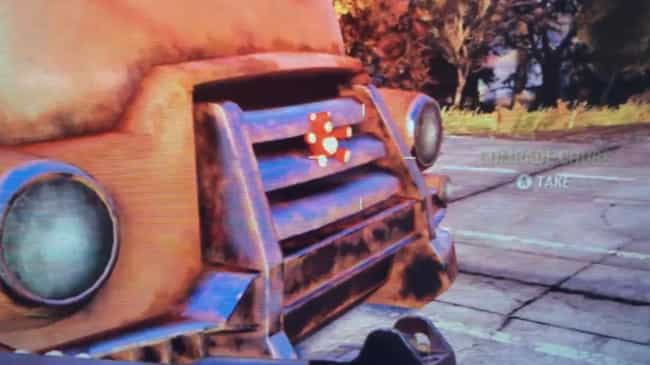 Fans of Toy Story 3 will remember Lotso, the animated film's stuffed-bear antagonist. By the end of the movie, he ends up at a junkyard, where a garbage truck driver finds him and mounts him on the front of his vehicle.
You'll find an homage to Lotso in Fallout 76, where a similar bear is attached to a vehicle, almost untouched by time.