Total Nerd Family Guy Fan Theories So Crazy They Might Be True

137.7k votes
25k voters
1.6M views
16 items
List Rules Vote up the most plausible Family Guy fan theories.
Family Guy has grown more and more bonkers over the years, introducing a multiverse and time travel. With an interesting cast of characters, great political satire, and hilarious Peter Griffin quotes, what's not to love? With 2017 marking its 16th season, there is a whole lot of canon to the Family Guy Universe (FGU). And what do you get when you have a whole lot of canon in a universe? Fan theories.
Yes, Family Guy fan theories range from the truly preposterous to epiphanic. But who is Susie Swanson? Who is she really? One thing's for sure: Family Guy poses a lot more questions than it does answers, and that can't just be apathy towards its own continuity, right? Well, fans refused to believe it, so take a gander at some of these fan theories about Family Guy and vote up the most credible ones. Be warned: this list contains spoilers.
Family Guy Is Stewie's Interpretation Of The World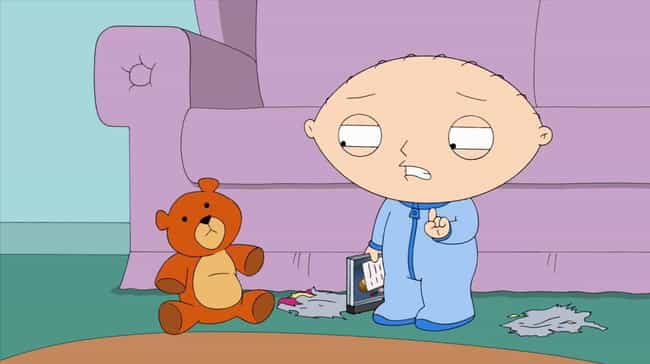 Reddit user iFornication makes an interesting argument for why some people can understand Stewie and why some can't: because the entire show is a manifestation of Stewie's perception of the world, i.e., "How an infant sees the world and tries to understand it from his limited knowledge." The Redditor argues that the shenanigans of the show are extremely exaggerated because it's all from a baby's perspective. His most compelling point is that Brian has the ability to talk, due to the fact that Stewie just understands the dog as a member of the family, all of whom can speak.

Think this is true?
Brian Is Intelligent Because He's A Human In A Dog Body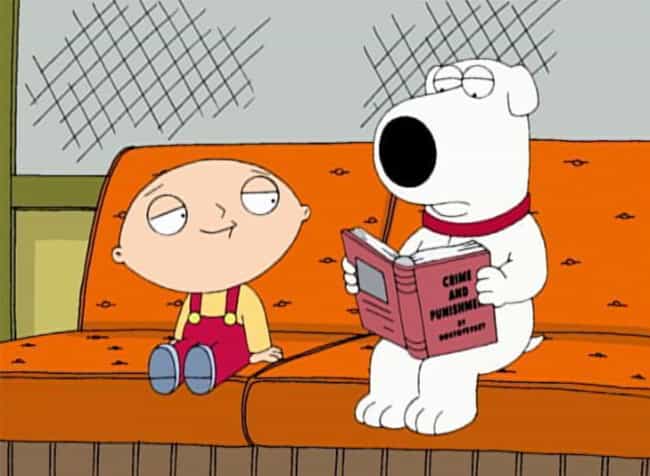 Although Family Guy has been on air roughly since the Carter administration, there are still aspects of the Griffin families life that remain mysterious. For example: Exactly why is Brian Griffin intelligent?
A writer at WhatCulture theorizes that Brian is smarter than your average dog because he was once a human who had his brain inserted into a canine body by the CIA. Remember, Family Guy is set in the same universe as American Dad!
In American Dad!, the talking goldfish Klaus is actually a German athlete who had his brain swapped with a fish by the CIA. It's entirely possible, then, that all the intelligent animal characters in Seth McFarlane's shared animated universe are the product of illegal experimentation by the CIA, including Brian Griffin.

Think this is true?
Susie Swanson Is Avery Bullock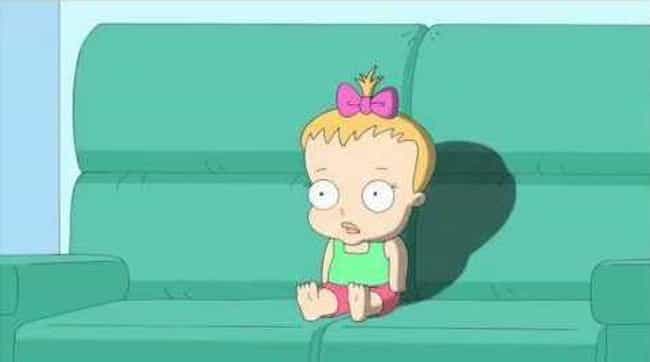 It is well established that American Dad! and Family Guy exist in the same universe. It is also established that little Susie Swanson's inner monologue is voiced by Patrick Stewart, who also voices Avery Bullock. That's just a funny subversion of expectations, right? Wrong! In American Dad!, the CIA has a device that allows a person to remotely control an avatar of any shape or size. In "Virtual In-Stanity," Bullock does indeed have an avatar: a baby. He utilizes this avatar for, er, nutritional purposes. Redditor TCromps takes this a step further and theorizes Joe and Bonnie's daughter, Susie, is one of Bullock's avatars. Set your phasers to mind blown.

Think this is true?
There Was Another Griffin Child Who Died
Although this deleted Reddit user denigrates his own argument that Peter and Lois had a son who died, it's actually somewhat convincing and the comments help it along. The user points out that Peter explicitly states they had a son who died, and even though it's in a gag, it doesn't change the fact that he said it. 789yugemos points out in the comments that there is even a throwaway gag depicting another child.
Think this is true?