READ
Famous Friends of Brad Pitt

Updated October 14, 2019
84k views
25 items
List of famous people who are friends with Brad Pitt, listed alphabetically with photos when available. Every person on this list has either been seen in public with Brad Pitt, or is known to be acquaintances or best friends with Brad Pitt. From the people who have had a falling out with Brad Pitt to Brad Pitt's current best friends and buddies, these are the people that Brad Pitt has or had a relationship with at some point. If you notice that any of Brad Pitt's celebrity bros are missing from the list, you can add them below and make this list of Brad Pitt's friends that much better. This list contains celebrities like Angelina Jolie and Jennifer Aniston.This list answers the questions, "Who are Brad Pitt's friends?" and "Which celebrities is Brad Pitt friends with?"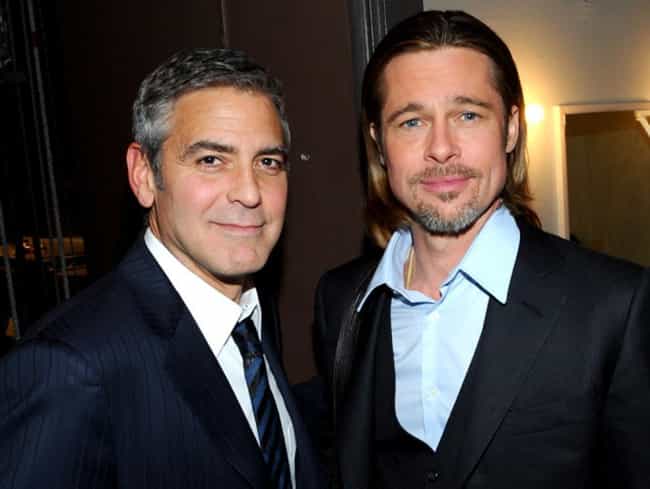 Brad Pitt and George Clooney have been friends for many years. They both appeared in the
Oceans
films and they have been known to vacation together.
George Timothy Clooney (born May 6, 1961) is an American actor and filmmaker. He is the recipient of three Golden Globe Awards and two Academy Awards, one for acting in Syriana (2006) and the other for co-producing Argo (2012). In 2018, he was the recipient of the AFI Lifetime Achievement Award.Clooney made his acting debut on television in 1978, and later gained wide recognition in his role as Dr. Doug Ross on the medical drama ER, from 1994 to 1999, for which he received two Primetime Emmy Award nominations. While working on ER, he began attracting a variety of leading roles in films, with his breakthrough role in From Dusk till Dawn (1996), and the crime comedy Out of Sight (1998), in ...more on Wikipedia
Age: 57
Birthplace: USA, Lexington, Kentucky
Brad Pitt and Julia Roberts go back many years. They have appeared in a number of films together including
The Mexican
and the
Oceans
series.
Julia Fiona Roberts (born October 28, 1967) is an American actress and producer. She established herself as a leading lady in Hollywood after headlining the romantic comedy film Pretty Woman (1990), which grossed $464 million worldwide. She has won three Golden Globe Awards, from eight nominations, and has been nominated for four Academy Awards for her film acting, winning the Academy Award for Best Actress for her performance in Erin Brockovich (2000). Her films have collectively brought box office receipts of over US$2.8 billion, making her one of the most bankable actresses in Hollywood. Her most successful films include Mystic Pizza (1988), Steel Magnolias (1989), Pretty Woman (1990), ...more on Wikipedia
Age: 51
Birthplace: Georgia, USA, Smyrna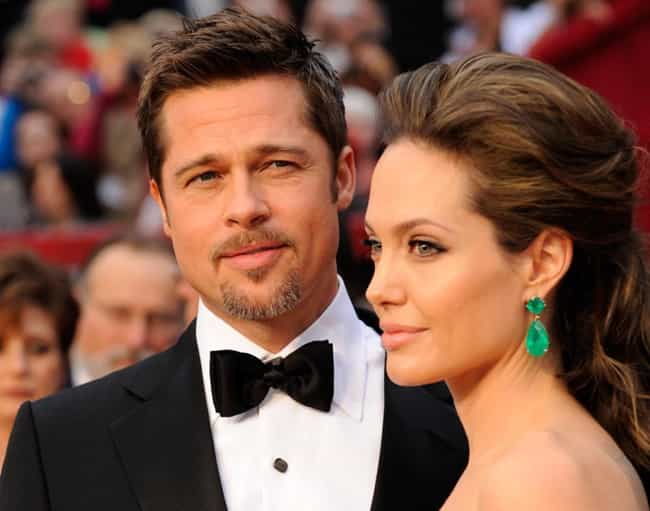 Brad Pitt and Angelina Jolie are best friends, soul mates and spouses. Their romance ignited on the set of the 2005 film
Mr. and Mrs. Smith
.
Angelina Jolie (; née Voight, formerly Jolie Pitt, born June 4, 1975) is an American actress, filmmaker, and humanitarian. The recipient of such accolades as an Academy Award and three Golden Globe Awards, she has been named Hollywood's highest-paid actress multiple times. Jolie made her screen debut as a child alongside her father, Jon Voight, in Lookin' to Get Out (1982), and her film career began in earnest a decade later with the low-budget production Cyborg 2 (1993), followed by her first leading role in a major film, Hackers (1995). She starred in the critically acclaimed biographical cable films George Wallace (1997) and Gia (1998), and won an Academy Award for Best Supporting Actress ...more on Wikipedia
Age: 43
Birthplace: Los Angeles, California, United States of America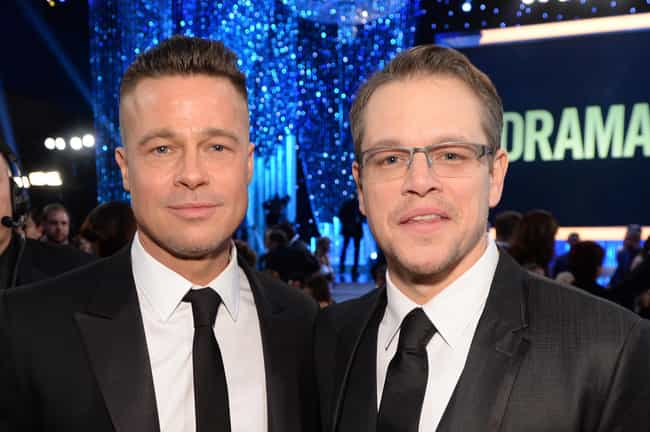 Matt Damon and Brad Pitt are bros. They even co-starred in the
Oceans
series together.
Matthew Paige Damon (born October 8, 1970) is an American actor, film producer and screenwriter. He is ranked among Forbes magazine's most bankable stars and is one of the highest-grossing actors of all time. Damon has received various accolades, including an Academy Award from five nominations, two Golden Globe Awards from eight nominations, and has been nominated for three British Academy Film Awards and seven Emmy Awards. Born and raised in Cambridge, Massachusetts, Damon began his acting career by appearing in high school theater productions. He made his professional acting debut in the film Mystic Pizza (1988). He came to prominence in 1997, when he wrote and starred in Good Will ...more on Wikipedia
Age: 48
Birthplace: Cambridge, USA, Massachusetts