Halloween
How Notoriously Spooky And Haunted Locations Celebrate Halloween Every Year

736 votes
167 voters
8.2k views
14 items
List Rules Vote up the scariest Halloween experiences at real-life spooky spots.
Halloween in America, pumpkin flavoring aside, is a weekslong celebration of all things spooky and terrifying. Leading up to Halloween, elaborate haunted attractions at theme parks, horror movie sequels, and creepy or convoluted corn mazes all aim to scare us out of our wits. But some thrill-seekers crave more than the orchestrated frights of costumed actors and scripted stalking. Real-life haunted houses and attractions fulfill their desire for true terror.
Although many real-life haunted places allow visitors year-round, on Halloween they step up their game for visitors interested in their ghostly residents or hair-raising history. The most haunted places in America - cemeteries, former prisons, and hospitals - even entire towns - are already notorious. Halloween gives them a chance to celebrate their infamous fear factor. Be afraid, very afraid - but have fun, too.
Waverly Hills Sanatorium Opens As A Haunted House
What began as a schoolhouse for the daughters of Major Thomas H. Hays in 1883 in Louisville, KY, became a refuge for tuberculosis patients in 1910. As tuberculosis spread through Kentucky, the hospital expanded to a larger building that could hold 400 patients. The Waverly Hills Sanatorium closed as a tuberculosis facility in 1961, then served for 20 years as a geriatric hospital, closing in the early 1980s. It's now undergoing restoration.
The sanatorium has been called one of the most haunted places on earth. Some paranormal enthusiasts estimate more than 60,000 patients died there during the tuberculosis outbreak, leaving their spirits behind to haunt the grounds after being removed from the building via a body chute.
Private and group tours through the building, run by the Waverly Hills Historical Society, take place most of the year, guiding visitors to Room 502, where a nurse allegedly hanged herself; the third floor, where some say a ghostly little girl plays with a ball; and other paranormal spots.
During Halloween season, the sanatorium turns into a haunted house. VIP tickets include a tour of the upper floors before visitors experience the horrors of nurses and patients waiting in the shadows.

Is this scary?
Moundsville Penitentiary Revisits Prison Horrors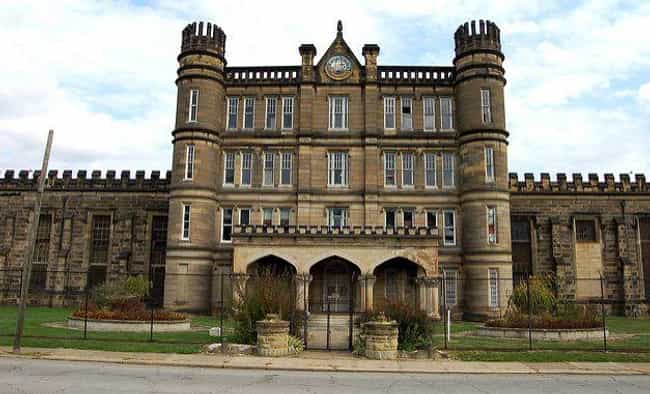 From 1866 until 1995, West Virginia Penitentiary, often called Moundsville Penitentiary, earned its title as one of the 10 most violent prisons in America. Riots, murders, and executions took place at Moundsville, and some convicts stayed in cells only 5-feet wide and 7-feet high. A court order closed the prison due to inhumane living conditions.
The Gothic-style facility, now a tourist attraction, is allegedly haunted by inmates and abusive officers from its notorious history. The prison also sits atop a Native American burial ground. Many people claim to have seen a Shadow Man slinking through the structure's halls. Other visitors say someone grabbed them, or they felt hot and cold spots throughout the prison.
Tours are available year-round, including overnight "investigations" allowing visitors to explore on their own, and an Escape the Pen experience where groups of people must work together to find their way out.
During Halloween, Moundsville offers multiple experiences, including Zombie Paintball and nights appropriate for children and families. The Dungeon of Horrors is a haunted house that uses live bats, performers, and other terrifying tricks to scare patrons. A guided tour called the North Walk goes through the Alamo - known as the place with the most spirit activity, and where the most notorious prisoners were held.

Is this scary?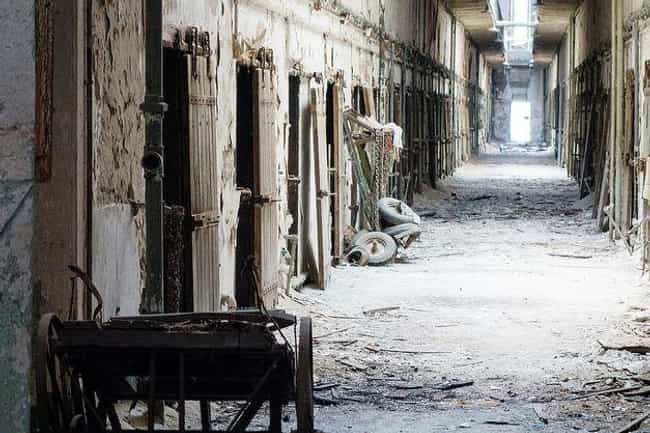 Once populated by infamous inmates like gangster Al Capone, Eastern State Penitentiary in Philadelphia, PA, has a legacy of brutality, torture, suicides, and prisoners losing their minds within its walls. Various ghost-hunting enthusiasts and television shows have filmed inside the prison, claiming activity in cells 4, 6, and 12. Voices, shadow people, footsteps, and apparitions have all been seen and heard here.
Although staff members of the Philadelphia property say they do not believe it's haunted, they do take advantage of the campus's creepiness to put on several haunted houses inside it every year. Known as Terror Behind the Walls, the haunted attractions cover a wide array of scares.
One features a zombie prison riot (Lock Down) and another a possessed Machine Shop. Visitors encounter insane medical workers in the Infirmary, mayhem in the Blood Yard, and prisoners hoping to gain their freedom in Breakout. The last haunt, Quarantine 4D, has black lights highlighting terrifying creatures and gas-mask-wearing fiends as guests attempt to navigate spinning hallways.

Is this scary?
Ohio State Reformatory Turns Into Blood Prison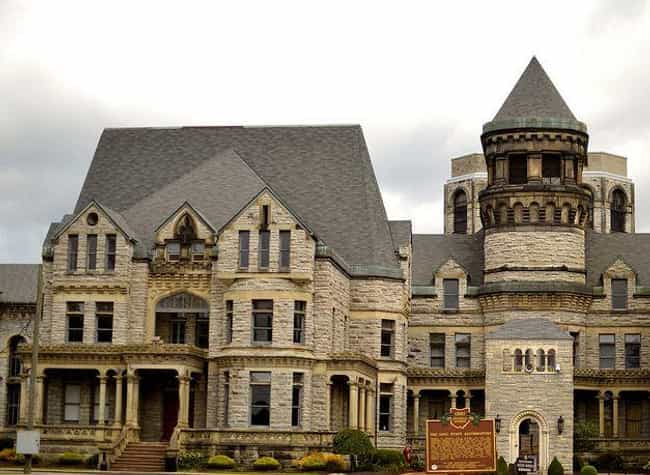 Made famous in the film The Shawshank Redemption, the Ohio State Reformatory in Mansfield was home to hundreds of thousands of real inmates during its 150-year history from 1834 to 1984. More than 200 former inmates are buried in a nearby graveyard, and paranormal investigators believe their spirits live on inside the prison.
A loaded gun knocked to the floor in 1950 killed the superintendent's wife, Helen Glattke, who allegedly walks around the premises while her husband's cigar smoke permeates the air. Invisible guards supposedly still stand watch. Sites of reported spectral activity include the Hole (the prison's area for solitary confinement), the basement (where a 14-year-old boy was reportedly beaten to death), the graveyard, and a staircase leading to the guard tower.
In October, the reformatory hosts Escape From Blood Prison, in which participants tangle with faux inmates wandering the halls. For an extra fee, a "touch pass" is available, which allows actors to touch guests as they walk through the prison's long-empty cells and halls.

Is this scary?