Weird History
Notable Homes Of The Founding Fathers

Updated May 13, 2019
8.2k views
12 items
Few men in American history are more revered than the founding fathers. Over two centuries their exploits have been mythologized, their personalities romanticized, and their conflicts turned into epic, world-shaking stories. They were titans walking the earth, and the stories of their lives have more in common with Greek mythology than the those of modern-day people. Except we know that they were regular human beings, extraordinary in many ways, but they lived and breathed as any other person would.
It can be fascinating to discover the day-to-day lives of such figures as George Washington and Alexander Hamilton, and one of the best ways to do that is to learn more about the places where founding fathers lived. The founding fathers' homes offer clues to who they really were, beyond the glory, the fame, and the quotes we often associate with them.
For example, George Washington's constant improvements to his house show a man who was never satisfied, while Thomas Jefferson's numerous innovations attest to his brilliance and his open-ended curiosity. These men were from an era when a house was a reflection of oneself, and bore the distinct personality of its occupants.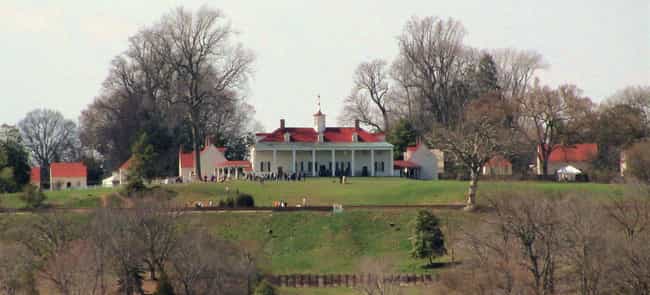 Mount Vernon was first named by George Washington's half-brother, Lawrence, but it had belonged to their father before Washington inherited it. At that time, it was a modest one-and-a-half story home, like many houses in the area. Washington spent his life improving and expanding the property and adding features he felt appropriate to his growing dignity as a military hero and the leader of the new nation. Before he was finished, the residence had 21 rooms and was roughly 10 times the size of the average colonial home.
The property contained facilities for a wide variety of labor: blacksmithing, fishing, distilling, farming, gardening, and dairy production. Attached to the mansion is a plantation, where hundreds of enslaved men and women worked for Washington over the years.
In the 1850s, the Mount Vernon Ladies' Association purchased the house and began preserving it. They still run it today, and it is the most popular historic estate in America with roughly one million visitors a year. Visitors can take guided tours of the property any day of the week from 9 am to 5 pm.

Thomas Jefferson's home at Monticello is one of the best-known of the founding fathers' homes, not only because of Jefferson's fame, but because it is an important piece of early American architecture. Unlike many landowners at the time, Jefferson did not simply hand off the construction of his home to an architect. Instead, he supervised every aspect of its construction and design. This first incarnation of Monticello was already a fascinating architectural achievement, but when Jefferson returned from his ambassadorship in France in 1789, he had some new ideas. He rebuilt Monticello from the ground up, doubling its size.
Like many founding fathers, Jefferson owned enslaved people, hence the 5,000-acre plantation attached to Monticello.
Today, Monticello is open to the public; it's possible to get tours of the sumptuous gardens, and there are exhibitions of Jefferson's inventions as well as his impressive collection of art and documents.
Alexander Hamilton Lived At The Grange In New York City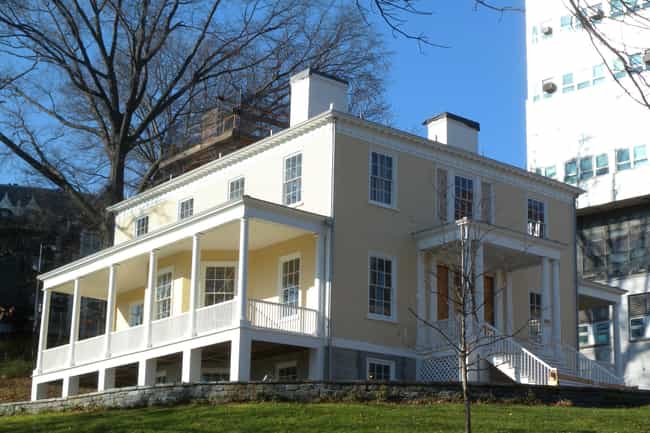 Contrary to New York's modern layout, many-upper class families during the 18th century built houses in what is now Harlem due to its rustic-country appeal. One such family was that of Treasury Secretary Alexander Hamilton. Hamilton commissioned a federal-style building uptown and lived in it for the last two years of his life. The building was called the Grange, named for Hamilton's father's ancestral home in Scotland.
The Federal-style home was an American twist on Georgian architecture and was in vogue in New York up to the 1830s. The house is currently administered by the National Park Service, which organizes guided tours through the rooms of the house. Much of the house is maintained in similar condition from when Hamilton lived there.
James Madison Lived At Montpelier In Virginia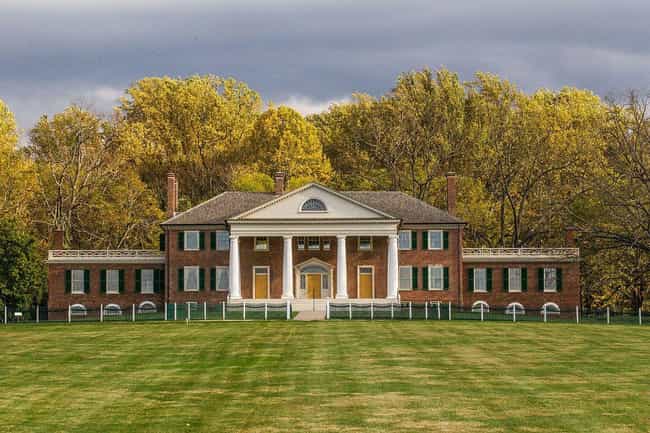 The fourth president of the United States, James Madison, was born to a wealthy Virginian family and grew up in a large house called Montpelier. Madison lived in Montpelier all his life, excluding his time in Washington. After his presidency between 1809 and 1817, he retired to Montpelier and improved the property by expanding it and introducing new practices to his laborers and the enslaved people on his plantation.
On the advice of Thomas Jefferson, Madison continued making grander and grander improvements to the property. When Madison passed, his wife Dolley took over the estate and tried to run it more sensibly. In 1901, William duPont Sr. bought the property and more than doubled its size, adding almost 70 rooms to its already impressive count of 34.
Montpelier is open to the public, along with its almost eight miles of walking trails and its extensive grounds. The property is maintained by the National Trust for Historic Preservation.