Entertainment
Famous Model Train Hobbyists

All aboard! Several famous musicians, actors, and TV personalities are model railway enthusiasts. Some of these celebrities collect Lionel trains, while others prefer a variety of models. One famous musician even put off recording a new album to work on his elaborate railroad model.
Who is the most famous model train hobbyist? Tom Hanks tops our list. His love of model trains reportedly made him eager to sign on as a voice actor in the 2004 film The Polar Express. Frank Sinatra collected Lionel and tinplate model trains. He even had an entire cottage dedicated to the hobby. Neil Young loves model trains so much that he is a part owner of Lionel Trains.
In 2008, it was reported that Phil Collins was incredibly busy building a model railroad at his home in Switzerland, and the album that he was supposed to be recording had to be put on hold. Other notable model train enthusiasts include Eric Clapton, Walt Disney, and Johnny Cash.
Do you collect model trains? Take a look at this famous model train hobbyist list and let us know who you think would have the most impressive collection.
Tom Hanks' love of model trains reportedly made him eager to sign on as a voice actor in the 2004 film
The Polar Express
.
Thomas Jeffrey Hanks (born July 9, 1956) is an American actor and filmmaker. Hanks is known for his comedic and dramatic roles in such films as Splash (1984), Big (1988), Turner & Hooch (1989), A League of Their Own (1992), Sleepless in Seattle (1993), Forrest Gump (1994), Apollo 13 (1995), You've Got Mail (1998), The Green Mile (1999), Cast Away (2000), Road to Perdition (2002), Cloud Atlas (2012), Captain Phillips (2013), Saving Mr. Banks (2013), and Sully (2016). He has also starred in the Robert Langdon films, and voices Sheriff Woody in the Toy Story film series. He is one of the most popular and recognizable film stars worldwide, and is widely regarded as an American cultural ...more on Wikipedia
Age: 62
Birthplace: Concord, California
Profession: Television director, Television producer, Film Producer, Screenwriter, Actor, + more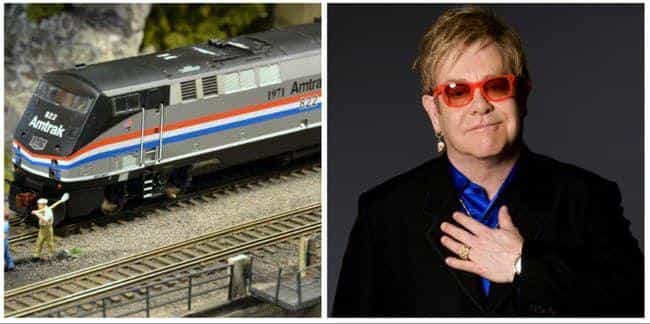 Elton John reportedly has a model railroad running through his garden.
Sir Elton Hercules John (born 25 March 1947) is an English singer, songwriter, pianist, and composer. He has worked with lyricist Bernie Taupin since 1967; they have collaborated on more than 30 albums. John has sold more than 300 million records, making him one of the world's best-selling music artists. He has more than fifty Top 40 hits, as well as seven consecutive number-one albums in the United States, 58 Billboard Top 40 singles, 27 Top 10 singles, four of which reached number two and nine of which reached number one. His tribute single "Candle in the Wind 1997", rewritten in dedication to Diana, Princess of Wales, sold over 33 million copies worldwide and is the best-selling single in ...more on Wikipedia
Age: 71
Birthplace: England, London
Profession: Record producer, Pianist, Television producer, Musician, Singer-songwriter, + more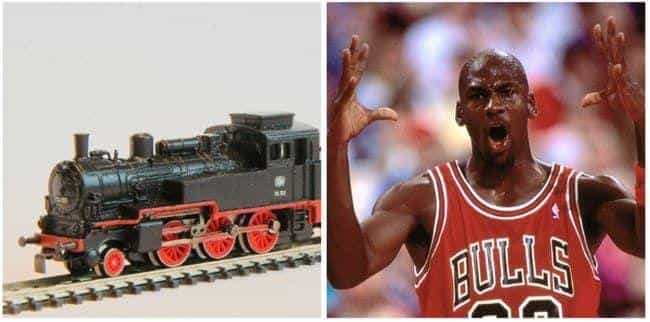 Michael Jordan is noted by the National Model Railroad Association as a model train enthusiast.
Michael Jeffrey Jordan (born February 17, 1963), also known by his initials MJ, is an American former professional basketball player and the principal owner of the Charlotte Hornets of the National Basketball Association (NBA). He played 15 seasons in the NBA, winning six championships with the Chicago Bulls. His biography on the official NBA website states: "By acclamation, Michael Jordan is the greatest basketball player of all time." He was one of the most effectively marketed athletes of his generation and was considered instrumental in popularizing the NBA around the world in the 1980s and 1990s.Jordan played three seasons for coach Dean Smith with the North Carolina Tar Heels. As a ...more on Wikipedia
Age: 56
Birthplace: New York City, New York
Profession: Spokesperson, Basketball player, Entrepreneur, Actor, Athlete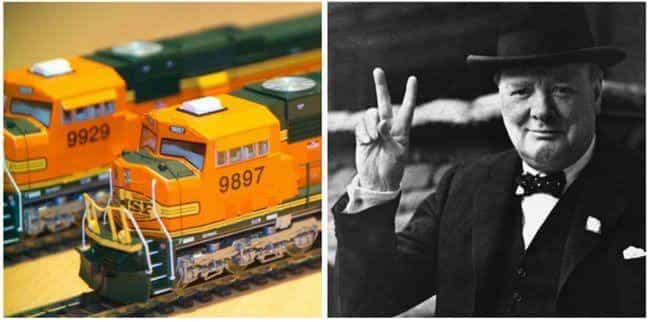 Warren Buffett reportedly has a large model railroad in his home. His Berkshire Hathaway company also owns a controlling share of the Burlington Northern and Santa Fe (BNSF) Railway.
Warren Edward Buffett (born August 30, 1930) is an American business magnate, investor, speaker and philanthropist who serves as the chairman and CEO of Berkshire Hathaway. He is considered one of the most successful investors in the world and has a net worth of US$82 billion as of July 18, 2019, making him the third-wealthiest person in the world.Buffett was born in Omaha, Nebraska. He developed an interest in business and investing in his youth, eventually entering the Wharton School of the University of Pennsylvania in 1947 before transferring and graduating from the University of Nebraska at the age of 19. He went on to graduate from Columbia Business School, where he molded his ...more on Wikipedia
Age: 88
Birthplace: Omaha, Nebraska, United States of America
Profession: Businessperson, Investor, Entrepreneur, Financier