Total Nerd
Famous Actors You Didn't Realize Have Voiced Superheroes And Villains

Of all the film and television stars in Hollywood, few remain less recognizable than the faces behind animated voices. After all, the very nature of their job means most fans will probably never see them. The work of voice actors behind the scenes is integral to producing quality animated entertainment, but that's yet to translate into true stardom for most of these talented people.
Even big-name actors who venture into the world of voice acting aren't often known for their animated roles. In particular, many notable celebrities have lent their voices to animated superheroes and supervillains. You might be surprised to learn the names of the actors who gave voice to these famous cartoon characters.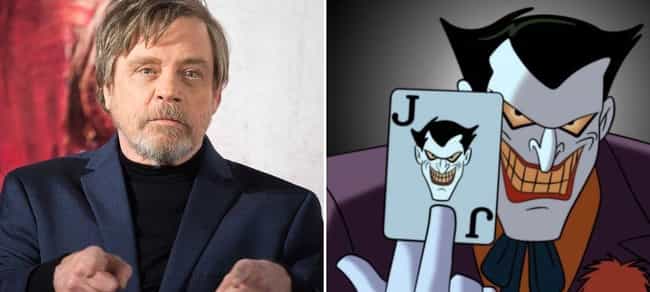 As the one-and-only Luke Skywalker, Mark Hamill possessed plenty of nerd cred before he took on one of the greatest villain roles in comic book history: the Joker. Hamill's work providing the voice of Batman's archenemy has been so prolific and iconic that it's arguable he - not Jack Nicholson, Heath Ledger, or Joaquin Phoenix - deserves the title of Best Joker Ever.
Hamill did the bulk of his Joker acting on Batman: The Animated Series, but he's also voiced the character in numerous DC animated films.
see more on Mark Hamill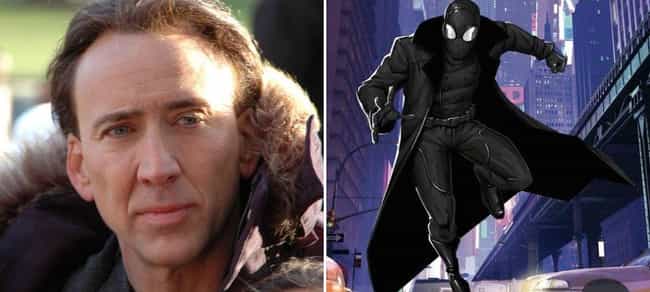 The 2018 animated Marvel film Spider-Man: Into the Spider-Verse features a team-up of a multitude of Spider-Men (and -Women) from various alternate realities. One of them is Spider-Man Noir, a version of Peter Parker who got his start during the Great Depression.
Noir represents a more grim-and-gritty depiction of the wall crawler, and who better to provide his voice than the ever-gravelly Nicolas Cage? Plus, Cage loves Marvel comics heroes: He chose his surname (formerly Coppola) in honor of Marvel's Luke Cage.
see more on Nicolas Cage
Nathan Fillion is a sci-fi TV legend thanks to his portrayal of Captain Mal Reynolds on Firefly, but he's also provided the voice for another space-related hero: Green Lantern Hal Jordan. Fillion has quickly become the go-to actor when it comes to voicing Jordan, and he's made voice appearances in a number of recent DC animated ventures, including Justice League: Throne of Atlantis, Justice League: The Flashpoint Paradox, and The Death of Superman.
On a less serious note, Fillion has also voiced Green Lantern in a handful of Robot Chicken specials.
see more on Nathan Fillion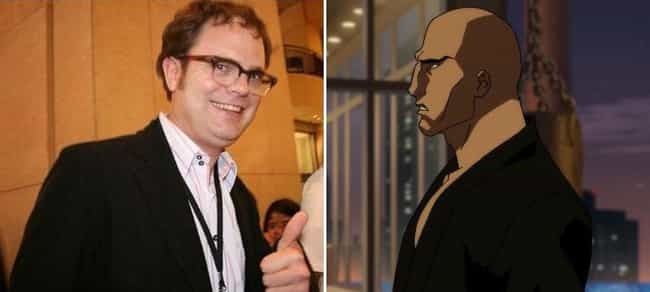 Rainn Wilson, instantly recognizable for his lengthy stint on The Office as Dwight Schrute, has also picked up work voicing a supervillain. In two DC animated films - The Death of Superman and its sequel, Reign of the Supermen - Wilson provides the voice of Lex Luthor, corporate antihero and eternal rival of the Man of Steel.
Wilson might not look much like Luthor, but he doesn't have to thanks to the beauty of voice acting.
see more on Rainn Wilson