Weird History
The Worst Explosions in U.S. History

List Rules Man-made explosions that happened in the United States only.
These famous U.S. explosions shocked the nation and will shock readers. The magnitudes of these manmade American explosions are equivalent to massive earthquakes and nuclear blasts. The most famous explosions in U.S. history are usually tests actually being conducted by the United States military, ranging from America's "Mother of All Bombs" to its BLU-82 non-nuclear testing. However, many of the worst U.S. explosions are sadly the results of tragic accidents that ultimately take the lives of hundreds.
Injuries and fatalities are included in this compilation of the worst explosions in America, which even includes the famous explosion of the USS Shaw in Pearl Harbor. The worst American explosions also include failed rocket launches, like the Atlas-Centaur rocket that blew up on camera. Some of the other biggest U.S. explosions led to fires that took days and hundreds of firefighters to put out. And while not all of the biggest American explosions are considered to be some of the most massive in the world, some of these make the cut as the all-time most deadly and devastating mushroom clouds and explosions in history.
Date: March 1, 1954
Location: Bikini Atoll, Marshall Islands
Cause: Atmospheric Testing
Deaths: 1
Declared America's "Worst Nuclear Test in History," a scientific miscalculation resulted in a 15-megaton explosion that was the equivalent of 1,000 Hiroshimas. The blast's fallout contaminated the Marshall Islands and led to a crew member's ultimately fatal exposure to radioactivity.
Source: The National Security Archive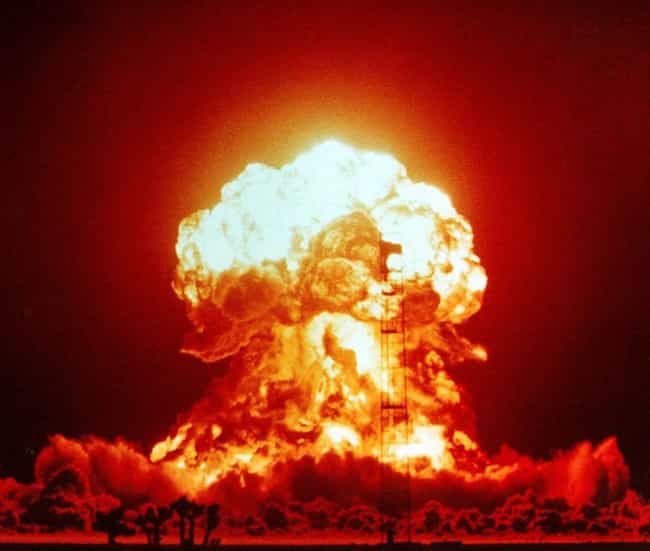 Date:

July 16, 1945




Location:

Los Alamos, NM




Cause:

Nuclear Testing




Deaths:

0

The "Trinity Test" was part of the famed U.S. military program "The Manhattan Project" when America feared Germany's nuclear weapon development. This was the first-ever atomic bomb explosion in history and its success indicated America was the only nation possibly capable of such war-winning nuclear weaponry.

Source: U.S. Department of Energy
Date: April 16, 1947
Location: Texas City, TX
Cause: Industrial Accident
Deaths: 581+
The day Texas City exploded, the blast could be heard from 150 miles away. The explosion was the result of a fire on a French freighter carrying ammonium nitrate and led to a 2,000-foot tall mushroom cloud.
Source:
History.com
Atlas-Centaur Rocket Explosion
Date: March 3, 1965
Location: Cape Canaveral, FL
Cause: Launch Failure
Deaths: 0

The biggest pad explosion ever seen at Cape Canaveral occurred when the Atlas Centaur-5 rocket was sent on a "development flight" and blew itself up. The entire launch complex was destroyed by the rocket, which was fueled by kerosene and liquid oxygen.
Source:
NASA