Updated June 14, 2019
893 votes
691 voters
107.6k views
7 items
List Rules Upvote your favorite Fatz recipes
Fatz recipes - the easy way to prepare the best dishes from the Fatz menu. These are copycat recipes, not necessarily made the same way as they are prepared at Fatz, but closely modeled on the flavors and textures of Fatz popular food, so you can bring the exotic tastes of one of the top restaurant chains in the US to your own table for a fraction of the cost.
Located primarily in the Southeastern US, Fatz (known until 2011 as Fatz cafe) has 48 locations that serve South Carolina, North Carolina, Georgia, Tennessee, and Virginia. The traditional/new American menu offers fare such as chicken, salads, soups, and sandwiches in a casual dining atmosphere.
From Red Lobster Cheddar Bay Biscuits to Buffalo Wild Wings hot sauce, chain and franchise restaurants are popular destinations around the world. Eating out too frequently can be costly, not to mention that it's hard to control portion size, ingredients, or the style of cooking to suit your preferences.
Making Fatz recipes on your own allows you to save money while enjoying your favorite menu items from the casual dining spot. This list collections the best copycat Fatz recipes from around the Web.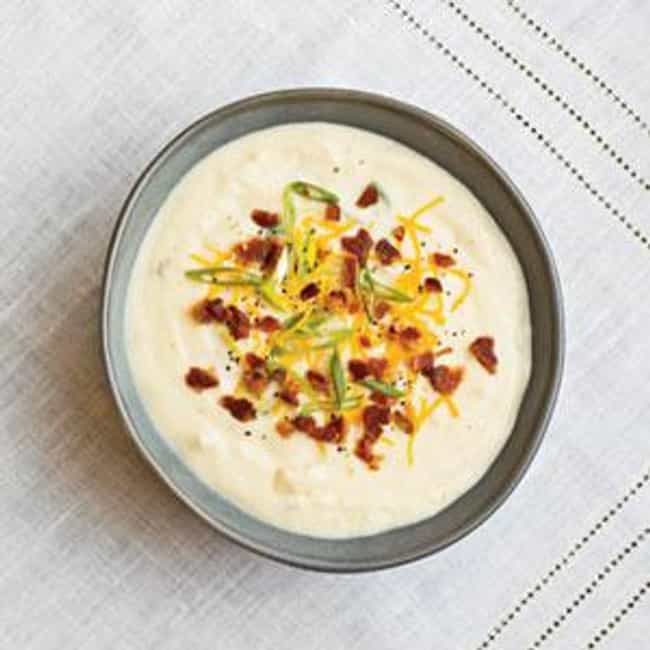 9 baking potatoes
2/3 cup butter
2/3 cup all-purpose flour
6 cups whole milk
1/2 tablespoon salt
1 teaspoon ground black pepper
1/2 cup bacon bits, divided
4 green onions, chopped
10 ounces shredded Cheddar cheese
1 (8 ounce) container sour cream
- Prick potatoes with a fork and cook in the microwave, 3 or 4 at a time, and scoop out the flesh.
- In a large saucepan over medium heat, melt butter.
- Stir in flour and cook about a minute.
- Whisk in milk, a little at a time; stir constantly until thickened.
- Stir in potatoes, salt, pepper, 1/3 cup bacon bits, 2 tablespoons green onions and most of the cheese.
- Cook until thoroughly heated; stir in sour cream and heat through.
-Serve with remaining bacon, onions and cheese.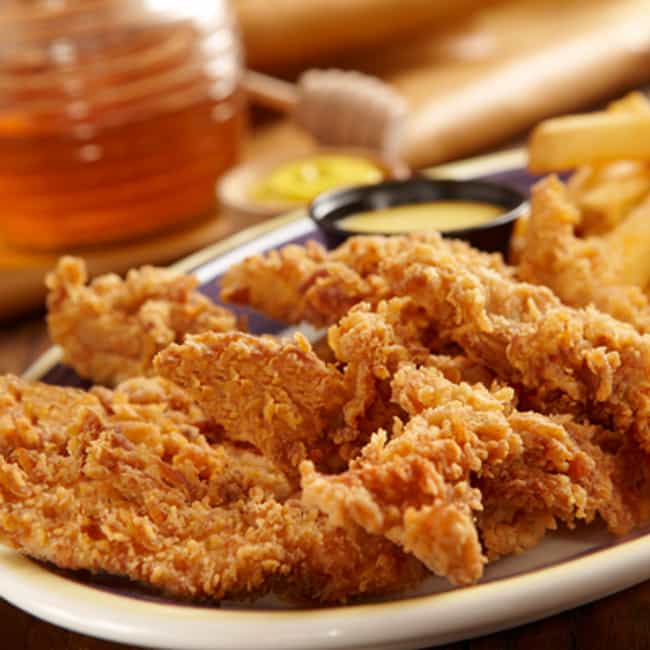 12 chicken breast fillets , cut into strips
1/2 cup kosher salt
1/2 teaspoon dried sage
1/4 teaspoon dried thyme
2 cups buttermilk
1 1/2-2 cups all-purpose flour
1 teaspoon salt
1 teaspoon pepper
peanut oil (for frying)
* Dipping Sauce
1 hidden valley ranch dressing mix , package
1 cup mayonnaise
1 cup milk
- A day before frying, mix salt, sage and thyme together in a plastic bag.
- Add chicken pieces and toss until they are evenly and lightly coated.
- Refrigerate for 30 minutes.
- Rinse chicken under running water and place in a shallow dish.
- Pour buttermilk over chicken.
- Cover dish with plastic wrap and refrigerate overnight.
- The next day, combine flour, salt and pepper in another shallow dish.
- Drain buttermilk from chicken pieces, but do not dry them.
- Dredge chicken in flour mixture.
- Heat a large, heavy skillet or saute pan over high heat. Add 1 inch of peanut oil and heat until almost smoking.
- Carefully place chicken in hot oil, leaving plenty of space between the pieces.
- Reduce heat to medium head and cook chicken for 8-10 minutes on each side, or until golden brown.
- Drain chicken on wire racks with paper towels underneath.
- Dipping Sauce: Mix well all ingredients in a serving bowl. Let chill in the refrigerator prior to serving.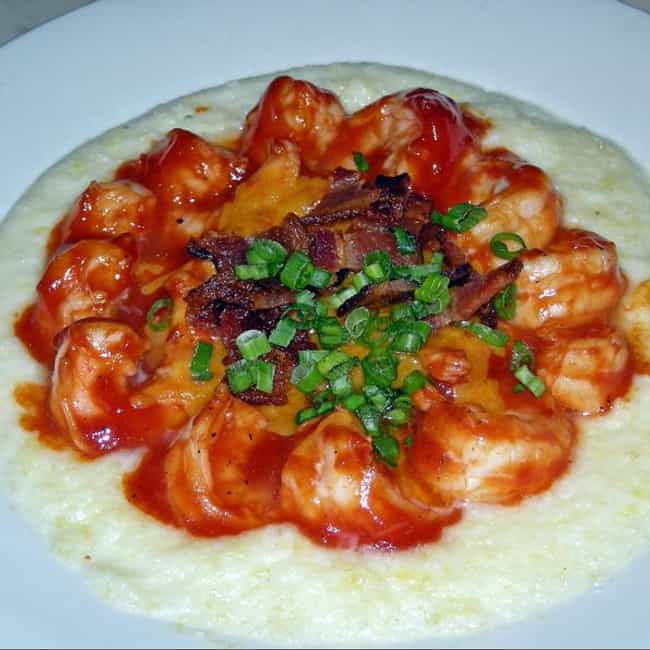 Edisto Shrimp:
30 pieces jumbo shrimp
12 oz. popcorn shrimp
12 oz. Parmesan cheese
6 oz. bacon bits (warm)
Burgundy Gravy:
¾ cup sliced mushrooms
½ oz. lemon juice
1 oz. diced yellow onions
2 oz. Golden Award or other liquid butter
4 oz. Burgundy wine
2 oz. Trio Brown Gravy dry mix
drop of garlic-seasoned olive oil
dash of salt
dash of cayenne pepper
Stone-Ground Cheese Grits:
2 cups white stone-ground grits
1 quart water
1 quart milk
2 tbsp chicken base
1½ cups mixed Monterey Jack and Cheddar Cheese
1⁄8 cup butter/margarine blend
- Stone-ground cheese grits: Bring water and milk to a boil. Add grits, mixed cheese and chicken base. Simmer for 30 minutes. After 20 minutes of simmering, add butter and stir well. Cook for another 10 minutes.
- Burgundy gravy: In a pot add Golden Award liquid butter, onions, mushrooms, wine and lemon juice and bring to a boil. Add salt, garlic and cayenne; reduce heat and simmer for 20 minutes.
- In a separate pot, mix dry brown gravy mix and hot water by following instructions on package.
- Add gravy mix to mushroom-wine mixture, cook on medium heat for 10 minutes.
- Edisto shrimp: Lightly sprinkle jumbo and popcorn shrimp with blackening seasonings and cook on a flat top. (Follow proper blackening procedures.) Place 8 oz. cooked stone-ground cheese grits into bowl; place 5 jumbo shrimp in a circle along outer rim and 2 oz. popcorn shrimp down middle. Add about 3 oz. of gravy, drizzling over entire dish. Sprinkle 1 oz. bacon bits on top and garnish with 2 oz. Parmesan cheese.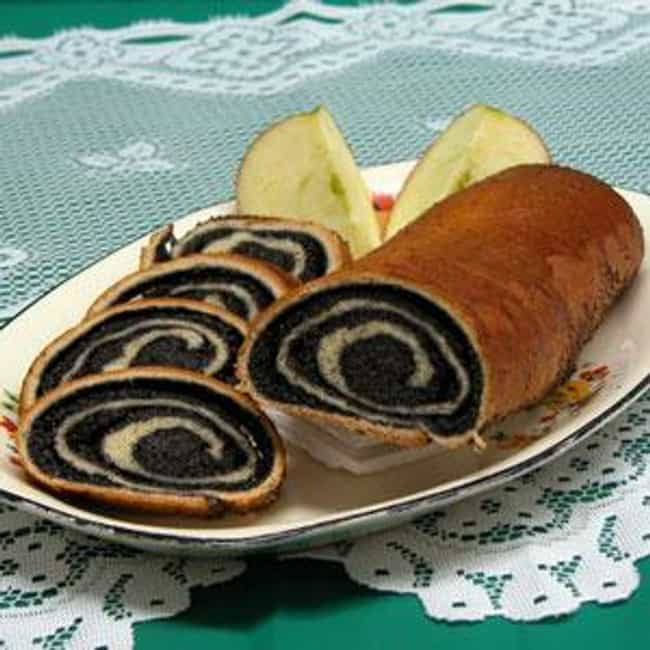 2 cups warm water
2 tablespoons active dry yeast
1/2 cup light brown sugar
1/4 cup non-instant dry milk powder
1 tablespoon salt
1/4 cup poppy seeds
3 cups King Arthur Unbleached All-Purpose Flour
3 cups King Arthur Traditional Whole Wheat or 100% White Whole Wheat Flour
- Pour water into large bowl.
- Sprinkle yeast on top and stir with whisk until dissolved.
- Add brown sugar and 1 cup of all-purpose flour. Let sit for 10 minutes.
- Stir dry milk, salt, poppy seeds and 1 cup of unbleached flour together and add to yeast mixture.
- Stir until well combined; add rest of the flours a cup at a time stirring well after adding, until dough has pulled away from sides of the bowl.
- Turn dough out on a floured counter and knead it; add more flour as necessary until dough is smooth.
- Place dough in a lightly oiled bowl and cover with damp towel or plastic wrap.
- Place bowl in a warm, draft-free spot and let rise until it has doubled in size, 1-2 hours.
- Punch the dough down and turn it out onto a floured counter.
- Divide dough into two equal pieces and roll each into a rope 24 inches long; cut each rope into 24 one-inch pieces.
- Roll piece into a round ball and place on a baking sheet lined with parchment paper; rolls need to be 2 inches apart.
- Spray rolls with water and let rise for 30 minutes until they're a little swollen.
- Preheat oven to 400°F while rolls are rising.
- Bake rolls for 15-20minutes or until baked through. Cool on racks. Makes 48 rolls.